Dr. Dre is signing on to help build a performing arts center for the new Compton High School in his hometown.
The rapper and producer is committing $10 million toward the new center, breaking ground by 2020. But he'll also take charge of raising the remaining money for the center, which will include a 1,200-seat theater and equipment to teach digital media production.
"My goal is to provide kids with the kind of tools and learning they deserve," Dre said in a statement. "The performing arts center will be a place for young people to be creative in a way that will help further their education and positively define their future."
It's been a long time coming for the project. With the release of his Compton in 2015, the artist and Beats co-founder announced that he would donate his artist royalties from the record to fund a "new performing arts facility" in the city. Now, it seems the idea is coming to fruition.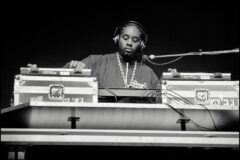 "The support that Dre has shown to Compton over the years is unwavering and we are so excited that we will now be home to one of the greatest performing arts centers in the country," said Satra Zurita, president of the Compton Unified School District's Governing Board of Trustees.
Added Micah Ali, vice chairman of the district's Board of Education: "Dr. Dre has stepped up and partnered with the school district to make this vision a reality. A true act of giving back to the community in a way that will directly impact the ever-resilient efforts of our students to rise-up and succeed. A true act of leading the way and standing as an example to others of how never to forget where you came from."
It's not the first time Dre has dabbled in philanthropy, particularly tied to education: Back in 2013, he joined forces with record producer and fellow beats co-founder Jimmy Iovine to launch a new Academy for Arts, Technology and the Business of Innovation at the University of Southern California.
This article originally appeared at Billboard.