Tool and A Perfect Circle are two bands notable for featuring Maynard James Keenan, and for taking more than 10 years apiece to release new records. (Tool's most recent album was 10,000 Days in 2006; A Perfect Circle's was eMOTIVe in 2004.) Last week, a couple of fans tweeted directly @ the bands to ask: So, how about it? The answer: Nope.
@mcnab_ Not true

— A Perfect Circle (@aperfectcircle) April 23, 2017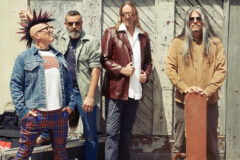 @wikipushing @mcnab_ @Tool Also not true

— A Perfect Circle (@aperfectcircle) April 23, 2017
But it's not like fans don't have good reasons to ask. A Perfect Circle recently signed to a new record label; guitarist Billy Howerdel was quoted saying, "New APC-2017!" The band just wrapped a month-long tour, during which they debuted at least one new song—which we know because we wrote it up, though the video is gone now (hmm).
Tool's recent activity is a little thinner, but still noteworthy: Keenan has fueled speculation with noncommittal quotes about new work, and the band is organizing a massive one-off concert featuring themselves, Primus, and the Melvins in San Bernardino, California next month. Meanwhile, there are reports Tool's catalog could be coming soon to streaming services. That's hardly proof of a new album—but if there were an album coming, it would make sense to withhold Spotify privileges until the imminent peak in fan interest.
Do two short, offhand Twitter denials outweigh months' worth of contract negotiating, tour booking, and behind-the-scenes work? We're inclined to say no; but then again, Tool and APC have been playing the hint-then-deny game for years now, so don't get your hopes up.