For some time now, former Spacemen 3 bassist Pete Bain (a.k.a. Pete Bassman) has accused the band's former manager, Gerald Palmer, of ripping them off. Palmer runs Space Age Recordings, a label that sells Spacemen 3 recordings and merchandise, and recently re-issued three rare Spacemen 3 releases for U.K. Record Store Day this year.
Last month, many fans first became aware of the dispute when the other two former members of Spacemen 3—Jason Pierce (a.k.a. J Spaceman, also of Spiritualized) and Pete Kember (a.k.a. Sonic Boom)—shared a statement on Spiritualized's Facebook page asking fans not to purchase those Record Store Day releases. "We would seriously like to ask fans not to buy the Spacemen 3 releases and any merchandise that are being offered for sale on Record Store Day and merchandise offered by Gerald Palmer on Space Age Recordings," they wrote. "We are currently in legal dispute with Gerald Palmer due to him depriving us of our rights in our music and other intellectual property rights relating to Spacemen 3."
That Facebook post has since been removed, but it and numerous other complaints about Palmer by Bain and Kember have been extensively documented by the site The Future Heart. Today, The Future Heart published an interview with Bain on the subject, and, well, we don't seem to be any closer to the truth than we were before.
In the interview, Bain claims that Palmer has profited unfairly from Space Age's use of Spacemen 3's music and logo, and that the contract he once signed with Palmer was "an amature attempt at creating an official legal document." For his part, Palmer categorically denies mismanaging the band's royalties or intellectual property. "I've been working with the members of Spacemen 3 continually since 1987," Palmer told The Future Heart in April. "These albums are owned and controlled by me for life of copyright…. All the ex-members of Spacemen 3 continue to be accounted to and paid artist royalties on a bi-annual basis as they have been for the last 30 years."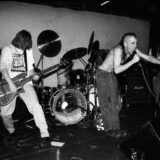 Usually, the solution for two parties with conflicting intellectual property claims and a disputed contract is a court of law. But Bain says the former Spacemen 3 members don't have specific plans to sue Palmer, and they're not even sure if it would be worth trying:
"Legal action is an option that I believe should be a last resort. The substantial amount of revenue required to fund litigation makes it a risky option. I am unsure if litigation is viable considering the commercial value of the Spacemen 3 catalogue and the scale of solicitors fees. I would hope that there can be an opportunity for Spacemen 3 to negotiate with Gerald Palmer outside of court."
On another note, Spiritualized's since-deleted Facebook post seems to be the first time Pierce and Kember have communicated in just about forever. (Spacemen 3 ended so acrimoniously that the band's final album, 1991's Recurring, featured only one song with both men playing on it.) Here's what Bain had to say on that touchy subject:
"This is a big step forwards and like most people I am pleased that they can cooperate with each other to resolve this issue. Time is not on our side so I sincerely hope we can all forgive each other for past transgressions and live the remainder of our lives free from animosity. If litigation is inevitable this will mean that Sonic and Jason will have to continue to work together, perhaps this may provide the means for both of them to resolve any differences and establish better relations."
Right now, you're wondering: Why did J Spaceman and Sonic Boom apparently stop talking to each other for more than 20 years? Well, there are two people who know the answer to that one, and they're not very forthcoming. Kember once answered this question in an interview as, [sic], "its nothing i'm proud to share . It was shame-ridden at the time and does'nt bear furthering now."
Chalk up the Gerald Palmer/Space Age Recordings business as yet another layer of opaque disagreements in a band that's already had plenty, then.