In a new interview with Vanity Fair, Sky Ferreira discussed her role in the upcoming revival of Twin Peaks. Ferreira has been one of the many intriguing listings on the gigantic 200-plus cast list for the series that has been circulating since last year.
Though Ferreira did cover Julee Cruise's "Falling"–a song used in the original two seasons of Twin Peaks, and derived from its title theme–at Lynch's Festival of Disruption concert last year, the singer/actress/model/etc. clarified that she would not just be serving as entertainment at the Roadhouse in the series' revival, as Cruise did in the original series.
"I'm not, like, Julee Cruise as myself," she explained. "And I'm kind of glad I'm not. I got to be something completely outside of myself."
That was as much as she revealed, since Lynch and everyone involved with Peaks has been strictly tight-lipped. Ferreira clarified, as other cast members have previously, that she was only allowed to see the sections of the script that involved her character. She explained to Vanity Fair that she was excited to binge the series, and also, that she got to meet Harry Dean Stanton, who plays Carl Rodd in the Twin Peaks-adjacent film Fire Walk With Me and factors into the revival as well.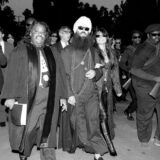 "The whole time, I was thinking, I'm in it," Ferreira said of her time on set. "The thing is, I already live [Twin Peaks] in my head—but I wasn't imagining it this time."