PWR BTTM's new record, Pageant, is out today. Yesterday, allegations of abuse by lead singer Ben Hopkins led the band to release a statement responding to the claims. Now, the band has cancelled a record release show that was supposed to take place tonight at Rough Trade's Brooklyn location, as BrooklynVegan reports. The event is no longer available on Rough Trade's site. No statement about the cancellation has been released.
Last night, musician Cameron West, who's worked with the band, said that he was "hereby ending [his] tenure with the band as an arranger and touring musician."
New York Band T-Rextasy, who were scheduled to go on tour with PWR BTTM in July, have also cancelled their appearances with the band. In another series of tweets shared yesterday afternoon, T-Rextasy wrote (compilation ours):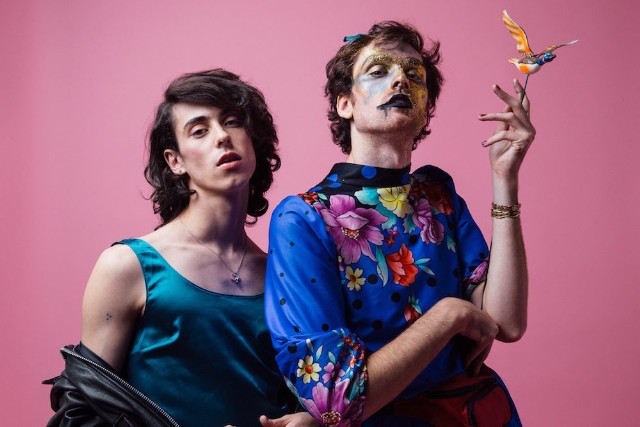 "We wish we could say these allegations come as a complete surprise, but that is not the truth. Around the time we agreed to a July tour with PWR BTTM, someone came to us privately and warned us that they had these experiences with Ben. They asked us not to share them publicly. At the time we felt we should continue with the tour. We did not want to out the person who had come to us in confidence. We feared that ducking out of a tour offer with no excuse would damage our professional relationships, many connected very personally to PWR BTTM. This in no way excuses us from culpability. We were scared and confused but we were also selfish. We made a mistake supporting this band. We put our career above the safety of fans who have trusted us and supported us and there's no way for us to remedy that. We feel that we may not be the only people in this community to have heard these allegations before today. We ask our peers to be honest in regards to their complicity in this situation. If anyone would like to talk to us, our inbox is open or you can email us at [email protected] We are here to listen."
1)Hi folks. We will speak more later about our next steps, but want to address the accusations against PWR BTTM as soon as possible

— T-Rextasy (@trextasynyc) May 11, 2017
PWR BTTM's current tour is set to pick up at the end of May.