A few decades ago, there was a child who jealously pouted from his home's front stoop as he watched his neighbors take a dip in their pool. "I want me a pool, too," he muttered. And so it was—Sean Combs got the pool and all of that. Leading a culture through a fatal rivalry and into mainstream prolificacy, Puff Daddy's Sugar Hill ambition transformed him from a mortal entrepreneur into a walking philosophy. He's all around you: The aggressively branded TV network, the joyous Bad Boy anthems, a standard for black excellence. Puff's legacy is so expansive that at times he seems like this omnipresent ghost, although he's very much alive. Sometimes it helps to see the flesh, as you could have on his recent arena reunion tour.
The annual Met Gala and its performative chutzpah took place in New York last night, and had its way with the feeds. Among the early highlights were La La still indulging in her post-Carmelo Anthony glow, Comme des Garçons ice queen Tracee Ellis Ross, and Solange bringing glamour in a bubble jacket. Puff Daddy, meanwhile, came through with a stunning-as-usual Cassie and in an outfit that portrayed him as the culturally significant nobleman he is. Draped in a cape that probably cost lord knows how many times your rent money, Puff's Rick Owens-designed outfit featured a linear, black-and-white design that had an astral effect. Those white lines intersect as if to subtly drive home one point: Puff isn't part of a universe, he's the nexus.
I was on the subway en route to a quick Lower East Side concert when I first saw the photo, and remembered thinking that picture of him standing next to Cassie was great, but in a sort of perfunctory Puffy way—regality comes as easy as breathing for him. It was just a couple of weeks ago when Kamaiyah tweeted about Puff arriving to Quavo's birthday party in a car and leaving in a boat. Even before Puff slyly confirmed it, the scene was easy to believe. So I put my iPhone back in my pocket only to feel my melanin senses tingling moments later. I glanced at Twitter and nearly ended up on the bridge to Brooklyn in a fit of confusion. I witnessed perhaps the most severe flex since Beyoncé more or less invented the surprise album drop.
https://twitter.com/highsnobiety/status/859193491527802880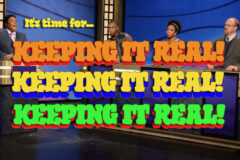 Notice how the audacity of laying down on the stairway of vanity's biggest night is the last thing that comes to mind. The miracle of the Puff Daddy flex isn't how it's an act of obstruction—in fact, it's the opposite. Look at that god-like and goddess-fearing confidence: Puff isn't a guest at the Met Gala; this is his house and the Met is a room. Sean Combs' legend rests in both his entrepreneurship and how he asserts his black mobility—regardless of whether or not certain spaces are inclusive to his culture, he's at the center. And because this is a Puff Daddy moment, he went out of his way to deliver the exclamation mark via a tweet.
https://twitter.com/diddy/status/859197897409277952
This could very well be a this-ol'-thang? attempt at humility, but let it be known.
His name is Sean "Puff Daddy" Combs.
And he was tired.