Noel Gallagher probably deserved this one. As the NME reports, the former Oasis guitarist/songwriter recently put out a flyer advertising his 50th birthday party. The theme was… Narcos. There was Noel on the front, photoshopped cannily onto the Netflix cartel drama's poster with the disclaimer "There's no business like blow business." Apparently, his wife Sarah McDonald posted it on Instagram.
Noel Gallagher is throwing himself a cocaine-themed 50th birthday bash – inspired by Netflix's Narcos! https://t.co/CxifAebOpu pic.twitter.com/2psdY7mc1s

— oasis world (@myoasisworld) May 18, 2017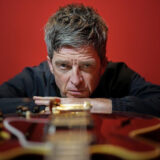 In most other contexts, one might think the coke reference was just a joke fitting with the masquerade concept, but this is a party thrown by a Gallagher brother. Once the Noel-as-Escobar poster was made public, it seemed like only a matter of time before it elicited a strong reaction from not-invited brother Liam, who is currently infuriated with Noel for consorting with a former shared enemy ("that gobshite out of Blur") and endless other things, no doubt.
Here's what Liam had to say about the party:
Re potatoes 50th he's not invited none of his family not even his own mother says a lot about the man and his part planner pair of wankers

— Liam Gallagher (@liamgallagher) May 18, 2017
Who the fuck in there rite mind broadcasts there having a cocaine themed party that's asking for a tug anyways as you were LG x

— Liam Gallagher (@liamgallagher) May 19, 2017
One might think "a tug" means something which wouldn't quite make sense in this particular context. But a quick Google search of British slang clarifies that it also works when referring to "arrest or detention of a suspect." God bless the Gallagher brothers.