Jlin is more than footwork. During a recent set last week at Chicago's Smart Bar, the Gary, Indiana-based producer drew a crowd from disparate music scenes in the city; local progressive club kids were joined by older house heads and techno DJs.  It's rare to find a musician whose work can connect with such a broad array of listeners, but the producer (born Jerrilyn Patton) has quietly gained an international following by defying the sometimes rigid expectations and parameters of the footwork genre in which she's most often associated. Her music is weird and oftentimes uncomfortable. Sometimes it's not even danceable, which works in contrast to footwork, a genre tied as much to a unique style of dance as it is to a particular sound. Patton is not creating for dance floors so much as she is for herself, and this creative drive comes across in her records and EPs that should appeal to listeners hungry for an experimentalist's mind.
If earlier releases Dark Energy and Free Fall showcased a producer wrestling with overflowing ideas, Black Origami, Patton's latest album, is a clear and refined next step. Patton intersperses pieces of other genres, including industrial, New Age, and world music, in her new collection of songs. She has also smoothed out the abrasive edges that overwhelmed her earlier releases, while allowing her aesthetic signatures—from glitchy vocal samples to unusual time signatures and rapid percussive syncopation—to coalesce into a singular voice. In Black Origami, one hears the future of progressive club music. It is bold, precise, cross-cultural and far more intelligent than waning genres both outside (like rock) and inside (think tech house or even traditional footwork) the dance music world.
Dark Energy was an acerbic record, difficult at times to consume in one setting, but also a stark product of the inner workings of Patton's mind. Audiences learned she was bursting with ideas spanning far beyond the limitations of the footwork genre, incorporating rapid ghetto-house-like rhythms and samples pulled from rap or pop music. "Guantanamo," one of the most uncomfortable, yet brilliant tracks on Dark Energy, layered penetrating screams in her horror-fueled soundscape, as if they were nothing more than effervescent vocal coos.
Her earlier signature elements continue to form the structure of this latest work, but Patton has removed those creepy cinematic elements that too often pierced one's ear like a sharp dagger in her older efforts. The corrosive elements no longer define Patton's music. They work in tandem now with a myriad of instrumental influences to create a cleaner and brighter musical narrative of beauty and precision.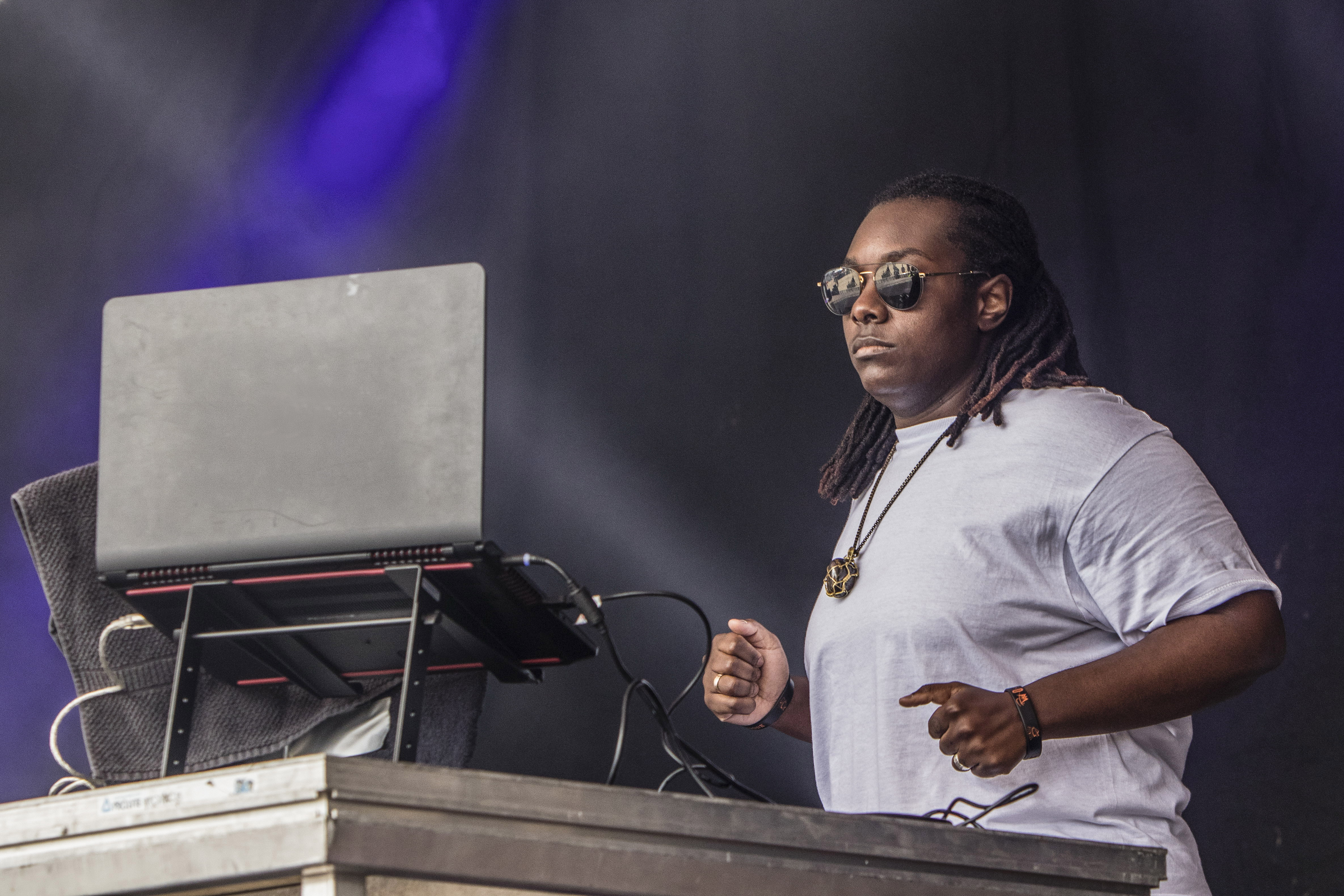 Video game-like digitized harp notes are the first few sounds heard on the opening track, also named "Black Origami." It reveals nothing about the rest of the song, which later features competing samples of slap-heavy percussion and breathy woodwind instruments. But it does foreshadow the surprising album as a whole, as Black Origami is altogether light and bouncy, a major 180 from anything found on Dark Energy or Free Fall.
At once, the title is also a declaration. If earlier releases embraced the latent aggression and humor of horror consumed in solitude (like on Dark Energy album closer "Abnormal Restriction," which samples Faye Dunaway's turn as Joan Crawford in Mommie Dearest), Black Origami utilizes a selection of musical styles that span the globe. "Kyanite," the standout third track from the new record, melds shimmery, New Age wind chimes with ramped up drumline percussion and indecipherable vocal samples. A chirping bird sample flutters here and there on the track. It's a pleasant little surprise on an album of pleasant little surprises.
On an album melding numerous musical genres, Patton turns inward toward the diverse cultural landscape of black America. Many of the tracks' astounding drumming could easily find a place on any football field at an HBCU, but Patton draws connections to footwork and ghetto house, smaller though no less black musical traditions. Fans first heard "Hatsheput," where Patton once again utilizes percussion in a drumline manner, in the middle of an Aphex Twin set at the Day for Night festival in Houston. (The two have struck up an unlikely friendship.) Album closer "Challenge (To Be Continued)" follows a similar trajectory, and it ends up as some of Patton's most intelligent efforts yet.
"1%," a track reportedly made in collaboration with experimental producer Holly Herndon, sounds most similar to her past efforts. A child's voice utters, "This is an emergency," throughout the track. Blown out sub bass and a phone operator's disconnection notice ramp up the track's nightmarish energy. Patton's gut punches are not completely gone, the track seems to imply, only morphing as the artist continues to grow. The song appears near the end of the record, as if Patton is leading up to this triumphant return to her original sound, only to let it go. Two songs later, on album closer, "Challenge (To Be Continued)," she is back in her newer creative form, transitioning from ambient samples in the first few seconds of the track to a cacophony of drums and percussion. 
On Black Origami, Patton ties together dance music with bedroom experimentations, like tinkering with a new toy or play set and finding something that just so happens to be danceable. Her music is still cinematic in scope, but precision becomes the true narrative of her creations. There is no note out of place or sample used without careful thought. The album asks the listener to unpack each second, find thrills in its surprises and layers, or simply get lost in the rhythms that will make one's body jerk and jut out in ways not yet defined. It is the work of an exacting mind, one that should challenge other producers and musicians in the future.
https://embed.spotify.com/?uri=spotify%3Atrack%3A7eh4uxnk68xjuYhYqrVUF9