Jay Z's music streaming service Tidal has confirmed the departure of Jeff Toig, its third chief executive in two years. "As part of Tidal's continued expansion this year we will be announcing a new CEO in the coming weeks," the company said in a statement to Billboard. "We wish [Toig] all the best in his future endeavors."
Toig took over as CEO in January 2016 and has worked to stabilize the company after its shaky launch nine months earlier. He replaced interim CEO Peter Tonstad, who took over for Tidal's original exec Andy Chen. In his announcement at the time, Jay Z called Toig a "leader at the intersection of consumer ­technology and entertainment for more than two decades."
Toig came to Tidal following a two-year tenure as SoundCloud's chief business officer. Before that he was the founder and senior vp of Muve Music, Cricket Wireless' ­music service, and a member of the Virgin Mobile USA founding team.
The nature of Toig's departure remains unclear, but a source with knowledge of the situation indicated that he actually exited in March. (His LinkedIn profile has not be updated to reflect the career change, however.)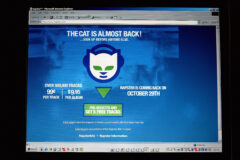 Jay Z bought the Swedish ­technology company Aspiro and its WiMP ­streaming service, renamed Tidal, in early 2015 for $56 ­million. A splashy launch, featuring star power from the likes of Beyonce, Kanye West, Daft Punk and Nicki Minaj, followed soon after.
Since then, the company has struggled to attract-and-retain paid subscribers during a period in which streaming now accounts for more than half of music industry revenues. At last unofficial count, the service had an estimated one million paid users, far behind leaders Spotify and Apple Music (50 million and 20 million, respectively).
In January, Tidal sold a 33 percent stake in the company to Sprint for $200 million. In February the company beefed up its content team by hiring two industry veterans, former Billboard editor Tony Gervino and ex-XXL editor Elliott Wilson, to newly created roles.
This story originally appeared on Billboard.