Girlpool are maybe more famous than they set out to be, considering their music sounds best holed up alone in your bedroom at home. Harmony Tividad and Cleo Tucker's DIY rock duo come from the far Bandcamp end of the Soundcloud vs. Bandcamp spectrum, bearing relatable songs about growing up as a regular gal and learning to be confident while simultaneously figuring yourself out. Their first two releases, a self-titled EP and their 2015 debut Before the World Was Big, were just guitar, bass, and the two of them, always singing together, twinning collective memory in a way that made you feel like they could've known each other their whole lives.
On Powerplant, their second full-length, Girlpool stretch to try things they haven't up until now. Most significantly, they have a drummer, Miles Wintner, who lends a new level of formality. Opener "123" begins gentle as a lullaby, as Tividad and Tucker count off in their familiar doubled whisper-chant. As though they're eager to show off their new range, they soon break in the cymbal-heavy percussion, powering up to a full-fledged rock song. From there, they zig into shoegaze-writ-small on "Sleepless," and feint like they're writing three-chord twee pop on "Corner Store," where they abruptly flip the feedback switch before reverting back to sounding stripped-down and cheerful.
The contrast creates proportion, a phenomenon that extends to all Powerplant: It runs just 29 minutes, and you won't need that long to hear the experience and confidence Girlpool have gained as musicians. It's a lot to take in, especially from a band formerly so minimalistic, but musically, it holds together. The vocals are mixed low; the shoegaze-y sound sticks like a persistent mist. "Corner Store" is a highlight, and so is "Kiss and Burn," which sounds like Sixpence None the Richer's "Kiss Me" meeting an old Shins song. Taken in isolation, a song like "Fast Dust" feels slight, but the slow reverie of its refrain ("I wanna make fast dust") spins up an idea of motion within stillness.
As has been noted, it's easy to feel like the action in a Girlpool song is happening in a world Girlpool made up. On Before the World Was Big, that place was explicit: the realm of childhood, shading into fantasy. By comparison to their first full-length, Powerplant is more self-consciously idiosyncratic, crannied, even stagnant. A few of the band's signature crooked bon mots peek through: "The nihilist tells you that nothing is true / I said I faked global warming just to get close to you" ("It Gets More Blue"). But to the extent that Powerplant is "about" anything, it's the sum of daily nothings that become ordinary adult lives, and sometimes singing about the very quotidian isn't terribly interesting. Take "Soup," with a combination of specific action and vague motivation better suited to a screenplay: "You walk to the trash cans and throw out the soup / Your mind is waiting 'cause there's so much to do."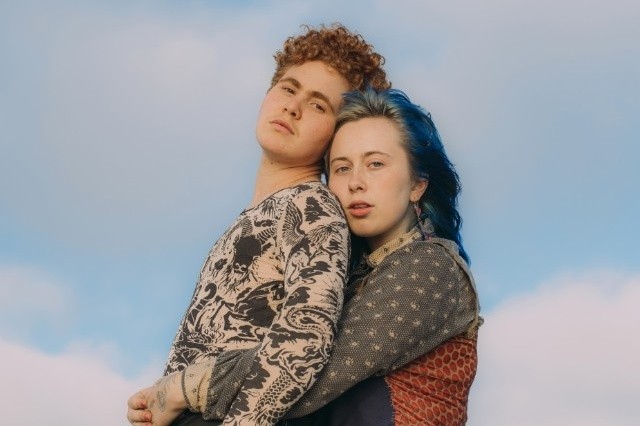 More frustrating is "Powerplant," whose titular position would suggest importance, but whose opening lines ("Hold onto the hand so you can stick to the plan / A game in the pool making space out of rules") feel wedded to a storybook rhyme scheme. The harmonies are pretty, but the words don't stick. Sweet singalongs were always part of Girlpool's appeal, but their best lines are trenchant, not just pleasant. Seconds later, "Powerplant" momentarily blossoms into an epigraph for the wallflower: "She's like a shelf, the way she looks at the wall." That's the beautiful minutiae of everyday life—the part that stands out from the merely insignificant. Girlpool sometimes wind up in the weeds.