When they perform live, Forest Swords reveal themselves for what they really are, which is the world's proggiest dub reggae ensemble. On a recent evening in New York City, Matthew Barnes, who composes and produces Forest Swords' albums as a solo artist, wore a camouflage shirt and watch cap, flailing behind his laptop and sampler pads like a man possessed. James Freeman, touring bassist, bopped calmly in a black crew neck that matched his guitar and Ampeg stack.
Both are slight, ruddy-cheeked guys with close-cropped red hair and beards. They look like they could be brothers. They look like they could be the same guy. Their instrumental songs were long and discursive, and they drew from a melange of genres. But so many of their dark and steely favored sounds–moaning disembodied voices, pulsating distorted low end, thumping giant footstep percussion, creeping static noise–arrived according to rhythms and patterns set out by the likes of King Tubby and Lee "Scratch" Perry in Kingston 40 years ago.
Barnes began work on Engravings, Forest Swords' acclaimed debut full-length from 2013, shortly after discovering dub via a CD box set compilation of classic tracks released on the Trojan label. He was an out-of-work graphic designer who'd released the first Forest Swords EP in 2011 as something of a lark, teaching himself to make beats and use digital audio software in his spare time after being laid off from his job at a magazine in the UK. "I was just amazed at how dub sounded," he said, sitting on a Union Square park bench on the day after the NYC show. "What they did with studio techniques, using the studio as an instrument, using sound as a tool, using space as a tool, and using bass as a tool. And I thought it could be quite interesting to put that kind of spacious bass sound into what I'm doing."
Barnes designs all of Forest Swords' album artwork himself, a remnant of his previous professional life. ("My dad always makes a joke that all my fans are designers," he says with a laugh. "If I can give back to the graphic design community, I'm more than happy.") The Engravings cover looks like it belongs to an experimental metal band, and many of the songs within are shot through with a dissonance Barnes gleaned from childhood favorites like Deftones and Aphex Twin. There are no reggae upstrokes or toasting MCs, but tracks like "Irby Tremor" proudly identify Barnes as a disciple of Tubby, setting skewed orchestral samples and spaghetti-western guitar against slow and steady basslines that are unmistakably Jamaican.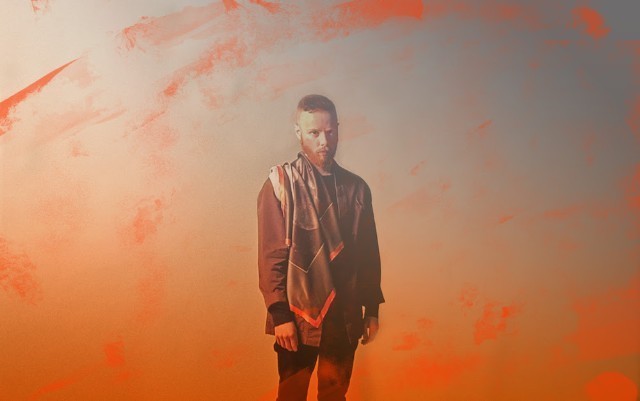 On Compassion, Forest Swords' newly released second album, the influence is a little harder to spot. The songs are longer, more circuitous, with an emphasis on drama and narrative that was mostly missing from the A-B structures of Barnes' earlier material. After Engravings became a critical hit, he took a brief break from making albums, working instead on commissions to score multimedia works: a contemporary dance piece, a sci-fi film shot entirely on drones, and the video game Assassin's Creed Rogue. Compassion reflects this newly expanded approach, built on a mix of sounds Barnes created electronically on his laptop and arrangements of live instruments. "Panic," an early highlight, opens like a contemporary update on an Ennio Morricone score, rendering a tense martial atmosphere from rolling drums and processed singing. Soon, the sampled voice of soul singer Lou Johnson breaks through the mix with violent urgency: "I feel something's wrong / The panic is on." Barnes's arrangement, together with a striking video featuring dancers whose faces are always obscured, suggests something more is at stake than the precarious romance of Johnson's original.
"I never wanted to jump into the studio as soon as I got the opportunity, and be like 'I want strings, and I want brass, and I want a fucking choir!'" Barnes said. "Some of the strings on Compassion are real, and some of them are fake. Some of the brass is real, and some of it's fake. I like the idea that plugins now are so sophisticated that you can get anything to sound like anything, and it's very convincing. But occasionally, when you listen to it closely, or when you tweak it slightly, it can be really off, or a bit wonky. And it's really fun to butt those two things together."
Compassion is difficult to categorize. In addition to its filmic qualities, there are shades of '90s artists like DJ Shadow, Portishead, and Massive Attack, who used the sonics of hip-hop toward nocturnal music that was mostly divorced from the act of rapping. (The unabashedly epic scope of DJ Shadow's Entroducing… cut "Stem/Long Stem" feels especially prescient.) It's produced mostly on a laptop, and it feels like electronic music, but it has no aspirations toward the dance floor. Though he's mostly mashing buttons onstage, Barnes has the coiled energy of a rock musician; when he occasionally picks up his guitar, he practically drapes himself over the instrument, glaring toward Freeman with a punkish mix of menace and affection.
The reluctance to follow the strictures of genre means Forest Swords sometimes has difficulty fitting comfortably into concert lineups. In New York, Barnes and Freeman were sandwiched between a set of trippy techno tunes by the Bronx DJ Umfang and the dance music deconstructionist Actress, who headlined. Just as Umfang was beginning to whip the reluctant audience into rave mode, Forest Swords solemnly took the stage, backed by a projected black and white photo of shirtless horseback riders on a beach. With its bare-chested men by the water and chiaroscuro lighting, the image reminded me of the cover to Slint's Spiderland–an uncompromisingly tense and ambitious album that provides an imperfect but surprisingly appropriate point of comparison for Compassion.
Music history is littered with disastrous attempts by white and non-Jamaican people to make reggae their own, but they seem to be making a better go of it in Barnes's native UK than we do in the States. Jamaica was a British colony until 1962, and if imperialism can be said to have a silver lining, one upside is the rich ongoing communion between British pop sounds and traditions from the island, from the Clash and 2 Tone ska in the '70s to jungle in the '90s and grime today. For Barnes, the delicate dance between appreciation and appropriation involves immersing himself in dub's techniques rather than its outward style. "It's like looking at a painter and thinking, 'I really like his brushwork,'" he said. "I'm a middle-class white person. Dub isn't my music."
Still, it's good to acknowledge your roots every once in awhile. At the end of their set in New York, Forest Swords played a Compassion track with a medieval orchestral arrangement and clubby syncopated snares. Suddenly, the sound became bright and spacious. The rhythms settled into easy half-time. A keyboard riff appeared to mark every off beat, soaked in echo effects. The bass throbbed on as it had been doing all night. After an hour of dense dub in translation, Forest Swords pulled out something like the unadulterated article. It sounded like a Black Ark or Studio One production. A few measures later, Barnes looked up at Freeman and smiled, then steered the music back toward the wilderness.