Whipping up something like a perfect storm of viral internet content, musician and meme subject Mac Demarco invited the beloved teenaged cast of Stranger Things to join him onstage at a show in Atlanta over the weekend, Pitchfork notes. Finn Wolfhard, aka the show's chief protagonist Mike Wheeler, is a guitarist and avowed Mac fan–he once recorded a cover of "Salad Days"–and joined his hero on the axe at one point during the set. Videos shot by fans and by fellow Stranger Things star Natalia Dyer–Mike's sister Nancy Wheeler, that is–show Wolfhard shredding onstage and sitting on DeMarco's shoulders.
https://www.instagram.com/p/BUXlaLaBVMW/
Another video, also shot by Dyer, shows DeMarco taking a stage dive, followed by Joe Keery aka Steve Harrington, Nancy's boyfriend from the show.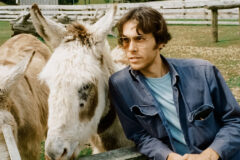 https://www.instagram.com/p/BUX1A99hS4U/
Wolfhard himself seemed to enjoy the encounter: "Love you maccy boi," he wrote on Instagram, accompanied by a photo of himself perched precariously on Maccy boi's back.
https://www.instagram.com/p/BUV0H3mljXe/