Both Drake and Céline Dion performed at last night's Billboard Music Awards, and they ran into each other backstage and exchanged some pleasantries. Well, Drake was more than pleasant, maybe even bordering on adorable, as he fawned over the fellow Canadian musician, calling her "very iconic" and saying "we love you" during their brief meeting. He added that he's "like a year away" from getting a Céline Dion tattoo. Dion, like any good mother, went on to make sure that her son met Drake. The interaction was captured on video. Check it out below.
Drake x Celine Dion 💕 pic.twitter.com/VttP8pMWq5

— DS (@DrizzySource) May 22, 2017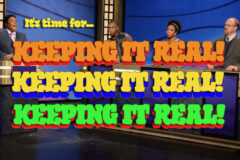 Drake also shared a photo taken with Dion and his father, who attended the awards show:
This post originally appeared on Stereogum.