These days, there are endless amazing videos of Prince on YouTube; following the pop legend's tragic death a year ago today, die-hard fans really started committing to uploading their archival footage of the more obscure moments in his long, prolific career. Today, we'd like to draw your attention just one: a lesser document but still, a crystalline manifestation of Prince's inimitable spirit.
After the release of his 1999 album Rave Un2 the Joy Fantastic (one of the NPG-era Prince releases you won't find on streaming services), Prince–who was then simply identifies by a symbol, or as "The Artist [Formerly Known As Prince]"–made a promotional appearance that might seem goofy now, but was borderline-crucial for major pop stars at the turn of the millennium: a visit to MTV's then-monolithically-popular video countdown show Total Request Live. "The Artist," sick with laryngitis, stopped by the show's Times Square studio to premiere his music video for the Fantastic track "The Greatest Romance Ever Sold." He was also interviewed by host Carson Daly, in a must-see segment.
Throughout the interview, Daly seems pretty embarrassed of his teen-catered, 98-Degrees-repping show. He thanks Prince for his new album, arguing that "in an age of disposable music…it's great to have," which gives Prince pause: "An age of what?" Daly clarifies: "an age where music seems to come and go, where music lasts for just a couple of weeks sometimes." That gives Prince the perfect opportunity to sneak in a good burn: "You don't promote any of that 'disposable music,' do you?"
Later, the two discuss the objectification of women in music videos ("booty videos" like Juvenile's "Back That [Thing] Up") with another star VJ of that cultural moment, Ananda Lewis. A caller asks Prince about his favorite new movie and TV show, to which he responds:  "I have a big problem with a lot of today's movies… What you watch and what you listen to turns into you… Turn the TV off for a week, find other things to do. Then we'd really have Y2K."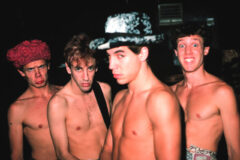 The interview is, clearly, an excellent time capsule: At one point, for example, an audience members asks Prince about his recent collaboration with Ani DiFranco on her album of the year. While Prince says he "doesn't keep up" with modern music, he seems moderately pleased after watching the clip for Christina Aguilera's "What a Girl Wants," (#3 on the countdown), but screws up his eyes a bit when Carson announces the #2 for the day: Korn's "Falling Away From Me."
Watch the video below. Below that, you can watch Prince playing Sign o' the Times' "U Got the Look" at his big Y2K-eve, pay-per-view concert event of that same year, Rave UN2 the Joy 2000. For further recommended listening, check out our new Prince deep cuts playlist.
https://youtube.com/watch?v=fB0lqBvFqgs