The planned release this Friday of a batch of fresh Prince songs has been hit with a legal challenge.
Social media lit up Tuesday with the news that a six-song EP of previously unreleased material called Deliverance will drop April 21 to honor the one year anniversary of Prince's death. To help get the word out, its title track went up early on iTunes and Apple Music (though it's notably absent from Spotify or Tidal).
Just hours later, reports emerged that Prince's estate and Paisley Park had filed a federal lawsuit against sound engineer George Ian Boxill for control of the Deliverance tracks. The lawsuit estimates the value of the recordings at more than $75,000.
According to St Paul's KSTP, the lawsuit accuses Boxill of refusing to return the tracks in violation of a contract he made with the late artist. The lawsuit was initially filed in Carver County district court Friday, but was re-filed in federal court Tuesday because Boxill, who has worked with Tupac, Gladys Knight, Janet Jackson and others, works in California.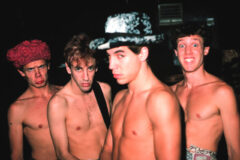 A press release announcing the Deliverance collection claims the "undiscovered studio recordings" were cut from 2006–2008 and will be released via RMA (Rogue Music Alliance), with a physical version of the set scheduled to drop June 2.
According to the RMA statement, Prince and Boxill co-wrote and co-produced all of the tracks beginning in 2006. Boxill spent the past year after Prince's passing completing the compositions and arrangements, finishing the production and mixing the songs. "Prince once told me that he would go to bed every night thinking of ways to bypass major labels and get his music directly to the public," he is quoted as saying. "When considering how to release this important work, we decided to go independent because that's what Prince would have wanted."
The estate and Paisley Park also requested "any and all masters, copies and reproductions" be returned. It's unclear at this stage whether those two parties will get their wish before Friday.
This article originally appeared on Billboard.