If you wanted to pick a single moment of music to explain the phenomenon of Massachusetts post-hardcore quartet Pile–the rave reviews from fellow bands; the reasonable music writers driven into paroxysms attempting to explain their appeal; the crazed fans compiling detailed gear lists for members, getting lip tattoos, and wearing homemade t-shirts that call out not just specific Pile songs, but specific parts of specific Pile songs–you'd have plenty to choose from on the band's sprawling sixth album A Hairshirt of Purpose.
I'm tempted to choose the riff that arrives at the climax of the final track, "Fingers," which barrels forward and is filled with jarring stitches between sections, like a drunk and angry exquisite corpse. The riff arrives with a force that Pile has spent the previous 12 tracks gathering and only occasionally teasing out. On a record distinguished from the group's previous albums by its restraint and the sophistication of its arrangements, the "Fingers" riff is a reminder of the band's strength as a blunt weapon. But Pile's reputation isn't only built on thudding catharsis. Even on earlier albums like Dripping and Magic Isn't Real, the band drew listeners in with glowing details, a nimble sense of timing more often associated with jazz or classical musicians, and a compositional ambition exceeding that of nearly all of their peers, playing to crowds of beery punks in basements across America.
I find my favorite moment on A Hairshirt of Purpose while watching Pile play a set that contained almost the entire album, in front of a sold-out crowd in Brooklyn a few days after its release. (Six albums in, Pile aren't playing many basements anymore.) It comes during "Leaning on a Wheel," a twangy and melismatic ballad about the inertia of old relationships. Rick Maguire, Pile's frontman-composer and one of its two guitarists, spends most of the song singing like a 1940s country-western yodeler as the band quietly spins out melodies behind him. Finally, near the end, Pile starts doing a muted version of the thing Pile does so well. The guitars lock into metronomic unison, drummer Kris Kuss urges them along with a steadily thickening rain of tom and snare hits, and Maguire's voice rises into the sandpapery region at the back of his throat. The song achieves liftoff midway through a weirdly affecting refrain: "We're all giving ourselves head, each in our own way."
At the peak of this ascent, the guitarist in any other punk band in the world would either play a soaring lead or coast on power chords; instead, Maguire retreats into a fingerpicked triplet figure that takes you back to the twisted country of the song's introduction without losing any of its newfound momentum. Even though I'd already listened to Hairshirt about 20 times before the Brooklyn show, I didn't notice and appreciate this delicate little guitar part until then. This happens with Pile: because of their rhythmic and structural complexity, the songs often take their time settling into your brain. Something that seems like an odd musical choice the first time you hear it might have you playing air guitar alone in your apartment on the fourth or fifth listen.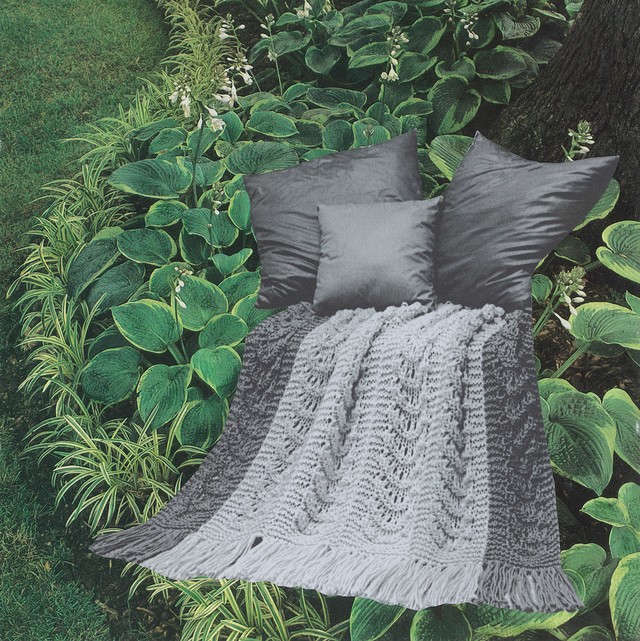 After their set and a few beers with fans at the merch table, Maguire and the rest of the band retire to the apartment of a friend of a friend, where they sleep on the floor. "We're getting older, and so are the friends we make through touring, and they're getting nicer places, so that kind of helps" he tells me the following afternoon, standing in the drizzle outside a kitschy punk dive bar. Pile would play another packed Brooklyn show that night, then set out for five more weeks of floors and crowds and loud music.
I ask him about the fingerpicking in "Leaning on a Wheel" and the attention to detail in Pile's songs, and he responds with the kind of gracious self-effacement he'll be frequently asked to exude in front of fans on the coming tour: "I try to avoid doing the repetitive thing in the songs, when it's lazy. Sometimes I do it anyways."
Either with Pile or as a solo artist, Maguire has been on the road for a good chunk of his adult life, and he's encountered far gnarlier challenges than overeager fans and journalists. In 2015, just as Pile's fifth album You're Better Than This was beginning to find a wider audience than their longtime supporters, he quit his day job at a Boston Trader Joe's to focus on music full-time. Pile left for a nine-week tour to support the album, and when they got back, Maguire had no job and no place to live. For a summer, he slept in Pile's practice space. To make ends meet, he began saying yes to every solo show he was offered, in addition to Pile's already packed tour schedule.
Then, after a one-off Pile show in upstate New York, he and his bandmates went camping. They were having soup for dinner, and they warmed the cans over the fire without opening them first, thinking they'd heat up faster. Kuss opened his can first. Voila: hot soup. Maguire went next. As soon as he lifted the pull tab, the can exploded, emptying its contents onto Maguire and leaving him with burns all over his face. In Brooklyn, he laughs and swipes through his phone to view a series of photos from the soup explosion's aftermath. In the first image, taken a day or two after the trip, he's browned and his eyes are wrinkly and swollen. He looks two decades older than his boyish 31 years–"like Mickey Rourke," he says. In later photos, his face is fully two-toned, like he's suffering from vitiligo.  
"And Kris, the drummer, was like 'You can't stay in the practice space with a face like that.' Because I was fucked up," he continues. "Luckily it healed really fast, but man. I was living in the practice space. Had that shit happen. What the fuck am I doing? And then when I went South," he says, retreating to to his parents' house in Nashville and another home the family owns in Georgia, where he began workshopping the material that would become Hairshirt. "That was when I could finally be alone and lick my wounds."
Pile got its start as a musical project about ten years ago, when Maguire began to tire of the breakneck punk his previous band Hel Toro was playing. He started writing more tuneful songs on acoustic guitar and piano, tossing them into a metaphorical "pile" for some yet-to-be-determined future use. The first two Pile albums, 2007's Demonstration and 2009's Jerk Routine, feature Maguire playing and singing mostly alone, explicitly channeling the influences of country music, the blues, and the primal folk songs of what rock critic Greil Marcus dubbed "the old, weird America." He arrived at this sound, he tells me, in part because he hated the thought of becoming a "solo emo" act like Dashboard Confessional, which felt like the most obvious signpost for a punk singer going acoustic. And though no one would describe Pile as a "blues rock" or "Americana" band, the sound of traditional guitar fingerpicking and a feeling of bruised yearning imported from country music can be heard on all of their releases, including A Hairshirt of Purpose.
Pile got its start as a band a few years later, when Maguire started itching to play loud again.  He recruited Kuss on drums, Matt Connery on bass, and Matt Becker on second guitar. They played Maguire's solo repertoire, and also drew from the exploratory indie rock of the late '80s and '90s–bands like Slint, Shellac, early Modest Mouse–not out of nostalgia, but the sense that there was still compositional terrain left uncharted when everyone sold their guitars and bought turntables. Maguire still wrote all the songs, but the band approached them with a new widescreen focus and communal energy. If the lovable existential dirtbags that populate The Lonesome Crowded West got together in a garage, listened to John Fahey and Mississippi John Hurt, and composed a symphony to the dust and clutter around them, the result might sound something Pile's full-band lineup.
Pile got its start as a phenomenon sometime around the release of Magic Isn't Real in 2010 and Dripping in 2012. Around this time, the band helped electrify the music scene in Allston, a dingy Boston neighborhood that is a haven for students, playing endless shows in the same sweaty punk-house basements where contemporaries like Speedy Ortiz, Krill, and Fat History Month cut their teeth. The chaotic energy of these early full-band Pile performances became the stuff of local legend, and as the success of Speedy Ortiz briefly directed the spotlight of the national music press toward Boston's house shows, Pile's peers began championing their music at seemingly every opportunity. Exploding in Sound, the buzzy record label that has spent the last several years releasing records by an increasingly recognizable roster of scuzzy basement rockers, launched partly because its founder loved Pile and wanted to give Dripping a proper release. Before Krill's breakup in 2015, they released an EP called Steve Hears Pile in Malden and Bursts Into Tears. In the title track, the narrator laments that he's never written anything as good as a Pile song ("Did you hear the latest Pile album? Not a stinker on it"), then emails Rick and asks to play a show together.
The reputation Pile has earned as "your favorite band's favorite band," and the minor hubbubs that have attended the releases of A Hairshirt of Purpose and their 2015 album You're Better Than This, follow from a simpler truth about the band. For several years before the music press deigned to acknowledge them, they were on the road and in the studio, building their chops and a community around their songs. In a time of flickering buzz for Soundcloud upstarts and endless dire prognostications about the future and meaning of indie rock, Pile has something valuable and surprisingly rare: an actual fanbase, one that will stick around if the media attention they're receiving eventually dries up.
"It's ideal," Maguire says the day after their Brooklyn show, the drizzle clearing. "I'm happy it worked out this way, because I would have been freaked out if it had all happened at the same time. It would feel so fragile. If it's just that the press loves it, and then there are fans all of a sudden–if the press turns on you, then you're fucked. It's nice to just put stuff out, and there are people out there who are into it based on nothing more than what you're doing."
It wasn't always like this. Pile hired a professional publicist around the release of You're Better Than This, but before that, Maguire and the band's label head were acting as de facto press agents. "It was just, like, crickets," he recalls. He's intensely curious about the machinations of the indie rock industry that happen outside the confines of the practice space and the tour van, and we spend a good chunk of our interview discussing the particulars of my job. We get to talking about artists for whom it happens the other way around: buzz first, then fans. "Like Vampire Weekend," he says. "Dude's dad was an A&R rep? I don't know how true all that stuff is. But I think that band's music is garbage. Maybe I don't know all of it, or whatever. But it's like 'How did that happen?' But I do know how it happened. If you pimp anything the right way…"
(I'd never heard this rumor about Vampire Weekend before, and it appears to be untrue. Ezra Koenig's dad is a set dresser for film and TV, Rostam Batmanglij's dad works in book publishing, and according to Wikipedia, Chris Tomson's dad is an engineer. I can't find anything about Chris Baio's dad, but I know that his cousin is Scott Baio.)
By Maguire's estimation, Hairshirt has gotten "far and away" the most press attention of all of Pile's releases, much of it centered on the period he spent writing in Nashville and Georgia. "I think the press has really run with that, because it's an easy thing to romanticize," he says. "I was there for like a month, and I got mono there. So I wasn't like, Oh, really expressing myself, you know what I mean? I was just kind of sleeping and watching TV and eating ice cream. But whatever. If people want to say I was doing some Justin Vernon shit in the woods, that's fine."
The record that Maguire wrote during his stint in the woods is easily recognizable as Pile, but with stronger singing, slightly less distortion, and occasional strings and piano that augment the songs without weighing them down. Maguire says it maybe feels "a little bit more mature" than its predecessors.
You can hear the changes on a song like "No Bone," which features only voice and twinkling guitar arpeggios on a chorus that would have previously been assisted by thundering drums. Or the gorgeous "Making Eyes," which, if you listen to it in a certain headspace, almost sounds like Grizzly Bear. At times, the band seems to delight in building toward violent catharsis and pulling the rug out from under you at the last possible moment. At the show in Brooklyn, a particularly raucous fan in a Yankee cap seemed to suffer coitus interruptus during "Dogs," which contains multiple huge crescendos that lead not toward chugging rhythmic chaos, but drumless clean guitar and whispery falsetto. Fortunately for the Yankee fan, they also played Hairshirt's serrated lead single "Texas," which ranks among the heaviest songs in Pile's repertoire.
Since the recording of Hairshirt, Maguire has taken another sabbatical down south, where he wrote material that could take the band in one of two starkly different directions on their next record. "I was thinking of having a bigger band–two drums, maybe some keys or synths," he says. "But I've also thought about doing the exact opposite of that, which would be just piano, strings, and acoustic guitar. Super mellow, and it doesn't get to that intense aggressive stuff that we do. It would be nice to make a record that you can put on and chill out and make dinner."
Pile has put out a record every two years since Demonstration in 2007, with long tours in between each of the later albums. Maguire expects to maintain something like this schedule "until I physically cannot do it anymore," he says, and then waits a beat. "Which could be, like, five years from now."
Because Pile got the chance to write their own narrative before blogs started writing it for them, coverage of their records tends to fall into one of two categories. There are the mildly puzzled writeups, concerned as much with Pile the phenomenon as they are with Pile the band. Pitchfork's review of Hairshirt, for instance, opens with "It's impossible to talk about Pile without talking about their fans." Their You're Better Than This review refers to Pile as the band "your cousin at MassArt's been raving about." Then there are the gushing dispatches from writers who are clearly members of the band's cult, attempting to convince you that their favorite band is in fact the greatest group of rock musicians playing in America today. "I am nervous because I have 35 questions in my iPhone for Rick, and some of the questions are so obsessively specific that I wonder if I am crazy," reads a particularly rhapsodic 2015 article from Consequence of Sound.
If I haven't made it obvious by now, the piece you've just finished reading lands closer to the second category.