"JUST A SECOND, just a second now," said Canadian performer Kinnie Starr as she abruptly swung her electric guitar down and stepped off the tiny Borders stage on the opening day of the Lilith Fair. "I know what I'll do instead of play a song. Does anyone here know who Lilith was?"
A pubescent girl with short blond hair trotted up to the mike and recited the feminist catechism: "Lilith was Adam's first wife… I think." The audience chuckled and Starr encouraged the speaker on. "She refused to be below him, in both ways," the girl said with a knowing grin, "mentally and physically. So she got kicked out of Eden."
Convinced that women were being similarly oppressed in the garden of altrock, Sarah McLachlan chose the ancient Hebrew character Lilith for a namesake when she decided to launch an all-female traveling music festival. The analogy is not completely accurate: Given the lineup at last year's Metallica-led Lollapalooza, alternative rock's females–unlike the charter members of the First Wives Club–were fired before they quit. McLachlan conceived the Lilith Fair largely in reaction to that cock-rock confab, as a separate-but-equal gathering. Her goal–to demonstrate the economic viability of female musicians–is laudable, but unfortunately, Lilith remains mired in its reactionary origins. Jim Crow is as dead-end a policy for women as it was for African-Americans; in the name of progress, Lilith keeps women tradition-bound.
Wandering the bucolic grounds of Washington state's Gorge Amphitheatre to catch 11 artists performing on three stages was like stepping back in time. Flowing, floral skirts brushed the tops of bare feet, and woman after woman strummed an acoustic guitar and sang about the man who rode off into the sunset. What with malfunctioning computers at the Lilith Center booth, downed credit-card machines at the Borders store, and sound-systems snap-crackle-and-popping at the main and second stages, it looked like Lilithians hadn't quite gotten a grip on electricity yet.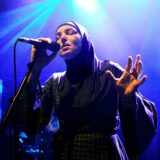 To be sure, gathering a sold-out audience that was 80 percent female at a premier venue like Gorge is no small accomplishment. Lilith brings together both the women who have stalwartly supported female artists at decades-old feminist enclaves like the Michigan Womyn's Music Festival and their teenage descendants, who see themselves–or fantasies of themselves–in the likes of Jewel and Gwen Stefani. Skeptical concert promoters have long resisted booking all-women bills, and in that sense, Lilith is a wake-up call to the music biz. In a concert season chock-full of festival tours, at a time when even giant acts like U2 have suffered weak sales, Lilith is the hot ticket–not surprising, considering that women, especially the songbird types Lilith champions, have been dominating radio and sales charts ever since Alanis Morissette broke the commercial glass ceiling. As of press time, five of the tour's 35 shows had sold out, and several others were close. At the opening-day press conference, McLachlan chuckled as she recalled how promoters who initially turned Lilith down subsequently called back, sputtering apologies. She also presented a check for $19,500 to an area shelter for abused women; one dollar of every Lilith ticket sale will benefit local nonprofits, and the Fair is also supporting the Rape, Abuse and Incest National Network and the AIDS organization LIFEbeat.
Still, the road to hell is paved with good intentions. Lilith impressively culls together some of the biggest acts in current pop music, but, in doing so, fails to confront conservative radio programming. With the Cardigans, Joan Osborne, Holly Cole, Fiona Apple, Meredith Brooks, Emmylou Harris, and Sheryl Crow, among others, joining the event at future stops, the Gorge show admittedly presented one of the more homogenous lineups, but as a whole, none of the Fair's guests are what you would call rowdy, let alone provocative. By focusing on a narrow range of musical styles–every artist on the Gorge's main stage came from an acoustic, folk, singer/songwriter background–Lilith sends out essentialist messages about sexual identity. If Lollapalooza has devolved into a testosterock fest, Lilith responds with estrogen clichés. It's as if the artistic brainchildren of both tours modeled their creations after themselves, i.e., women are from Sarah McLachlan, men are from Perry Farrell. Lilith's artists, like their earth mother, tend to be spiritual, nurturing, in touch with their emotions, inwardly directed, and passive. Lollapalooza's are political, aggressive, tough, externally oriented, and active. Lilith's women use simple acoustic instruments (electric guitars are rare) while the boys of Lollapalooza play with all kinds of gadgetry. Lilith: kitchen; Lollapalooza: garage.
Considering that Janis Joplin, Aretha Franklin, Patti Smith, Grace Jones, and Joan Jett fought against precisely those stereotyped roles, and that it was angry second-wave rockers like Babes in Toyland, L7 and Bikini Kill, and rappers like Queen Latifah who began challenging the gender blockades a few years ago, Lilith seems to be taking one step forward, two steps back. For Lilith to really underscore where Lollapalooza has gone wrong, it should have followed Lolla's early genre diversity while also rewriting its gender codes. At the press conference, McLachlan said she had invited some "harder-edged" acts but that they turned her down. She added that each artist on the bill "had something beautiful to say," but even a few women with something ugly to say would have added some sorely needed complexity.
Of course, it's not the fault of Lilith's individual artists that they've been lumped together to reinforce some hoary, hormonal myths–not necessarily, anyways. If Lilith had been advertised as a folk-rock festival instead of "a celebration of all the new music that's coming out from women these days," you could start the review here.
McLachlan began the afternoon with a brief acoustic appearance on the Borders stage. All the acts here were solo and troubadour-oriented, yet these generally younger artists seemed eager to break out of that yoke. Twenty-year-old Lauren Hoffman has a PJ Harvey-esque rage bottled inside her, while Kinnie Starr was perhaps the festival's most musically adventurous performer, rapping and declaiming poetry over backing tracks. "You can't play loud rock music without loud rock amps," Mudgirl singer Kim Bingham complained from the larger second stage, where actual rock bands performed, albeit stymied by sound problems. Mudgirl played melodic, up-tempo songs with titles like "Sauteed Onions"; Leah Andreone chased scales over hard-rock grooves and decimated Nirvana's "Come As You Are." Both singers performed with all-male backing bands; Cassandra Wilson's drummer Cindy Blackman and McLachlan's backup singer were the only women onstage who weren't frontpeople. Unfortunately, Wilson started off promisingly, but wandered off into jayy-lite clichés.
The main stage's bill opened with Suzanne Vega, whose college-girl, not-yet-a-woman voice set a tone more than a decade ago that has finally culminated in Jewel's celebrated chirp. Next came Paula Cole, the Nancy Reagan of women in music, with her nostalgic ode to domesticity, "Where Have All the Cowboys Gone?"–they're over at Lollapalooza, Paula. Jewel (the Margaret Thatcher of women in music–no wait, that's the Spice Girls) followed, crooning, "I will put a white dress on and by the window wait for my Marlon Brando to come crashing through." She told one of her stories about those difficult days when she lived in a van, as if her months of chosen homelessness made her a spokesperson for struggling artists and the underclass in general. Jewel is a precocious talent whose life story and outspoken persona seem to be declarations of independence–until you listen to her conventional love-struck lyrics. When she sang, "I'm sure you were with another girl / I'm sure she was a whore," the audience cheered the dirty word. "Sexy!" shouted a guy up front.
Cole and Jewel exemplified the sort of self-indulgent performance style that characterized many of the day's sets. But then Tracy Chapman came out singing "Behind the Wall" a cappella–not show-offy, not faux-sincere, just a solid song sung in a strong voice. Chapman is Lilith's pillar, and she did for real what others were just pretending: led her band through moods of outrage and introspection without manipulative dynamics and vocal histrionics.
McLachlan opened with the catchy "Building a Mystery," the first single from her new album Surfacing. McLachlan has a beautiful voice and, like Kate Bush, her clearest predecessor, manages to sound both art and pop without waxing pretentious. However, like many of Lilith's artists, she oversings, using six notes where one will do. And her songs offer the sort of vague therapy-speak that keeps women endlessly processing when they could be protesting. She introduced "Angel," a song about musicians who OD, saying, "It's about trying not to take responsibility for other people's shit and trying to love yourself at the time." Whatever happened to "Oh Bondage, Up Yours!"?
Still, the audience appreciated McLachlan's affirmations. Indeed, there was such a supportive, woman-friendly vibe in the crowd that even if you had a beef with Lilith's programming, and wanted to puke on all the peasant skirts, it was impossible to to leave the Gorge feeling warm and fuzzy. It took the Michigan Womyn's Music Festival 17 years to discover punk rock. Having gathered the troops en masse, perhaps next year Lilith will send them moshing.