This morning, LeBron James suddenly previewed Kendrick Lamar's DAMN., due to be released tonight, on his Instagram. While the preview was a surprise, it made sense that such an event would come from James, who led the charge for Lamar's label to the release of last year's demo collection untitled unmastered. The inherently abbreviated nature of Instagram Stories prevented James from playing too much of DAMN., but the footage did still offer some definitive glances at the new album. Here's what we picked up from the brief sneak peek.
DAMN. appears to sound very little like To Pimp a Butterfly.
Lamar made a big sonic shift from his major label debut good kid, m.A.A.d. city to To Pimp a Butterfly, and DAMN. seems to feature a change that's just as dramatic. The jazzy wrinkles are ironed out for sparer, more trunk-rattling production that sounds similar to what Lamar experimented with on the demo collection untitled unmastered., particularly "untitled 02" and "untitled 07." This isn't a shock since producer Mike WiLL Made-It, perhaps the foremost trap producer in the game, is credited on three of DAMN.'s 14 tracks.
Lamar sounds pissed on "ELEMENT."
A big part of the conversation around Lamar's most recent songs "The Heart Part 4" and "HUMBLE." was how he was aggressively putting other rappers (allegedly, Big Sean and Drake) on notice. He doesn't lighten up on the Sounwave and James Blake-produced "ELEMENT.," where he acknowledges the pro-black themes of To Pimp a Butterfly but still tries to belittle his unnamed opponents: "Last LP I tried to uplift the black artists / But there's a difference between black artists and wack artists." Other choice warnings include, "All my grandmas dead, so ain't nobody praying for me I'm on your head" and "If I gotta stomp a pussy-ass nigga I'mma make it look sexy."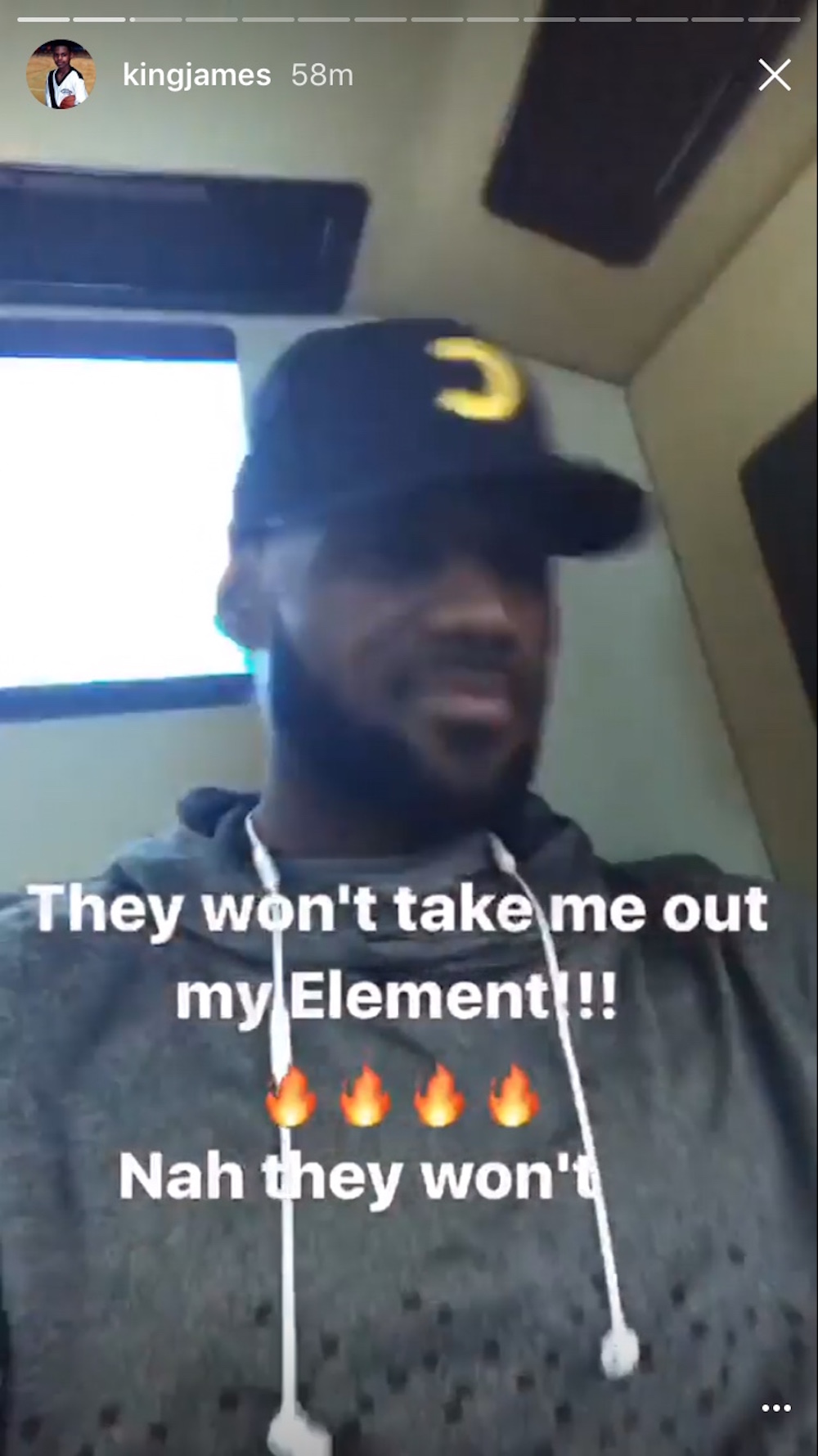 the Isley Brothers. "Love's gonna get you killed," the vocalists sing on what's presumably titled "LOVE," which features the L.A. singer Zacari. "The price is gonna be the death of you and you and me." The next clip shows Lamar rhyming over nefarious single-note strums and reversed drumming patterns. "I need some water / Something came over me / Way too high to simmer down."
This wasn't LeBron's first listen of DAMN.
James' previews also show him rapping along to some of the lyrics, so he is at least fairly familiar with the album. The living legend is clearly a fan, but one has to wonder just how much time he's spent listening to the project, especially since the NBA playoffs start in a few days. Focus, blad.
@KingJames got the new @kendricklamar 👀…sounds 🔥. pic.twitter.com/QBB5nwTLy4

— Jordan James (@JordanGame6) April 13, 2017