"Hi. I've got a tape I want to play," says a person dressed like the cabana boy at the health club, possibly in his early thirties, possibly a man.  But for seconds, the live audience in Stop Making Sense only sees his feet before the camera swishes up and hey, it's David Byrne of Talking Heads, strumming an acoustic guitar while his head stabs the air like a rooster under hypnosis.
That's how the late Jonathan Demme presented the scenarios he directed: Hi, I've got some cool people I want you to see. A filmmaker reared in the exploitation stable of Roger Corman, Demme learned its best lesson: People don't mind being used so long as they're on the take, and having a good time while they're at it. He expected his characters to have inner lives, often reflected in the diegetic music from which the rhythms of his films took their cues. Whether it was Melanie Griffith's Louise Brooks-mimicking Lulu in 1986's Something Wild, Jason Robards' Howard Hughes and Paul Le Mat singing "Santa's Souped-Up Sleigh" in Le Mat's truck at night in 1980's Melvin and Howard, or The Silence of the Lambs' transgender serial killer Buffalo Bill knitting a lovely robe of human skins to the tune of Colin Newman's "Alone," Demme's people regarded music as water. He wanted a reproduction, treated as life, and his success with staged improvisation rivaled Jean Renoir's.
https://www.youtube.com/watch?v=phvKAm_v5og
Rock fans adore Stop Making Sense, and for once consensus repels contrarians. Unlike The Last Waltz, Martin Scorsese's 1977 elegy for The Band, it doesn't perfume itself with mythos. Talking Heads were promoting their latest album Speaking in Tongues, playing a few favorites, and, in a Byrne-ian beau geste, let bassist Tina Weymouth and drummer Chris Frantz play "Genius of Love," the single by their side project Tom Tom Club that became the most lasting Heads-associated hit. That's that. No drama, no scowls—they get subsumed by the burbling polyrhythms and the euphoria that the famously uptight Byrne let himself express.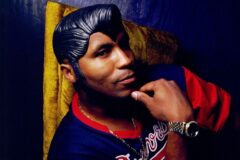 The primacy of performance in our lives animates Demme's work, of not losing our inhibitions so much as using them as rocket fuel for surprising shows of wackiness, surprising even to ourselves. It's there in Stop Making Sense when Byrne, carried away by Jerry Harrison and Bernie Worrell's dueling synth solos in "Life During Wartime," shows the camera an ah-fuck-it face before jogging around the stage several times—Byrne might have been the only rocker who saw touring as a weight-loss program. It's there when, guitar in hand, he approaches bandmates in the rendition of "Big Business," coaxing them, knowing they won't disappoint. As Worrell punches hard eighth notes and Harrison, switching to guitar, does a spastic, whitest-of-white-boy jigs while chicken scratching his instrument, the audience senses no false happiness, the most mortal of sins in a 21st century society texting while the seas rise. In the expressions of Weymouth, Frantz, Harrison, and their colleagues, we understand that nothing matters but this performance—home is where want to be, and we guess they're already there.
Home in Something Wild is where your car takes you. A visit to Mom, a high school reunion, or acquiescing to dinner with an old boyfriend—whatever, a sentiment reflected in the ecumenical, multi-racial soundtrack, released at a moment when Kenny Loggins scored a top ten for a song gussying up a depiction of gay male volleyball fantasies and military porn. Its opening credits taking its cues from David Byrne and Celia Cruz's "Loco de Amor," this 1986 comedy stars Jeff Daniels as Charlie, a yuppie dying in a fuck-awful grey suit and pink tie combo chosen as if he liked a Bryan Ferry poster out of the corner of his eye but was too distracted by his beeper.
When Lulu (Griffith) kidnaps him for a cruise through small town America, Demme's film doesn't treat the yokels' cuisine, clothes, or habits with the contempt of a Manhattanite. His curiosity is Olympian, like one of the gods in A Midsummer Night's Dream who accedes to human frailties and lusts because they're kinda cool. Meanwhile, Tak Fujimoto's camera grabs any exciting music it hears: a car blowing past Lulu and Charlie and blasting New Order's "Temptation"; a combo of young black men in a garage breakdancing and trading vocal lines; the Feelies, who look like they wandered off the audition for the house band in Blue Velvet, playing Bowie at that high school reunion; and, finally, Sister Carol in the closing credits, facing the camera to sing—to live—"Wild Thing."
Conflating performance and living is not the first of New Order's talents to come to mind, but Demme's video for 1985's "Perfect Kiss" captures the legendarily phlegmatic Mancunian quartet amused by the thought that they might have a song to arrange: an "Oh well, let me insert some sampled frogs" here, a "Let me strum this bass to see if it makes sounds" there. For Suzanne Vega's "Solitude Dancing" he catches a pickup band in its pantalooned glory, in the middle of puzzling how to flesh out a folkie's acoustic ditty on 1987's terms; at once Vega has a camera face as fascinating as Liv Ullmann's. Demme didn't stop finding moments of faked found life: Fine Young Cannibals' Roland Gift tremulously covering Elvis, Bruce Springsteen wearing an earring.
Think of Rachel Getting Married. At the time I read a couple snarky things dismissing its hipster cachet: Tunde Adebimpe marrying Rosemary DeWitt? Then the TV on the Radio front man sings a fragile, almost vaporous cover of Neil Young's "Unknown Legend" at the ceremony. Who would think of shit like that? Right—the guy who thought Neil Young deserved his own craggy, excellent documentary as much as Robyn Hitchcock did.
When I learned Demme was 73, I forgave him the leaden prestige projects like Philadelphia, Beloved, and the remake of The Manchurian Candidate. I had waved aside his attempt to turn Meryl Streep into an actress capable of mirth and spontaneity. A series of numinous films and a string of fully inhabited music videos remain, Demme's attempts to block an existence where the phrase "awful but cheerful" rules—that, and a kickass playlist.