Leslie Feist is reaching for something so subtle she can't quite explain it. "The album communicates it fine, but I am a poor translator for the record," she says via Skype, a medium she chose because she thinks phone calls are prone to miscommunications. The idea she's getting at, as best she can, is this: "Pleasure and pain, or anticipation and satisfaction, they're just all in continuum. You could desire something and be waiting for it and wanting it," she explains, "And then as soon as you get it, that satisfaction just plants a new seed for new wanting." It's as if she's stumbled into a new spiritual mindset, and hasn't yet found the holy book to articulate it.
Right now, fans are waiting for Pleasure, Feist's fifth solo studio album, out this Friday. It's an ambitious project that begins, paradoxically, with a more minimal sound. That sound—raw-edged, often acoustic—is just one of what Feist calls the cast of characters on the Pleasure stage. Each song is a character, of course, but there are more: Feist's co-producers, Renaud Letang and Mocky; the background tape hiss; the natural forces of the weather and the earth; generations of her own ancestors; human emotions, like the "s-word"—sadness—and the "d-word" (she means "depression," but she won't say so). Another is Jarvis Cocker, who speaks on "Century," one of the album's two advance singles. Feist calls him the voice of Father Time.
Other characters are hidden, even to the artist herself—as they must be. "If a man is just his song / Then can the song be beyond us?" Feist asks on "A Man Is Not His Song." Even music might be insufficient for capturing the sublime, but here, we ask Feist to explain several aspects of Pleasure in her own words.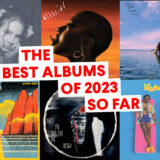 On how first single "Pleasure" became the album's title track:
When I finished writing and recording everything, I still didn't have a clear title. I was writing about such a subtle process—I hadn't yet even made sense of, in totality, what exactly it was I was exploring. By the end, I realized the song "Pleasure" encapsulated elements of every other song, because it's about this continuum of time—this relationship with your own history, your ancestral history, with all your aspirations for the future, with all the unknowns that you can't know in the future.
This sort of this straddling of the knowns and unknowns of the past and the future, in a way, is when you get deer-in-the-headlights. You're stopped dead still, and you don't know what to do next. That moment of, "Well, wait a second, the weight of all humanity, and the weight of my life, and the weight of my choices feels like it weighs as much as, you know…." And all the things you don't know, about the people who made choices that came before you that now have caused you to be here, you know?
Pleasure is united by Feist's words and by its stripped-down sound, recorded with subtle assists from longtime collaborators Renaud Letang and Mocky. On how the three arrived at that aesthetic:
Our goal was less how it's gonna sound, and more how it's going to be delivered with conviction. And so the way it sounds is only a function of what the songs needed, in both of their eyes. Their eyes are similar to me, on whether they believe what's coming out of my mouth.
[featuredStoryParallax id="237376″ thumb="http://static.spin.com/files/2017/04/feist-studio-by-mary-rozzi-1493233719-300×200.jpg"]
On the meaning of "Century" and the perception of time:
You know, "time flies when you're having fun," all these different adages about trying to understand why times sometimes creeps along—or "a watched kettle never boils." The idea of time is not actually stable. It has this elasticity to it, where on a dark night of the soul—where you're jet-lagged and facing the blank hotel room wall or whatever—that night can take a hundred years. Or waiting for the love that you know is destined to you, it's gonna take a thousand, or what feels like a million years. So "the end of the century" is the end of this thing that feels like a century.
The end of "Century," the song, is a sudden halt, and it's not because it's supposed to meld into the next track. On why that abrupt ending just felt right:
I don't really have an explanation, except it was an instinct. There was another two minutes of rollout and us playing. It just spoke to the song—this talking about the someone, the someone, the ever-rolling someone—that it should just end on a dime.
On what she read and listened to while writing Pleasure:
I don't have a lot of room to listen when I'm writing. I guess the only thing I can say is that I went to Africa for the first time and in Addis Ababa, in Ethiopia, I discovered a lot of this traditional accordion, and synthesizer, and saxophone music. So I was listening to a lot of cassettes that I bought in Addis Ababa, which are, it's just some of the most beautiful music you'll ever hear. There's a guy named Hailu Mergia.
Otherwise, I was reading a lot. Most noteworthily, while I was recording, in that day to day process of like, wake up and work, I was reading Steinbeck's Journal of a Novel. He kept a journal in the morning, before he wrote East of Eden. Every morning, he would write, stream of consciousness, of his dentist appointments and his kids and his wife and their renovations, and moving house, and seaside, and his desk annoying him 'cause it hurt his arms and that's why he needed to sand it down, and all these really practical concerns, and then he would write East of Eden. And it was something about just how regular of a man it takes to make something so extraordinary, I found that really encouraging, somehow.
[featuredStoryParallax id="237377″ thumb="http://static.spin.com/files/2017/04/feist-studio-by-mary-rozzi-2-1493233765-300×200.jpg"]
Feist will spend much of this summer on tour, with upcoming dates in the U.S., Canada, and Europe. On what the spare, quiet songs from Pleasure will sound like when performed live:
It's pretty true to the album, actually. I'm playing with my drummer who's been on tour with me for years, Paul Taylor, and two new guys who didn't work on the album, 'cause most of what was played on the album was myself and Mocky. Mocky is Mocky and has to do his own touring, so he's not coming on tour with me. So I found two guys that [are] phenomenal heavy lifters, nice subtle players. I thought it was important to kind of stick to that dynamic range, and not just bump it up cause we'll be on festival stages or something. I mean, that's what the PA is for. If we just stay true to what we're doing, the PA can make it louder, but we don't necessarily have to make it louder.
Feist got her start as a member of the Broken Social Scene collective, whose long-awaited new album is also expected this year (title and details yet to be announced). On the lake house retreat where Feist reunited with Kevin Drew, Brendan Canning, and the rest of the BSS crew:
We were all at a studio that they work out of, and a fantastic Canadian band called the Tragically Hip had this big old house on a lake and it's a studio. So we were up there, last summer I guess, and in between swims and cooking meals together, we were jamming. It's a kind of relief for me. It's a whole different thing to be a piece of the puzzle, and having known those guys as long as I have and having done as much as we have together—in all different triangulations too, not only Broken Social Scene, but Charles Spearin played with me for four years on tour for Metals, and I'm [Kevin's] sequence listener, and like, old comrade, and he comes and sits with me. There's a lot we all do together, so almost like a vacation, a stay-cation.