Demi Lovato has reached a settlement with the indie rock band Sleigh Bells to settle a lawsuit accusing her of infringing the band's 2010 track, "Infinity Guitars," to create her 2015 track "Stars," according to The Hollywood Reporter. The complaint was filed in April 2016 and alleged that despite denials of sampling, similarities "transcend the realm of coincidence."
"A comparison of the two songs reveals that, at the very least, the combination of the hand claps and bass drum, structured as 3 quarter beats and a rest, with the bass drum providing a counter-rhythm to the hand claps, is at least substantially similar in both works," the complaint stated. "This infringing material repeats throughout the Defendants' song."
Sleigh Bells' critically lauded debut album Treats ended up on a number of year-end top 10 lists and peaked at #39 on the Billboard 200. "Infinity Guitars" — which was licensed to a Samsung commercial — was the second single from the album and it made Rolling Stone's list of the best songs of the year. "Stars" was a bonus track on Lovato's fifth album, Confident.
"We did not use any samples in Demi Lovato's song 'Stars.' Demi was also not involved with the production," producers Carl Falk and Rami Yacoub said through Lovato's reps at the time of the suit. "She only wrote top line." Spokespeople for Lovato, her label and Sleigh Bells could not be reached for additional comment at press time.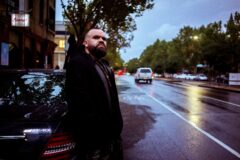 The settlement was noted in court papers filed by UMG Recordings, Falk and Yacoub. The terms of the deal were not disclosed, but are currently being memorialized by the two sides.
This article originally appeared on Billboard.