This album originally came out September 8, 1997. In honor of the album turning 20 this year, and our feature on the Best Alternative Rock Songs of 1997 that includes Cornershop's "Brimful of Asha," we've republished it here
Given the racial tensions that plague our spliced-up world, the first step toward "unity" may be to recognize how culturally mixed-up and  mongrel all of us already are–and to then intensify the process. Take Cornershop, a multiracial, sorta-rock band led by Tjinder Singh, a British citizen with genes from the Punjab. Over a number of records, Singh has hinted that something unprecedented might emerge from his schizoid and insouciant mixture of guitars, samplers, and South Asian instruments. With the vastly enjoyable When I was Born for the 7th Time, he finally crafts an album that reflects the strength of his confusions.
Turning away from the ragged indie rock that dominated Cornershop's previous music, Singh now lets the groove be his guide. A third of the tracks here are Mo' Wax-worthy instrumentals–melting pots of chunky beats, Asian drones, oddball samples, and Singh's own turntable doodles. "Butter the Soul" jumps back and forth between the romper room and the ashram, while the bottom-heavy "Chocolat" rolls out funky congas and synthesizers that spray sounds the way disco balls flash light. Particularly booty-wiggling are three songs guest-produced by the Automator (of Dr. Octagon fame); "Candyman," a fusion of sirens, megaphone vocals, a 1971 Larry Coryell sample and dharma rap (courtesy of Justin Warfield) even beats the Beastie Boys at their own vinyl-brat game.
Cornershop's new, improved mixology is a reflection of the growing role of South Asians in Britain's cut-and-paste dance culture. Over the past few years, Apache Indian fused bhangra and dancehall, Talvin SIngh (no relation) droned up drum'n'bass, and the Asian Dub Foundation aped Public Enemy. But unlike these artists, Singh remains an indie rocker at heart, twiddling the knobs and turning the tables with DIY conviction and a fuck-you love of fun and clash.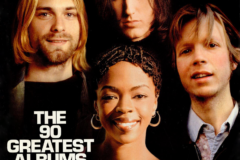 That's also what racial difference is for Singh: fun and clash. As a child of immigrants who grew up surrounded by white folks, Singh knows racism firsthand (the name "Cornershop" refers to the stereotype of South Asians as petty merchants–think Apu from The Simpsons). But he's also a hopeless hybrid, a "Western Oriental," as he sang on the group's last album, 1995's Woman's Gotta Have It, who's "going full circle." So while Cornershop once used noisy guitars to express alienation from insularity of England's Asian communities, When I Was Born shows Singh currying more of his music with the textures and beats of his once-removed motherland.
Besides, some of the most entertaining South Asian music is already far from pure. That's the story behind an infectious, Velvetsy pop tune called "Brimful of Asha." Here's the scoop: Asha Bhosie is one of India's most beloved "playback" singers–those songbirds and crooners who provide the vocals for the immensely popular movie musicals cranked out by India's huge film industry. Though usually formulaic and syrupy, these songs are also deliriously eclectic (R.D. Burman sampled surf guitars, Morricone horns, and James Bond arrangements in the '60s). At their best, Bhosie and company provide the emotional bounty of pure pop; and Singh knows that for all the machinery of commodity (45s, solid-state radios record companies), music still pillows the soul.
While there's nothing here that's quite as sublime as the jangling rock-mantra "6 A.M. Juliandar Shere" from Woman's Gotta Have It, "We're In Yr Corner"–which features Anthony Saffery's jamming sitar, Ben Ayres's bong-worthy tamboura, and Nick Simms's driving beats–comes pretty close. Singh belts out the tune in Punjabi, an alien tongue that could stimulate world-beat fantasies about the exotic other. But then he starts dropping words like "IBM" and "Coca-Cola" and "multi"(national?), and you realize that Singh lives on exactly the same imploding globe that you do.
Perhaps it's because he embraces his own mixed-up feelings about India that Singh can accept some mixed-up Western dreams of the East with such generosity and humor. The scratchy audio collage, "When the Light Appears Boy," features a poem recorded for the band by the late Allen Ginsber, who must take the lion's share of blame for inspiring the mystic-hippie Orientalism of the '60s. And when Cornershop close the record with a cover of the Beatles' "Norwegian Wood" (the first Western pop song to exploit the sitar), they don't turn the occasion into an anti-colonialist tirade. Other than singing in Punjabi, they just play the ballad straight.
Besides, if the Beatles can go East, Singh can go West. Which is just what he does on "Good to Be on the Road Back Home," a tale of drinking, lying, leaving and return to what sounds like one of those country songs the Mekons used to toss off with such amateur grace. After Tarnation's amazing Paula Frazer sings her side of the story, Singh realizes that "I've lost myself / Searching for what I ain't." Then you get the sense Singh's found himself on the crowded road itself, a road that moves from Chattanooga to New York to Tokyo to West Malay, and presumably back to "dirty London town." Home is nowhere these days, and because of that it's everywhere–a global village that needs more folksingers like Singh, whose good shit keeps you funky and whose scrambled words keep you on your toes.