One thing you should never do is say that Aretha Franklin is the late Whitney Houston's godmother, because it's not true. Dionne Warwick made that mistake at Houston's funeral five years ago and Aretha is still not cool with her. In fact, she's still pissed enough to send Associated Press a "lengthy fax" about it in 2017, saying that Warwick's claim was libelous.
"She blatantly lied on me … fully well knowing what she was doing," Aretha Franklin over the phone to AP.
At the funeral, Warwick tried to introduce Aretha, but after realizing she wasn't there (Aretha was suffering from swollen feet), the legend egregiously said, "She loves Whitney as if she were born to her. She is her godmother." Whitney's mother Cissy corrected the falsehood in the following days, but Aretha elected to stay silent because there had "been so much going on around her (Houston), around the service, around the drugs, around her and Bobby (Brown) supposed to be fighting, I didn't want to add anything to that and I didn't want to be a part of that."
"But they both performed at Tribeca's premiere of Clive Davis: The Soundtrack of Our Lives," you say. "Surely, they must at least be on good terms." Yes, but not quite: They performed at the same show, but Aretha still wasn't having it with Warwick.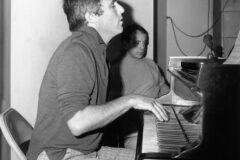 "She said, 'Give me a hug.' I said, 'Oh hell no. You couldn't be serious,'" Franklin said. For her part, Warwick told AP she "will not dignify a response to the statement made by Aretha Franklin."
Fans of the Queen of Soul know Franklin does not fake courtesy when she doesn't like you—just ask Patti LaBelle.
https://youtube.com/watch?v=m-mtlGyS4r0%3Fecver%3D1