Saba is an exciting young voice—literally speaking, his dulcet tone is entrancing, and you'd have to make an effort to not be pulled into the melodic swing that works into his sing-song and double-time raps. It's not surprising that he's cosigned by Chance the Rapper–he appeared on Coloring Book's affecting highlight "Angels"–given that the two share a glowing, relatable way of expressing their joy.
Chance is why the 22-year old Chicagoan first got widespread attention, he gave Saba a feature on 2012's Acid Rap. In the five years since, Chance has gotten his fellow young Chicagoans to Saturday Night Live and the ESPYs, and Saba has released an exceptional debut album the Bucket List Project. Sadly, only some things have changed. Saba—who talks with the measured cadence of a sportsman in a press conference, but without the vapidity—explained to SPIN that the celebrations of these successes are hard fought.
"I'm trying to get everybody out of Chicago," Saba says. "There's a lot of shit happening–two weeks before tour started my fucking cousin [DinnerWithJohn, born Walter Long Jr.] got murdered. He rapped with us every day and is in Pivot Gang. When shit like this is happening, you know, I can't look at Acid Rap as that much of a big deal for my life. There's so much more to be done."
After his performance at REVOLT's SXSW Swisha House Reunion showcase, Saba walked and talked with SPIN for a 15-minute conversation that touched on faith despite tragedy and through music. It's condensed and edited for clarity below.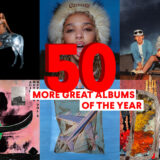 This is your fifth SXSW. What's made this year different for you?
This is the first time none of my friends are sleeping on the floor, so that's a blessing in and of itself. I guess we're playing better showcases, but you know you never know what you're gonna walk into at South By.

Take me through your first SXSW.
My first SXSW was pretty epic. It was the most impulsive thing I think I may have ever done in my life—three days before SXSW began I had heard about it. I think i was talking to Noname, and she or somebody was telling me about this shit. I knew a few people who were going, but I didn't like know—it was like how I just met you.
I ended up buying a bus ticket for like $280 round trip. Each bus was delayed, and it was like the craziest most grind out story that I may have. I was in college at the time and I was in a music program, and they send some of their students every year to South By. I wasn't in the specific program that they sent [students] to South By, but one of my actual friends let me crash on her floor. I was on the floor and I had no shows. I didn't know anybody, but it was dope. I ended up playing one showcase, because somebody pulled last minute from a show.

Bucket List Project centered around folks (including Chance the Rapper and Lupe Fiasco) telling what they had on their bucket list. Was it difficult pulling that off?
The only reason it was difficult was because I had at least 150 and something to choose from. I tweeted it out because I was trying to get my fans on it. That was the real intent behind that. I wanted to do an album and put the people who listen to the music on the album because that's who I wanted to make the album for, you know?
How I ended up picking the ones that I did was just based on the songs. I also wanted easy listening and smooth transitions.

On "Westside Bound 3," you rap the following line: "Shout the kids claiming Chiraq know you born in the burbs boy." What's that about?
A lot of people know Chiraq, they know Glo Gang…they know all of that shit and they don't know anything about the city. And it's not just out of town that is like that. There are a lot of kids who are from the suburbs of Chicago and they claim Chiraq and don't know a thing about this shit. But shout out to them, too.
Like claiming you're New York tough when you're from Williamsburg and shit.
Everybody loves to be from the hood and nobody wants to be from the hood.
How important is it to express joy in your music?
I don't know. I remember growing up and only having music at a lot of times. A lot of songs that I liked weren't necessarily the most happy songs in the world, and I don't even think I really make happy music per se. I think the important part is to instill a sense of hope in the music. That's all I really thought what I was listening to music for, to get a sense of hope.
I remember when I was 13 my uncle went to prison for six years, and the day he got sentenced i was the saddest kid in the world. I remember listening to this one Lupe Fiasco song just over and over and over again, and it made me feel like—even in the moment of some news feels like the end of the world—music can instill that hope. I think that's what i wanna do when I talk about Chicago.

We all go through our shit, but i think music is one of those things that is a universal language, and people are going to like the music outside of what the music is about—whether it sounds happy or sad.
In "Church/Liquor Story," you alluded to the interview where Lupe Fiasco was crying about the ghosts of Chicago. How did that interview affect you when you first heard it?
It was the realest interview I think I've ever seen. Having friends that are ghosts is a thing that way too many people in Chicago have. You can go through a Twitter page look at the squad pictures and then you know like some shit like this. Two years ago we came down here deep as fuck at SXSW, and you can look at that same picture and be like, "Damn, you're not here; damn, you're not here; you locked up." It's just a real feeling that you know.
I'm still going through that shit right now: I'm fresh off the death of my cousin. It's real crazy going through my camera roll from not that long ago—from like days ago and seeing someone be laughing with him, taking selfie videos and shit, and them not being there the next day. It's one of the weirdest feelings in the world.
There's a scene in the Time Is Illmatic documentary where Nas' brother Jungle goes through a photo shoot involving friends from Queensbridge Projects, and notes how each one of them is either dead or in jail.
It's definitely a sad reality, especially in hip hop. It's fucked up, but one of the important parts is to go back to that joy and that faith and that light at the end of the tunnel. Hopefully we can inspire the next generation and the generation after that to change this shit, because this shit is fucked up. And it shouldn't be like this. We're just enjoying ourselves and trying to make music, you know?