After an overhyped snowstorm kept the SPIN staff trapped in New York for the first two nights of South By Southwest, we finally made it to Austin yesterday afternoon. While our events team has been busy organizing a week of SPIN showcases, our writers have been running around between shows to catch all the bands they can. Here's the best of what we've seen at SXSW so far.
DJ Esco
Midnight is usually the point where civility corrodes into bedlam, so it makes sense that DJ Esco would pave the way for Danny Brown's set at Empire Control Room & Garage. Future's DJ is also charismatic lead act, and kept the crowd dancing as he ran through a smorgasbord of hits—from Hendrix's 2017 highlight "Mask Off" to meme hall-of-famer "Father Stretch My Hands Pt. 1." Esco's set didn't exclusively extend to his immediate Atlantan family, though: He took a chance and gave Lil Uzi Vert's "XO Tour Llif3" some shine. Although the crowd's more subdued reaction suggested that the song hasn't quite caught on (yet!), Esco knows a hit when he hears it. — Brian Josephs
Bad Lovers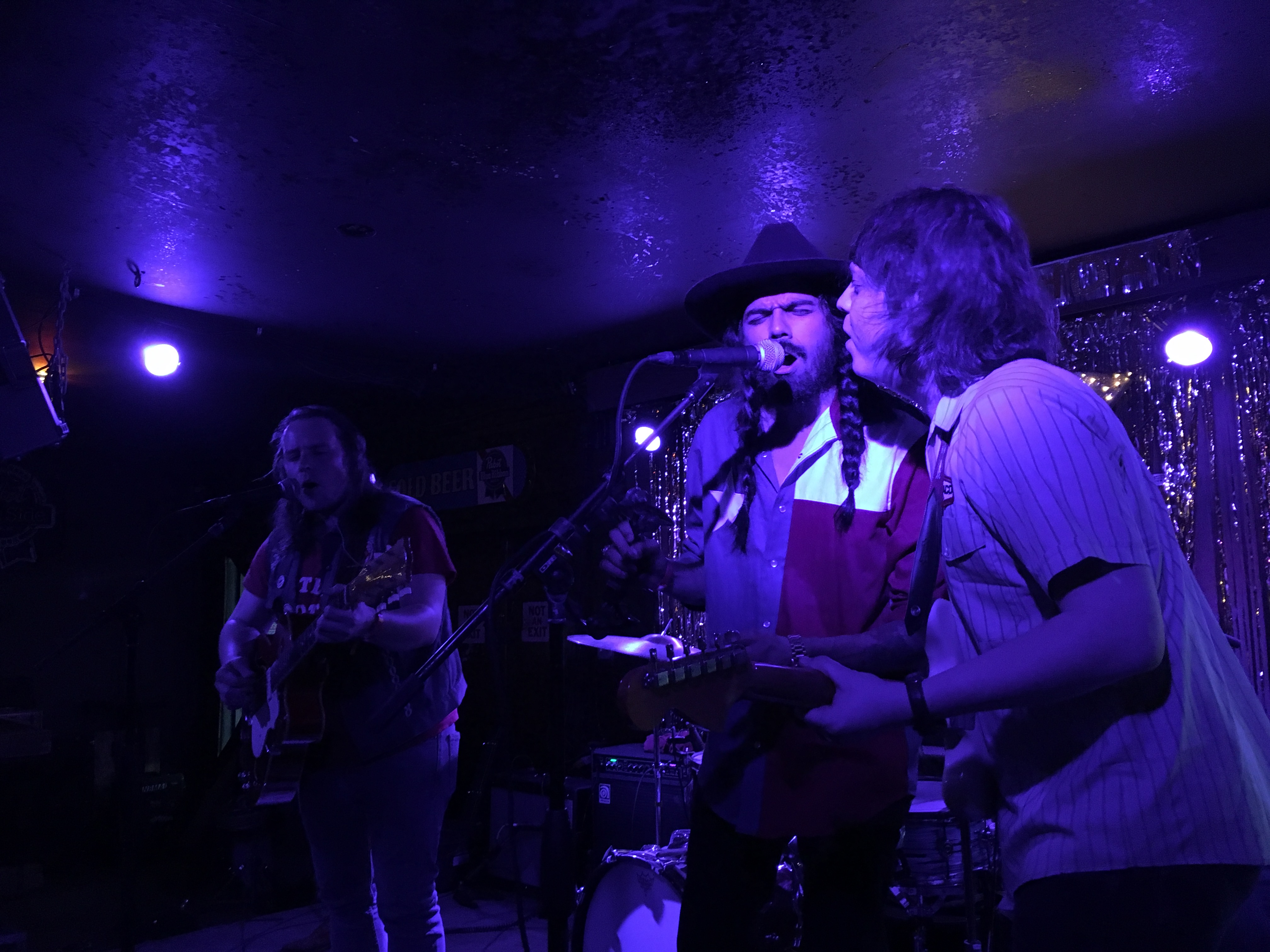 Bad Lovers call themselves, simply and accurately, "Austin TX boogie." These local Austinites play staticky, feel-good rock 'n' roll for people who like to twist and shout, and they know their way around a harmonica. The five-piece hit the stage at Hotel Vegas in full Lone Star State regalia: cowboy boots, Texas flag shirt, denim vest, even a lapel patch from a Texaco station. There's strictly no banter, but when you're all showmen, you don't need it. The drummer marked the climax of the show by spitting an enormous mouthful of water onto the singer. Don't mess with Texas. — Anna Gaca
Allison Crutchfield & the Fizz
Allison Crutchfield made her proper solo debut this year with Tourist in This Town, but live, she doesn't take center stage. Performing with her band the Fizz, Cruchfield's songs took on the collaborative ruckus of a basement show, sized up for a warehouse space. Lifted out of its bedroom-recording origins, the title track from her Lean Into It EP became something massive and looming. A noisy, faster-paced version of "Mile Away" forced Crutchfield to spit out shrewd insults ("You assume you understand because your voice is the loudest") with even more acerbity than usual. A.G.
Bibi Bourelly
You can't un-hear Bibi Bourelly's voice: It's big, smoky, and soulful, and it belongs to an unapologetic rock star. To see her live is to see the woman hold court, complete with a three-man band providing blues-rock backup. Bourelly is animated by a kind of daredevil energy, and she leans all the way into it on songs like "Poet," a song with lyrics that draw listeners into her enigmatic stage presence. ("Addicted to you, I just wanna breathe you in / Inseparable like rock and roll and Kurt Cobain.") Also on the setlist: Free the Real (Pt. #1)'s "What If," the fantastic recent single "Ballin," and a new song—perhaps a taste of Pt. #2—a power ballad about the feeling of finally getting off the road. A.G.
A$AP Ferg
Ferg isn't quite in the running for King of New York and he often serves as Rocky's burly second-in-command within the A$AP Mob. But Ferg has also been the frontman of some of the decade's most effective New York hits, and they were just as concussive at a 1 a.m. party 1,700 miles to the south. Even though some of the bangers he performed were over three years old (like the still-essential "Work" remix), they were still intense enough to send the audience into a fury. Backed by his wingman Marty Baller, Ferg performed set's climaxing song "New Level" with the verve of a Baptist preacher who's just graduated from a storefront church. ("She's on a new level! He's on a new level!") In the resulting mosh pit, one dude got bodied so hard that he stayed seated on the floor for several seconds before walking off with a limp. The new level ain't for everybody. B.J.