In a 1980 interview with the now-defunct zine Jet Lag, Chuck Berry, who died Saturday at age 90, divulged that he was behind on new music. "I only have six albums from the last 10 or so years and four of those were given to me," he told the zine. Despite saying he's always keeping up with the kids–at least in terms of attitude–he had not been keeping up with current musical trends in punk and new wave (or for that matter, pop and reggae).
The interviewer apparently took this as an opportunity to pick Chuck's brain on a number of new cuts, from the likes of up-and-comers on both sides of the pond. Kind of hilariously, when Berry likes something, he finds a parallel between the new music and his own work, particularly when the guitar stays restrained to just a couple chords. There's no room for the pretension of the art-punks, Toots and the Maytals really hit the spot, and David Byrne sounds like he has "a bad case of stage fright." Read the capsules below.
The Sex Pistols — "God Save the Queen"
What's this guy so angry about anyway? Guitar work and progression is like mine. Good backbeat. Can't understand most of the vocals. If you're going to be mad at least let the people know what you're mad about.
The Clash — "Complete Control"
Sounds like the first one. The rhythm and chording work well together. Did this guy have a sore throat when he sang the vocals?
The Ramones —  "Sheena is a Punk Rocker"
A good little jump number. These guys remind me of myself when I first started, I only knew three chords too.
The Romantics — "What I Like About You," 20-20 — "Oh Cheri," The Beat — "Different Kind of Girl"
Finally something you can dance to. Sounds a lot like the sixties with some of my riffs thrown in for good measure. You say this is new? I've heard this stuff plenty of times. I can't understand the big fuss.
The Gladiators — "Sweet So Still," Toots and the Maytals — "Funky Kingston," Selector — "On The Radio"
This is good, real smooth and soulful. Real good to bump and shuffle to. Sounds a bit like my old buddy Bo Diddley, only a little slower I tried something similar once on a song called "Havana Moon."
Talking Heads — "Psycho Killer"
A funky little number, that's for sure. I like the bass a lot. Good mixture and a real good flow. The singer sounds like he has a bad case of stage fright.
Wire — "I Am the Fly" and Joy Division's Unknown Pleasures
So this is the so-called new stuff. It's nothing I ain't heard before. It sounds like an old blues jam that BB and Muddy would carry on backstage at the old amphitheatre in Chicago. The instruments may be different but the experiment's the same.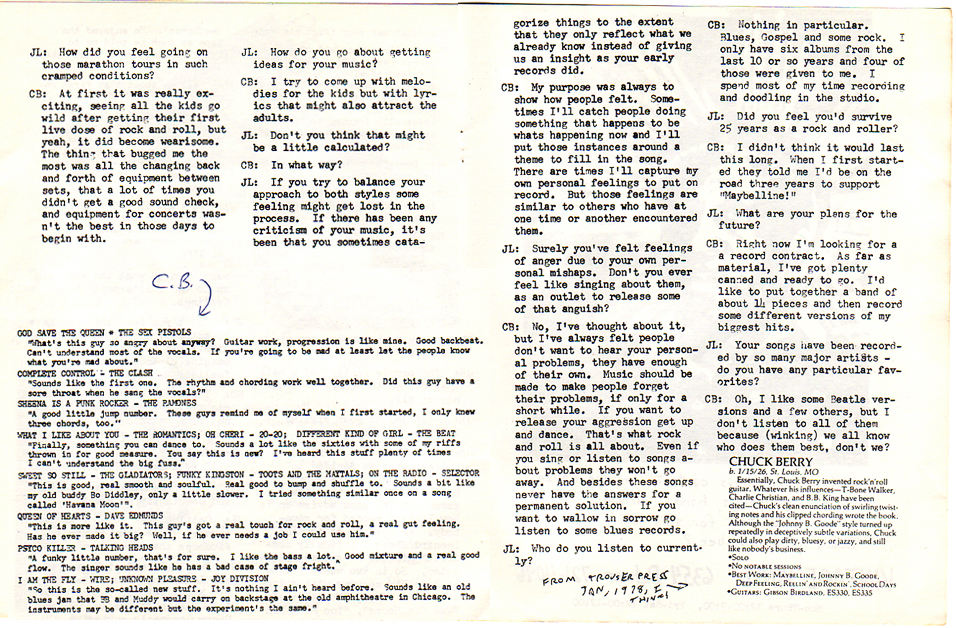 [H/T Music Ruined My Life]