It's taken Arkansas doom outfit Pallbearer just eight years to clamber out from the underground and onto the sacred dais we like to call "the crossover". Their path to glory's an atypical one, considering how the quartet have generally steered clear of the usual catalysts for a metal band's mainstream rise—say, the hard rock metamorphoses that catapulted Mastodon and Baroness to festival main stages, or Deafheaven's head-turning merger of shoegaze and black metal.
Instead, Pallbearer studied the dog-eared playbook drafted by pioneering acts like Pentagram, Saint Vitus, and Black Sabbath. Pallbearer's purist philosophy may be easily accessible; it's a sensibility defined by forlorn melodies and steady, serpentine grooves, rather than throat-shredding screams or calamitous blast-beats. Still, it's an imposing musical mindset, rooted in an insatiable desire for caustic oblivion, and ultimately, paralyzing catharsis. Such were the aims of the group's first two releases, 2012's Sorrow and Extinction and 2014's Foundations of Burden–and with the arrival of their third release, Heartless, that low, slow mission remains in full effect.
Structurally and sonically speaking, not much has changed in Pallbearer's approach in the three years separating Heartless from their previous full-length. Once again, the runtimes resemble marathons; the shortest track clocks in at roughly five-and-a-half minutes, while the longest splays out for nearly 13. Devin Holt's guitars maintain the same juggling act between creeping and crushing on "Thorns", Mark Lierly sustains his workhorse presence behind the kit on "I Saw The End", and Brett Campbell still wails like a young Ozzy Osbourne throughout. In other words, the band have no intention of softening on Heartless: they'd rather stay the course and trudge through the wilderness, which should come as a relief for anyone who feared that the band's rising profile following the previous long-player would produce a poppy paradigm shift.
Heartless doesn't do subtlety. From the titanic riffs to the molten rhythm section, the anguished hooks to the mournful solos, every last inch of sonic space gestures towards the sublime: a calculated infinity which, despite being configured for maximum impact, typically manifests as a lazy river rather than a rushing torrent. Pallbearer's protracted game plan isn't anything new–such arrangements are standard praxis for any doom metal band worth its salt. But there's a big difference between intent and execution, and that's where the band really shines, deploying their full arsenal with gusto on songs like "Cruel Road" and the title track. You'd have a tough time naming a high-profile metal band with a better track record for leaden proficiency.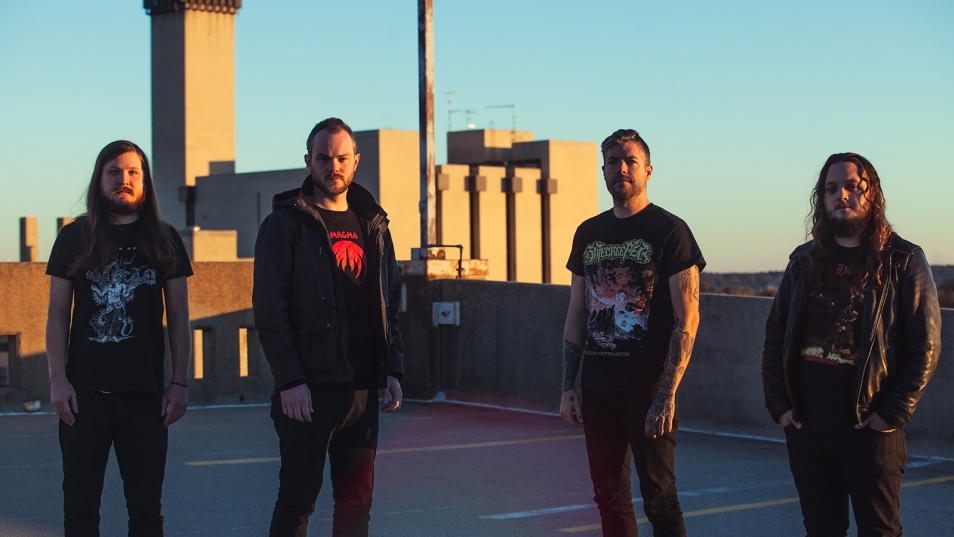 At times, though, this consistency can feel self-prohibitive, even for longtime listeners. It's tough to appreciate the band's sweeping panoramas when every adventure opens, invariably, atop the mountain's summit, with Pallbearer gazing out into the same abyss they explored on the last two albums. Moreover, each trek follows a similar path: a tumultuous hike through sludgy quagmires and craggy doom, culminating in a melancholic, melodramatic guitar solo. This repetitive pattern accordingly obfuscates the LP's overarching dynamic arc, although the record's not without its surprises. "Dancing in Madness" opens with waves of white-hot psychedelia, a rare moment of sunshine on an otherwise stormy album; opener "I Saw the End" subverts the doldrums, settling upon a Deep Purple-reminiscent chug, while "Lie of Survival" showcases the group's acoustic side.
Its creators' rising profile aside, Heartless stands as neither a conscious crossover attempt, nor a deviation from of heavy metal mores. Ultimately, it comprises Pallbearer's third consecutive monument to the limitless cosmos from which they first sprang, a sterling achievement in spite of its ages-old blueprint.