This piece first ran as the cover story of the January 1998 issue of Spin. We are republishing the story in remembrance of the 20th anniversary of Christopher Wallace i.e. the Notorious B.I.G.'s passing.
One thing you learn early on, whether you're a li'l ghetto boy or a spice girl, is that pop music, like life, is often beyond your control. The first time I heard the Notorious B.I.G.'s "Hypnotize," the preeminent single of 1997, I fell in love with it. Of course, I had no choice. Huddled in a Times Square studio next to worshipful fans, hangers-on, employees, and journalists; overwhelmed by a Sensurround-like sound system; blinded by BET flashing on countless video screens; and staring straight into the dark sunglasses of producer Sean "Puffy" Combs and the serene sultanesque countenance of Biggie Smalls, both flanked by Lurch-size bodyguards, I was part of what could only be properly described as a "captive" audience.
After the music boomed to a close, journalists sheepishly accepted offers to pose for photos with Biggie. One, his voice almost cracking, managed a question: "What's the 'Think B.I.G.' [advertising] campaign all about?"
The impassive host replied, "I want everybody to think about B.I.G."
For an instant, the entire room froze. Was he serious? Stoned? Certified? Then we all fell out laughing. And you know the rest. Before, and definitely after, his death by drive-by shooting in Los Angeles at 12:30 A.M. on Sunday, March 9, 1997, most everybody did think about B.I.G. A lot. Whether we wanted to or not.
Riding Biggie's casually waggish voice ("Poppa's been smooth since the days of Underoos"), "Hypnotize" was the year's definitive hip-hop/R&B phenomenon—presumptuous, playful and shamelessly entertaining. The subway-rumbling electro-bass, car-alarm echo, and sly chorus adapted from Doug E. Fresh and MC Rick D's "La-Di-Da-Di" (courtesy of Puffy's Kostabi-like production team, the Hitmen) jolted parents awake every Saturday morning for months. The Paul Hunter directed video, as common on MTV as a station ID, set the tone for a year of gloriously absurd excess. It was matched in omnipresence only by Puffy's lament, "I'll Be Missing You" (with a sample of, ironically, the Police), and its tragically absurd video, directed by Hype Williams.
In many respects, the Notorious B.I.G.'s six million-selling Life After Death double-CD and Puff Daddy & the Family's triple-Platinum No Way Out rendered rock'n'roll a modest novelty genre. U2, Aerosmith, Sugar Ray, Foo Fighters, Oasis? Please. Biggie and Puffy held the guest list, and their friends—Platinum sellers Lil' Kim and 112, VIPs Faith Evans and Mase, new buddy Mariah Carey—took the backstage entrance up the charts. Bad Boy, the label Puffy started in 1993 after mentor Andre Harrell booted him from Uptown Records, represented 1997's most conspicuous industry coup, the total transformation of hip-hop/R&B into the pop music of the moment.
But when all the Cristal is drained and Mariah is dating another old white guy, what we'll hopefully remember is the singular voice of 24-year-old Christopher Wallace, a.k.a. Biggie Smalls/the Notorious B.I.G. On the mike, Biggie embodied Howlin' Wolf's moody, obscene transcendence, Dolemite's imperiously blasé pimp, shtick, and Barry White's suavely steely self-possession. Plus, he could laugh at himself. A 300-pound lisping asthmatic with a lazy eye and nine months of jail time in his back pocket, Biggie never put himself on a pedestal without a wink ("I may be a big, black, ugly dude, but I got style," he would say). No would-be revolutionary hero like Chuck D or Tupac Shakur, no scathing ghetto reporter like Ice Cube, he seemed oddly approachable, a self-aware guy who'd hang on the stoop for hours telling beautifully detailed lies, under no illusion that fame would protect him; he insisted that his 1994 debut Ready to Die referred not to suicidal thoughts (although that was a song title on the album) but to how he'd been tempting death for years as a drug dealer in Brooklyn's Fort Greene. Biggie didn't flinch at the perils of stardom.
His songs were simultaneously sad and funny, precisely enunciated with a cinematic, metaphorical eye. My fave, "Juicy" (from Ready to Die), nicked a lengthy sample of Mtume's soothingly silly 1983 R&B hit "Juicy Fruit," as Biggie took us on a poignant R-rated prowl through the back alleys of his hip-hop life—Word Up Magazine, Mr. Magic, Rappin' Duke, Private Stock malt liquor, sardines for dinner, his baby girl's earrings, teachers who claimed he'd amount to nothing. Then, matter-of-factly, he stepped back and concluded, "Stereotypes of a black male misunderstood / And it's still all good." With Puffy chirping strategy in his ear, Biggie artfully toned down the criminal-minded side of Dr. Dre's gangsta rap scheme, kicking hard-core hustler parables over popwise, radio-friendly funk. At his best, he was—like Marvin Gaye of Kurt Cobain—one of those artists whose music was suffused with depression and death, but still vibrated in the key of life.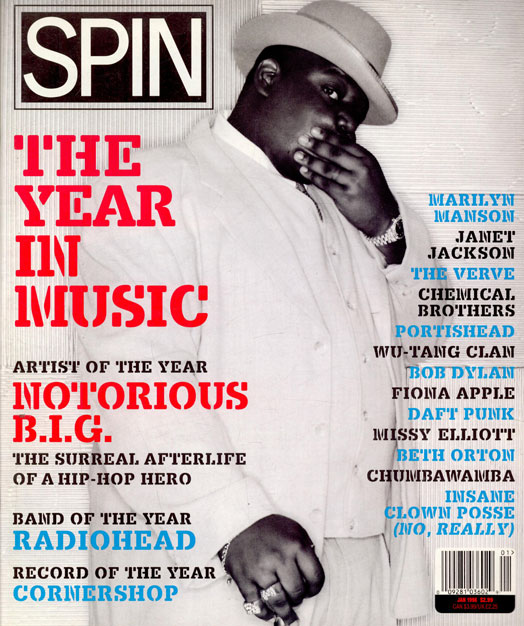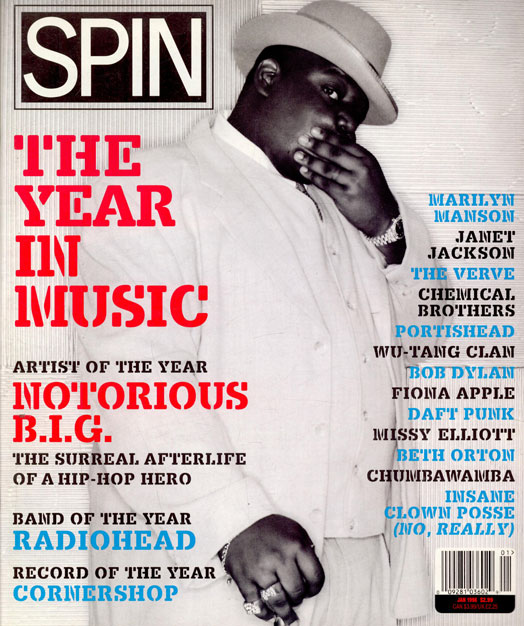 It would be easier to memorialize the Notorious B.I.G. as Spin's Artist of the Year if Life After Death were a less problematic record, or if he was still here to talk about it. A two-CD collection of contradictions, Life After Death dramatized the limits of pop better than any album in 1997. But a rather joyless inevitability tinged its success. Like hundreds before him, Biggie bemoaned that multi-Platinum success doesn't bring you happiness or autonomy; in fact, it may make it impossible (witness the drive-by shooting of his former friend/bitter enemy Tupac Shakur. As the album's closing song bluntly grumbled, "You're nobody 'til somebody kills you."
On Life After Death's cover, Biggie (born 1972, died 1997) posed next to a hearse with his name adorning the license plate. For an intro, he replayed Ready to Die's suicide scenario, with Puffy pleading: "Damn, we was supposed to rule the world, baby; we was unstoppable. This shit can't be over; you got too much living to do." Now, in lieu of ensuing events, one could say that all this was chillingly prophetic, just another sign of the young black male's blighted plight, but I won't insult you. This was, of course, a familiar routine—from the Geto Boys forward, the suicide scene has become a hip-hop trope, right up there with the "I Need Love" ballad. It was, to be honest, a disappointing album opener.
What listeners heard in Biggie's music (and most pertinently on Life After Death) was, as Ego Trip's Rob Marriott put it, "all that is right and not right" about hip-hop. On his debut, Biggie was an unproved MC eager to speak his piece. He was seen as a heroic figure, not because he inspired people to champagne wishes and caviar dreams but because he was a neighborhood raconteur who got over. Like Snoop and Nas, however, once Biggie sipped fame's elixir, his art started feeling like a grind. He took his persona's most clichéd aspects—pimp, playa, badass undertaker—and blew them up to a marketable formula. In an early promo video for Ready to Die, Biggie said petulantly, "Who is the Notorious B.I.G.? It's a nigga been stressed out his whole motherfuckin' life." Later, with a fat bankroll and Tupac up his ass, Biggie became a caricature of that "stressed-out" nigga. And his fans consumed it, without question. As Danyel Smith wrote passionately in the Village Voice: "It all made sense to me when Biggie was gunned down…. I Just knew that murder was normal, that no one gave a shit, and there would be an album title heavy with irony, lyrics full of exciting new meaning, fans anguishing for a brief, lucid moment—then all happily dulled again."
After the success of his first album, Biggie leaned heavily on Puffy to lessen the stress and handle the showbiz particulars. Puffy, the self-proclaimed "visionary" who taught Jodeci how to take off their shirts and unlace their Timberlands; who stripped down Teddy Riley's New Jack Swing and called it Hip-Hop Soul; who styled and remixed Mary J. Blige into the East Coast Miche'le; who used an Isley Brothers sample for Biggie's "Big Poppa" that practically had Dr. Dre's fingerprints on it. And perhaps most masterfully, the man who found a partner, Mase, who was even more of a monotonic rapper than he was.
Some have suggested that Puffy, the marketing-auteur-as-artist, is stealing hip-hop's soul, one sample at a time. And they may be right. As there are more Puffys (and there will be), rappers will increasingly find themselves, like writers in the online world, playing the role of hired-gun "content providers." But artists need somebody to look at the big picture, particularly in the dope-today, wack-later-today music business, where hip-hop follow-up albums are, understandably, stress parties; we're talking very young kids who are suddenly given very large amounts of money. Even De La Soul titled their soph release De La Soul is Dead. Unfortunately, Puffy's solution is to endlessly sample his childhood—Diana Ross, Grandmaster Melle Mel, the guitar riff in Betty Wright's "Clean Up Woman," the gospel chestnut "I'll Fly Away"—and suspend the adolescent fantasy for as long as possible.
There are times on Life After Death where the formula clicks: "Hypnotize," the buoyant, celebratory "Mo Money Mo Problems," and "#!@ You Tonight," a brilliant satire of lick-you-up R&B crotch-jockeys. But for the most part, the album is a frustrating ode to Biggie and Puffy—two dashing superheroes!—and a screed against all the jealous fools who wanna see them chillin' on a slab. It's the sound of hip-hop backing down another dead end, Lexus wheels spinning, and punks throwing up faux gang signs.
So, what is hip-hop's prognosis in the wake of Biggie's death? Will it continue to be a (very) short-term rehab center for oppressed inner-city kids? Or an art form capable of maintaining a point of view more developed than that of a 27-year-old egomaniac who fronts like he's Berry Gordy, Tiger Woods, and Savion Glover all rolled into one?
Although Puffy's elaborate stage-show performance of "I'll Be Missing you" at the MTV video awards attempted to pay wholesome tribute to Biggie, the spectacle only served to obscure his musical memory. Couch potatoes might even have assumed that Biggie just was a bit player in Puffy's opéra comique of self-promotion, especially after his camera-hogging turn in the "Mo Money Mo Problems" video.
But Biggie Smalls was a genuinely fascinating artist, hard and complicated, to paraphrase a lyric by De La Soul's Posdnous, a Biggie critic. For a guy who once wryly rhymed that he owned "the cleanest, meanest penis," and then despairingly spat, "When I die, fuck it, I wanna go to hell / 'Cause I'm a piece of shit / it ain't hard to fuckin' tell," there were no simple, catchy summing-ups. Biggie's music could move folks to laugh, weep, get a job, quit it, get high; but most of all, inspire kids to believe in the power of hip-hop to depict their life's script. Every fan acted as if they knew Biggie personally, even if that fan wouldn't know how to work a triple-beam if their life depended on it.
Less than a month before Biggie passed away, I was pacing around my apartment on a Thursday night when the phone rang. "Is Charles there?" a deep voice murmured. "Who's this?" I snapped. "It's Biggie, man, you better talk to your girl, hold on." Calling from his cellular, circling Harlem in his Suburban, Biggie was drinking Cristal with a friend who was supposedly in the middle of an interview. He was trying to sweet-talk her into going to Nell's, the nightclub where Tupac was once given "special treatment" on the dance floor, and my friend was trying to tell Biggie that we had plans to see a DJ crew spin at another club. Biggie was insulted ("Who is this chump?" he said); she was tipsy on champagne; I was hummana-hummaning.
For Biggie, this type of nonsense probably happened every day. For my friend and I, of course, it was a classic Notorious B.I.G. scenario (that's why he was such a star). Sadly, Biggie slumped in the passenger seat of a Suburban, dead form the pop-pop-pop of a nine-millimeter, with a crowd of young black men screaming and running around in a panic, was even more of a classic Notorious B.I.G. scenario. It's also become a classic hip-hop scenario. And all the spin control and awards shows and charity funds and puffed-up rhetoric can't begin to erase that reality. It's just too real.