In 1999, New Found Glory released "Hit or Miss," a pretty quality pop-punk song. Though it was released before they really broke big, it's one of their most popular songs—Setlist.fm says they've played it more than any of their songs, above more identifiable hits like "My Friends Over You." If you were a New Found Glory fan trudging around the internet on a safe day, you could Google "Hit or Miss" and be immediately swept away to your—excuse the pun—glory days, awash in the harmonies and nostalgic lyrics.
Then, 2016 saw the release of another song called "Hit or Miss" by once-upon-a-time Vine star Jacob Sartorius, who has made nascent and insistent forays into music over the last few years. Sartorius is 14 years old, and it's bad karma to make fun of a child, so I'll just say that he's obviously not much of a singer—his voice is soaked in Auto-Tune, and the lyrics are ripped right from the Rebecca Black "Friday" model. Whatever parental manager is pushing young Jacob to sing instead of focusing on his education is, in this blogger's opinion, wildly negligent. But "Hit or Miss" was nevertheless a relative success—it's racked up over 42 million views on YouTube, along with half a million "dislikes."
This success has also come with a funny side effect: It's totally buried New Found Glory's song in search engines. The top six Google results for "Hit or Miss" are Sartorius-related, while you have to get to the second page to find New Found Glory; a similar thing happens on YouTube, where Sartorius, along with videos of people parodying, covering, or acknowledging his song (a video called "Jacob Sartorius – Hit or Miss (Official Music Video) Reaction" has 2,373,766 views) dominate the first page.
It's not really exceptional that a modern song by a currently thriving pop star would out-rank an older song—Rihanna's "Take a Bow" nudges out Madonna's "Take a Bow," Taylor Swift's "Bad Blood" annihilates Neil Sedaka's, and it's only a matter of time before Goo Goo Dolls' "Slide" gives way to Calvin Harris and Frank Ocean's new song. But few of these copycat songs are ever as viscerally annoying as Sartorius' song, and this—again, pardon the pun—new found traffic dominance has sent New Found Glory fans into a goddamn tizzy.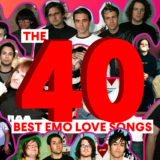 Here are some aggrieved comments left on the band's "Hit or Miss" video:






But are Sartorius fans taking this lying down? Absolutely not:


The quality of the New Found Glory song is up for debate; I think it's a strong entry in the catalog of "catchy pop punk songs that remind me of 'Ocean Avenue,'" though my co-workers at SPIN disagreed violently when I made a case for its worth. Whatever, sure. But the ideological gap between NFG and Sartorius is easier to settle on. New Found Glory were young adults singing about nostalgia for their teen years for their teen audience, which has now grown into adults nostalgic for their teen years. Meanwhile, Sartorius is a young person singing about living for today instead of accounting for adulthood, to an audience of young people.
In other words, it's the kids of yesterday versus the kids of today. New Found Glory may as well be classic rock to some people; someone born in its year of release would be graduating from high school in a few months. As a questionable talented former Vine star, Sartorius might be at the apex of his fame—or he could keep ascending and ascending, and "Hit or Miss" might one day be viewed as a formative song, the "One Less Lonely Girl" to his eventual "Baby." The consensus on which is the definitive "Hit or Miss" will become murkier, driven solely by what year you were born in. And as the golden-toned past is pushed further and further down the search charts by the nasal present, the fight over quality will—as always—be decided in the comments.