Rumors were true—Feist returns April 28 with her fifth full-length album, Pleasure. The new record was produced by Feist with Mocky and Renaud Latang, both of whom have worked with the artist in the past.
Feist's previous record was 2011's Polaris Prize-winning Metals. She's set to appear at several upcoming festivals, including Eaux Claires and the Winnipeg Folk Festival, and on the next Broken Social Scene album, which the band has suggested could arrive this summer.
There's no new music to hear yet, but you can see the track list for Pleasure below.
Update: It seems no one told Feist that her album announcement was coming today, but she responded by tweeting out the cover artwork.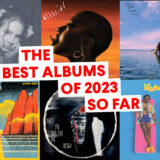 Much to my surprise, I woke up this morning to see the word is out for
🌸P l e a s u r e🌸 pic.twitter.com/mGKMNfTcZb

— Feist (@FeistMusic) March 14, 2017
Feist, Pleasure
1. "Pleasure"
2. "I Wish I Didn't Miss You"
3. "Get Not High, Get Not Low"
4. "Lost Dreams"
5. "Any Party"
6. "A Man Is Not His Song"
7. "The Wind"
8. "Century"
9. "Baby Be Simple"
10. "I'm Not Running Away"
11. "Young Up"
[Exclaim!]