Kalief Browder's story first came to the world through what might have appeared to be a standard-issue human-interest piece in The New Yorker, but proved to be one of its most crucial pieces of reporting of the past decade. The horrifying story revealed how the mistreatment of one black New York City teenager could speak to the staggering systemic failures of American law enforcement. If you don't know the case, Browder was imprisoned in NYC's Rikers Island jail for years while awaiting trial for a specious charge (stealing a backpack), and was beaten up and starved regularly. He was relegated to solitary confinement for half-years at a time. By the time his case was dismissed before trial, he had been subjected to seemingly every broken element of the criminal justice system in his city.
The original New Yorker story, written by Jennifer Gonnerman, presented the excruciating details of Browder's experience to put a human face to issues that are usually presented in dizzying statistics. His story implicated inept local law enforcement practices in Browder's impoverished home district and the nihilistic internal logic of Rikers. It turned up a long spreadsheet full of delayed court dates which, at one glance, debunks the notion that prisoners in this country are always granted their full Sixth Amendment rights. Eventually Browder was solicited for TV appearances about his case and gained huge public support, but all this did not alleviate his trauma. In the summer of 2016, he hung himself from the bedroom window of his mother's Bronx home.
Spike TV's new six-part docuseries TIME: The Kalief Browder Story, airing over the next six weeks, aims to further immerse its audience in Browder's harrowing story. It also explores why his story has sparked national interest, both in the press and the halls of national and local government. In 2015, NYC major Bill DeBlasio toured Rikers and banned solitary confinement for prisoners under the age of 18; the following winter, Obama cited Browder's case in a Washington Post op-ed in which he announced a ban on solitary confinement for juveniles. Last year, New York State Senate Bill S5988, or "Kalief's Law," passed the New York State Assembly: a crucial piece of legislation advocating pre-trial detention reform. The Kalief Browder Story brings together an impressive crew of talking heads to reflect how significant Browder's crusade has been: series producer Jay-Z, Al Sharpton, Van Jones, and The New Jim Crow author Michelle Alexander, and more. But luckily, it is the people who were directly involved in Browder's story that get the most screen time, not the public figures who created talking points out of it.
The footage of Browder himself remains most crucial to the power of the film. In the candid 2014 interview footage that frames the series's episodes, his face flits between affability, humor, terror, and anger; his haunting stare captures what numerous family members, including his mother Venida (who passed away last year), describe in the film as him "not being there" or "not being the same." These clips are juxtaposed with voiceovers using text from the deposition Browder gave as a part of a lawsuit against New York State law enforcement for violating his right to a speedy trial. Combined with carefully assembled security-camera footage of his time in Rikers, the documentary gives a powerful, well-rounded view of him as an individual that far exceeds any previous account of his misfortune.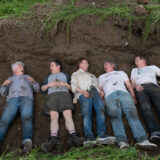 Browder's account is complemented by testimony from different representatives of the forces that helpd determine Browder and his family's fate since the day of his unexpected arrest. This extends from bail bondsmen (by the time the Browder family made bail, the window was closed for release) to former and present Rikers corrections officers to Browder's actual fellow inmates. A number of the latter group were captured on Rikers' security cameras beating Browder to a pulp–in the series, they sit with the filmmakers and watch the footage, explaining the power dynamics at work. Director Jenner Furst, wisely, rarely tries to dictate the audience's impressions and allegiances, or conversely, to "present the other side" overzealously and undermine the film's activist angle. These interviews merely emphasize the point that, instead of focusing on demonizing specific individuals who affected Browder, we should turn our attention to the systems and regulations–or lack thereof–that helped define their roles. Just a matter-of-fact sentence or two from the former Rikers correction officer who explains why he felt pressured to smuggle coke into the prison, or to periodically let the inmates beat each other up, makes clear the complexity and immensity of the system in which these individuals are caught up.
Jenner and his team do venture further up the totem pole. The series explores the history of the "war on drugs," the othering discourse of politicians (most importantly, presidents), corrections officers' unions' aversion to reform, and more. But they also consider the problems occurring on a more local level, which is part of what makes The Kalief Browder Story such essential and empowering viewing for 2017, at a time when meaningful change on the federal scale seems so hopeless. For instance, the unfair conventions of sentencing are often a state issue: Browder, as a 16-year-old, being treated the same as an adult in New York State, for instance. But there are also urgent concerns specific to the Rikers facility, which has neglected by both law enforcement and city government officials (mayors Giuliani and Bloomberg, notoriously) for decades.
One of the greatest surprises of the miniseries is how deeply it delves into the inner workings of the jail–specifically, outlining the basic tenants of "The Program," a gang-driven system of extortion and corruption that is a matter of common law at Rikers, and involves both inmates and correction officers. The series gives a comprehensive view of how "The Program" became institutionalized, and the fractured landscape against which it plays out. Few moments in the documentary are as haunting as seeing another inmate kick in Browder's cell door because the facilities are so old that many of the locks don't hold correctly. After watching, it's difficult not to feel that the most logically and morally sound course of action is to close the jail for good. (Indeed, Akeem Browder, Kalief's older brother and a powerful voice in the film, continues to be a powerful voice in the "Shut Down Rikers" movement.)
For the most part (overbaked reenactments and other stock TV-doc mannerisms aside) The Kalief Browder Story focuses on showing us why these issues are important, rather than proselytizing in generalities. There are reasons to engage in some of this: The fact that the normally-reticent Jay-Z appears to deem Browder a "prophet" in the opening minutes of the first episode may inspire some of the show's hundreds of thousands of viewers to take a more serious interest in learning about Browder's case. The series feels painstakingly conceived, and built to strike a chord with audiences coming to it with different levels of familiarity and sympathy for prison-reform-related causes. Kalief Browder is not yet a household name, but with this series, he will get one not-insignificant step closer to becoming one.