Ryan Gosling and Justin Timberlake are perhaps the two premier handsome, 30-something, well-coiffed, inoffensive white men of showbiz. This year, they are also both up for problematic Oscars. Gosling has too many nominations for his performance in deathly vapid "love letter to cinema" La La Land. Justin Timberlake might get an award for writing and recording the worst pop hit of last year, "Can't Stop the Feeling": a song in the genre of "Dumb Marvin Gaye" which Timberlake wrote for the Trolls movie, in which he also voices a grumpy blue troll named Branch.
The other thing the two men have in common? They clearly hate each other. Why, though? Recall, '80s babies, that Gosling and Justin Timberlake first met in their capacity as Mouseketeers, during a golden era in the Mickey Mouse Club's history in which the Disney variety show's cast also included Britney Spears, Christina Aguilera, and Keri Russell. Timberlake remarked on his relationship with Gosling during this period during an interview for a Hollywood Reporter profile that ran today. Though it was reduced to a parenthetical aside, it's one of the most intriguing bits of the piece, because it proves that Justin Timberlake and Ryan Gosling definitely do not fuck with each other:
This time, he made the cut, which is how he ended up being castmates with future girlfriend Spears, Keri Russell and future tourmate Aguilera and bunking with 11-year-old Ryan Gosling, who spent a season of the show living with Timberlake and his mom ('We aren't the closest of friends, for whatever reason,' says Timberlake nonchalantly when asked whether he has stayed in touch with the La La Land star) in what turned out to be the greatest incubator of preteen talent in Mouseketeer history.
Reread this passage a couple of times and it becomes obvious there's more going on here than meets the eye. Further probing into Gosling and JT's shared past yields evidence of how close they used to be: Timberlake's mom adopted Gosling briefly during the filming of the Mickey Mouse Club because Gosling's mom had to return to Canada for work.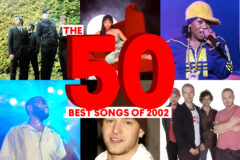 That is to say: Justin Timberlake and Ryan Gosling were once, essentially, brothers. They lived under the same roof and even shared a bathroom, according to reports. In 2011, Timberlake told Ellen DeGeneres an anecdote that he deemed emblematic of his friendship with Gosling: "We stole a golf cart. And we were like, 'Yeah, man–We're stealing a golf cart!' We drove into MGM Studios…which is totally illegal by the way. I was like, 'What do you want to do, thug?' Ryan was like, 'I don't know, cuz.' Because that's definitely how we talked."
But why don't they talk like that anymore? In 2013, Gosling told a Spanish interviewer the situation was "like anything where you're friends with somebody in elementary school or something. How many friends do you still have from elementary school?" Below, listen to Justin stammering foolishly to Ellen: "Yeah…you know…he's working a lot. It's hard to keep up with him."
They don't get the basic facts of their shared friendship right, either: In a GQ interview between Timberlake and Jimmy Fallon in 2011, the late night host said Gosling had claimed to have slept on Timberlake's couch during their MMC days. Timberlake immediately rebuffed the claim, telling Fallon that Gosling had his own bed. "So he tried to make it seem like he was bohemian even back then?" Timberlake scoffed. "Gosling got his own bed. He didn't sleep on the couch… I'm picturing a ten-year-old Gosling bumming Marlboro Reds off some bum, growing hipster facial hair…" The shade levels here are, obviously, staggering.
These good and pretty men once sang, danced, and talked like child-actor Post Malones together. Someone needs to stop pretending like everything is cool, and start telling the bare-assed truth.