The mystery over who was responsible for last night's Best Picture fiasco at the Oscars has been solved. TMZ and the Wall Street Journal report the culprit is PriceWaterhouseCoopers managing partner Brian Cullinan, who made the error just minutes after taking and tweeting a photo of Emma Stone clutching her Best Actress statue.
The tweet has since been deleted, but a screenshot of it is below. The Journal reports Cullinan tweeted it at  9:05 p.m. Pacific time, three minutes before Warren Beatty and Faye Dunaway took the stage to present the award for Best Picture.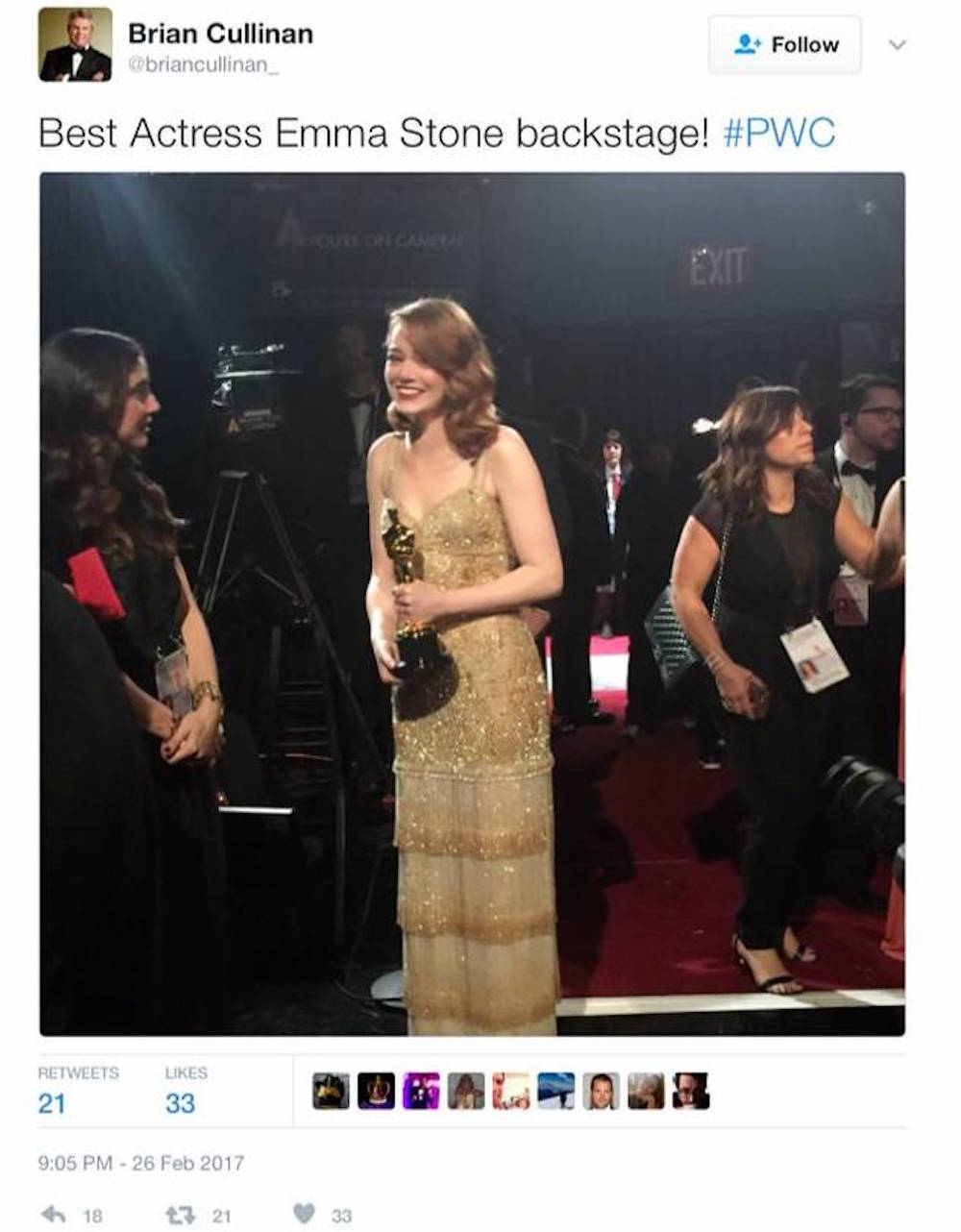 A rep from PriceWaterHouse confirmed the screwup to USA Today. "At the end of the day we made a human error," Tim Ryan, U.S. chairman and senior partner of PWC, said. "We made a mistake. What happened was, our partner on the left side of the stage, Brian Cullinan, he handed the wrong envelope to Warren Beatty. And then the second we realized that we notified the appropriate parties and corrected the mistake."
TMZ and the Journal report Cullinan deleted several other tweets containing photos he took during the ceremony.
In an interview with the Academy published two weeks ago, Cullinan described the process of handing out the envelopes. From that interview:
The producers decide what the order of the awards will be. We each have a full set. I have all 24 envelopes in my briefcase; Martha [Ruiz] has all 24 in hers. We stand on opposite sides of the stage, right off-screen, for the entire evening, and we each hand the respective envelope to the presenter. It doesn't sound very complicated, but you have to make sure you're giving the presenter the right envelope.
He's right that it doesn't sound very complicated.