"What Is Love," the opening track of Kingdom's debut full-length album Tears in the Club, immediately establishes itself as a highlight of his catalog. It has everything we've come to expect from the Los Angeles DJ and producer born Ezra Rubin: downbeats that arrive a split later than you expect them to; a bevy of samples that another producer would deploy for their percussive force, but that Kingdom uses to extend his cavernous atmosphere; a bell-like synth patch that should come off as 1980s retro but instead sounds cleanly modern; and crucially, a lead vocal from SZA, who navigates the unorthodox beat and deftly makes it her own.
Kingdom is at his best when he's working in collaboration, shepherding the talents of his peers. As co-founder of the forward-thinking club music label and collective Fade to Mind and a key early member of its UK-based parent Night Slugs, he can claim a hand in some of the most striking and influential electronic music of the last decade. Proudly digital, filled with irregular rhythms and timbres drawn from the commercial clatter of contemporary life, and flitting freely between neon-lit interpretations of UK bass, dirty south trap, R&B of the Timbaland/Neptunes school, and bleeding-edge American styles like footwork and Jersey club, the Fade/Slugs sound can still be heard lovingly imitated in foggy Brooklyn club nights, years after it first emerged. And Kingdom's work as producer for singers like Dawn Richard and Kelela–sleek and spacious, with a light touch on the bells and whistles–is uniformly great. As a solo artist, over a handful of singles and EPs, he's delivered several breakneck club-oriented hits, but not the zeitgeist-defining anthems or cohesive longform artistic statements of his brightest contemporaries. It's not for nothing that Rubin calls himself Kingdom–a name that evokes entire nations of like-minded artists working in tandem–and not just "King."
Accordingly, the most arresting moments on Tears in the Club come when he is working with singers. Lead single "Nothin," featuring Syd of The Internet, is an alternate-universe radio smash, with Kingdom playing Timbaland to Syd's Aaliyah, or the Noah Shebib to her wallowing Drake. "I got a girl on the other side of town / She wonders why I never come around / I got all these insecurities a woman can't fix / And now I know liquor and depression don't mix," Syd sings in the first verse, as Kingdom strafes her with stray percussion hits that refuse to congeal into a danceable rhythm. After a full disorienting minute, Syd commands the music to "bounce," and the elements suddenly arrange themselves into a slinky electro-R&B groove. The chorus is anchored by a melodic bass line that sounds like it could have been played on an actual bass guitar, bringing newfound warmth and subtle pop appeal to Kingdom's aesthetic without sacrificing its essential character.
"Down 4 Whatever," the album's other collaboration with SZA, is also a standout, putting a futuristic take on '80s Latin freestyle and '90s R&B, with multiple frantic hi-hat patterns pitted against each other. "Breathless," recorded with the relatively little-known Florida/NYC vocalist Shacar, on the other hand, has a hook that sticks in your head by way of blunt repetition rather than melodic ingenuity.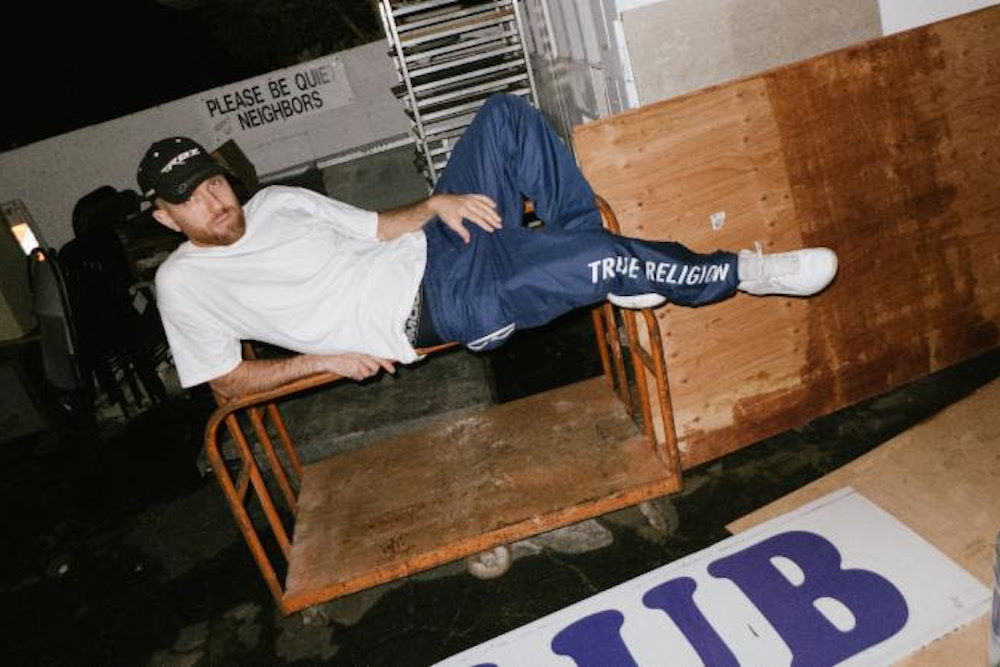 The rest of Tears in the Club is instrumental, aside from the snatches of sampled vocals that Kingdom has long favored in his tracks, and the mix of formats renders the album a somewhat inconsistent listen. To uneven effect, these solo offerings scale back the sensory and rhythmic assault that characterized Kingdom's early work. "Each & Every Day" alternates a loop of the Vine singer Najee Daniels with thrilling sections of sparse and funky percussion, and "Nurtureworld" makes use of pillowy trance music sounds in a way that recalls AraabMuzik's great 2011 LP Electronic Dream. "Haunted Gate," "Into the Fold," and "Timex," which take up much of the album's back half, are slower and seemingly more headphone-oriented. They could be slotted next to Burial on a killer playlist for walking around your city on rainy nights, but ultimately lack the character to make much of an impact of their own.
Kingdom's most brilliant moment as a producer so far is "Bank Head," the Kelela collaboration that appeared on his 2013 EP Vertical XL and her breakout mixtape Cut 4 Me the same year. "I'm keeping you close, you know it / And I'm taking my time to show it" Kelela sings on the song, her voice stepping forward and then back, flitting through the hallways and back alleys of Kingdom's metronomic handclaps and tumbling electronic percussion. Appearing only as an instrumental in an earlier release (Night Slugs Allstars Volume 2), "Bank Head" sounds like well-executed background music, not the masterpiece of tension and release that it eventually became. All the elements are there, but without Kelela to illuminate them, Kingdom's glass cities of sound are dark and empty. Listening to the instrumental stretches of Tears in the Club, it's hard not to wonder whether they'd be similarly transformed with a collaborator's touch.