Katherine Jackson, the matriarch of the storied Jackson family, has filed a lawsuit alleging abuse at the hands of her nephew, Trent Lamar Jackson, as People reports. In the lawsuit, Katherine requested a restraining order, claiming that Trent—who's worked for her as a driver—used her bank accounts without permission, and took an increasingly domineering interest in her personal life.
"Trent has made it his business to regulate Mrs. Jackson's interactions with her children — screening phone calls, not relaying messages, not allowing privacy during visits or phone calls," the lawsuit claims, as the New York Daily News reports.
According to the New York Daily News, Trent Jackson is the son of Jackson family patriarch Joe Jackson's brother, Lawrence. The lawsuit refers to him as an "abusive con man" and says Katherine "has had enough, her health is fragile and she is tired of being frightened."
Currently, Katherine is staying in London with her daughter, Janet Jackson. "Mrs. Jackson wants to return home from London but is afraid to go home with Trent there," the lawsuit states. "She fears he could physically harm her for terminating him."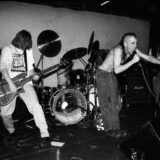 A judge granted Katherine's request for a restraining order. A hearing is set for March 1.