In 1973, the Civil Rights Division of the U.S. Department of Justice filed a lawsuit against Trump Management Incorporated, as well as its president and chairman: Donald Trump and his father Fred. Based on testimony from tenants and employees and the work of federal investigators, the suit alleged that the Trumps had systematically discriminated against black and Puerto Rican tenants, directing them away from majority-white buildings and toward properties where there were more minorities.
This week, in response to Freedom of Information Act requests, the FBI released 400 pages of documents related to the investigation it conducted between 1972 and 1974 into alleged discrimination at Trump properties. They files mostly consist of interviews that agents conducted with employees, tenants, and applicants at various Trump properties in New York City.
The lawsuit was settled in 1975, when the Trumps agreed to sign a consent decree. The agreement did not include an admission of wrongdoing, but it required the company to place advertisements informing minorities they were welcome to rent Trump properties, and to affirm to the court that no discrimination would take place during the rental process.
The majority of the interviews contained in the newly released documents do not make reference to any discrimination, and many are rendered illegible by large redactions and the poor quality at which they were digitized. However, there are several allegations of racism at the properties, both blatant and subtle, by workers and applicants alike. We've collected excerpts of the worst of these allegations below.
"Tell him that the rent was twice as much as it really was"
In October 1974, a man who previously worked as a doorman at a Trump building at 2650 Ocean Parkway in Brooklyn provided a handwritten statement to FBI agents, alleging that he'd been instructed to tell black applicants that the rent was higher than it actually was.

The man's statement read in part:
While employed in this capacity, I was supervised by an individual known to me as [REDACTED] who was employed by Trump Management Corporation as superintendent at 2650 Ocean Parkway, Brooklyn New York. [REDACTED] told me that if a black person came to 2650 Ocean Parkway and inquired about an apartment for rent, and he, that is, [REDACTED] was not there at the time, that I should tell him that the rent was twice as much as it really was, in order that he could not afford the apartment. If [REDACTED] were in the apartment at the time when someone would inquire about renting an apartment, I would merely refer the person to him as the superintendent.
"Fred Trump told me not to rent to blacks. He also wanted me to get rid of the blacks that were in the building…"
Another man, who worked briefly as a rental supervisor at the Trumps' Tysens Park apartments on Staten Island in 1973, alleged that Fred Trump personally instructed him not to rent any apartments to black people or people on welfare.

An excerpt from the rental supervisor's statement reads:
I asked Fred Trump what his policy was regarding minorities and he said it was absolutely against the law to discriminate. At a later time during my two weeks at Tysens Park, Fred Trump told me not to rend to blacks. He also wanted me to get rid of the blacks that were in the building by telling them cheap housing was available for them at only $500 down payment, which Trump would offer to pay himself. Trump didn't tell me where this housing was located. He advised me not to rent to persons on welfare.

…

During my two weeks four applications were received, two from white couples, one from a Spanish couple and one from a black couple in their thirties. [REDACTED] handled the black couple. I don't know if any of the applications were accepted or rejected. The procedure regarding the application was to verify the person's employment, possibly do a credit check and determine his weekly salary. I thought the black couple would be judged acceptable as tenants based on the above checks. However, [REDACTED] just told me they're blacks and that's that. I believe that [REDACTED] and others working at the rental office used a code on the top of the front page of the application to distinguish blacks from whites.
"They discriminated against blacks"
The documents contain multiple allegations from black tenants that they were discriminated against when attempting to rent an apartment. The following excerpt recounts an instance when a black applicant was denied, and a white acquaintance was almost immediately accepted for the same apartment.

At 9:00 A.M. on July 13, 1968, in response to an ad in the newspaper, the complainant went to the premises at [REDACTED] in Jamaica and spoke with the superintendent about renting one of the advertised apartments. The superintendent told the complainant that the apartments were not available.

Several hours later, a white friend of  the complainant's went to the subject premises and inquired about an apartment. The superintendent showed him [REDACTED] and accepted his $25.00 deposit, and arranged for him to return to sign the lease.

…

The building in question has 190 units and there are two Negro tenants.
Similarly, a black woman applicant alleged that she had attempted to rent a unit at the Trumps' Shorehaven complex in Brooklyn, and was repeatedly told that no units were available, despite seeing advertisements for vacancies, and hearing from white friends that they had obtained apartments. Ultimately, she said, she was told by a temporary employee that she wouldn't be accepted because she was black:

During the summer of 1960, [REDACTED] again appeared at the Shorehaven Apartments and was shown a few apartments by an Italian, Male, who was employed in the rental office as summer help. [REDACTED] advised that evening the individual called her back and stated she could not have an apartment at Shorehaven as they discriminated against blacks. He asked her not to make any trouble as he needed the job for the summer to pay for his college education. [REDACTED] advised she could not recall this individual's name.
"Send the black applicant to the Trump Management office"
A former superintendent at Trump Management's Lawrence Towers apartments in Brooklyn claimed that there were separate policies for how to handle applications for white and black prospective tenants. If the applicant was white, the employee could accept the application himself; if the applicant was black, he was instructed to send him or her to the central offices of Trump Management to apply. Curiously, all of these black families who applied were either judged financially unfit to rent, or decided later that they were no longer interested in renting, according to the superintendent.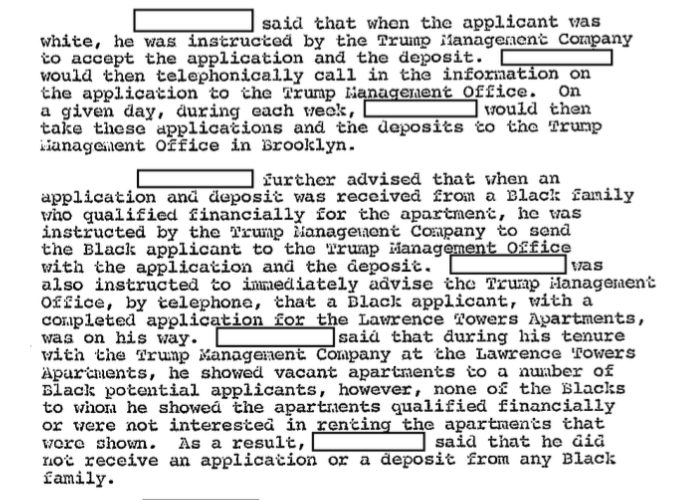 The summary of an interview given by the former superintendent reads in part:
[REDACTED] further advised that when an application and deposit was received from a black family who qualified financially for the apartment, he was instructed by the Trump Management Company to send the Black applicant to the Trump Management Office with the application and the deposit. [REDACTED] was also instructed to immediately advise the Trump Management Office, by telephone, that a Black applicant, with a completed application for the Lawrence Towers Apartments, was on his way. [REDACTED] said that during his tenure with the Trump Management Company at the Lawrence Towers Apartments, he showed vacant apartments to a number of Black potential applicants, however, none of the Blacks to whom he showed the apartments qualified financially or were not interested in renting the apartments that were shown. As a result, [REDACTED] said that he did not receive an application or a deposit from any Black family.
"Phony lease"
In several places, the documents make references to "phony leases" that would be presented to black applicants as supposed proof that the apartments they sought to rent had already been rented. Most of the employees interviewed said that they did not use phony leases, and that they were unaware of the practice. However, one employee alleged that he knew of multiple people who talked about using phony leases.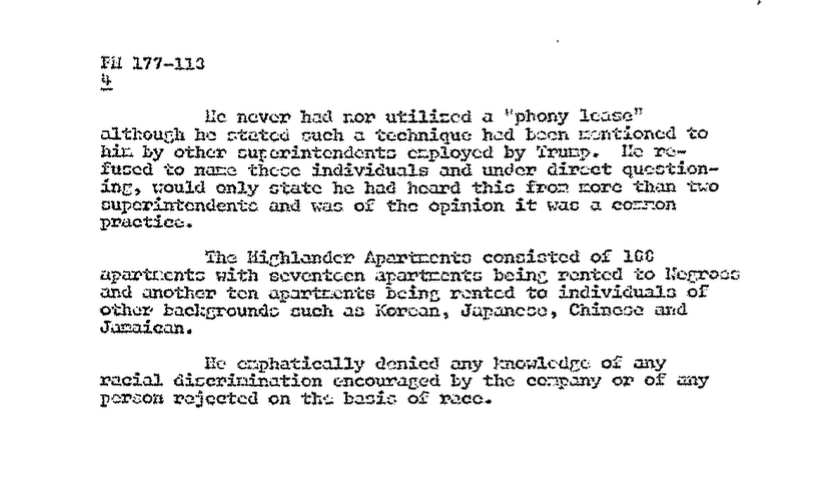 That employee's statement read in part:
He never had nor utilized a "phony lease" although he stated such a technique had been mentioned to him by other superintendents employed by Trump. He refused to name these individuals and under direct questioning, would only state he had heard this from more than two superintendents and was of the opinion it was a common practice.
If you're interested in going through the documents yourself, you can download them at the FBI's FOIA website.