Kanye West will be showing his new line Yeezy Season 5 at New York Fashion Week in a couple weeks, as he has done for the past several years. His show takes place at 5 p.m. on February 15 at Pier 59 Studios, but if you look at the official Fashion Week schedule, you will notice that he is not listed at that time. Per Women's Wear Daily, this is intentional on the part of the Council of Fashion Designers of America, the royally-named non-profit that puts Fashion Week together.
According to Steven Kolb, president and CEO of the CFDA, West is excluded from the schedule because he did not go through the proper channels in order to schedule a time slot. He told WWD:
Once again, CFDA was not approached or consulted about the possibility of Kanye West showing on the official New York Fashion Week schedule. As the scheduler of the week, the CFDA works with more than 300 brands to identify appropriate times for them to show their collections and avoid scheduling conflicts.
In this case, West, Adidas, and Pier 59 Studios scheduled his show on top of an officially arranged showing by the New York label Marchesa. This will force the media as well as the famous and otherwise wealthy attendees of Fashion Week to choose between the two shows, and well, you can guess which one is going to get more attention.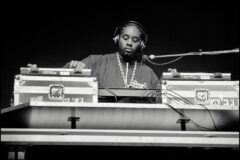 Added Kolb:
Not going through the proper channels is disruptive to the whole week and unfair to designers who have secured spots through the formal procedure. This bad behavior is not acceptable to the CFDA and should not be tolerated by the industry.
Something tells me this won't quite be a persuasive argument.
[via Pitchfork]