David Bowie's death did not transform ? into a brave, lovely, often great album. (Whether 2013's The Next Day would have earned the plaudits too under similar circumstances is a question best discussed over drinks.). At seven tracks, ? presented itself as a distillation—a honing, not a collating. The presence of saxophonist Donny McCaslin, guitarist Ben Monder, and keyboardist Jason Linder guaranteed an album that bridled at the limits of porous art songs. In the days between its release and the Monday morning we heard the news, "I Can't Give Everything Away," the title track, and "Lazarus" presented themselves as envois in search of a context, grand performances of oblique scripts with glittering phrases.
Listeners didn't need to know, for example, the origin of "'Tis a Pity She Was a Whore"; the band's healthy clamor proved its own reward, as much as hearing Bowie pronounce "cock" like an old queen who had never seen one. Like the Kurosawa of Dreams and the Wallace Stevens of The Rock, Bowie created objects for which no name yet existed, a master of line demonstrating the possibilities in distorting the line. If ? sounded overwrought in places, call it a case of possession: the master's creations seizing control.
Its title a final grand, grim gesture, No Plan presents "Lazarus" and three ? outtakes, all of which were available on last October's Lazarus: Original Cast Recording. Thinking they're essential depends on one's affection for Bowie, although any unreleased product will likely generate interest, especially after ?'s unexpected four Grammy wins. (Quick: name his previous win.) That No Plan benefits from biographical criticism is beyond question. Explicit about an inevitability, affirming the continual satisfactions of a marriage that has lasted longer than anyone predicted, No Plan presents both a frailer yet more robust, almost libidinous David Bowie. Not for him rage against the dying of the light, a mode to which artists understandably succumb—he appreciated the texture and tint of the light while he still had eyes to see
The chief pleasure of No Plan is musical: for the last time, listeners can relish the sinuous empathy between Bowie and his band. These guys were very good at what they did. On the title track, McCaslin blows mournful notes beneath Monder's lines, complementing a Bowie lyric about getting "lost in streams of sound," at which, starting from 1975's Young Americans and peaking on the instrumental slivers on Low (1977), he has excelled. Two points off, though, for the mawkish synth sparkles over the outro.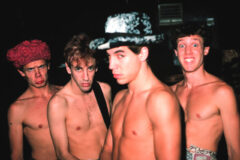 For those after a headier experience, "Killing a Little Time" sports brawny guitars and Mark Guiliana's strongest drumming. "This rage in me," Bowie sings in that recognizable croon, its affect as ridiculous as a kid in Revolutionary War pantaloons. Cute too, as always with him. Savor it. When a key shift happens during the "I'm falling, man/I'm fading, man," you'll stop smiling.
Here's the trick: Bowie was, as usual, correct. "Killing a Little Time" is the only track I can imagine on ?. However, "When I Met You," a scuzzier version of one of his grand ballads—imagine Station to Station's "Word on a Wing" with three-day growth and hangover—kicks up a lot of dust for naught. For David Bowie the persuasiveness of his sensual appetite, or, rather, the dregs of a sensual appetite, depended on his ability to perform it; even on "Word on a Wing" and 1979's "Fantastic Voyage" he played a soul lamenting its inability to feel. Going through the motions—splendid motions—showed energy. Unable to be a real sort of person liberated him; he became an approximation of a man.
But we fans are left with No Plan and how to incorporate it into the Bowie canon. In 2015, recording songs he understood would have to outlive him, he was still better at limning the oblique. Presenting listeners with two discrete but related musical adventures like ? and No Plan, the survivors grasped that even the oblique tastes better with a dash of the obvious. No Plan offers two good songs, one essential—enjoy them. There ain't no more.