This afternoon, Charlamagne Tha God of The Breakfast Club posted to Instagram a screenshot of a text message exchange he had with someone who appears to be the publicist of 13-year-old Danielle Bregoli, best known as the "Cash me oustide, howbow dat?" girl of Dr. Phil show fame. Charlamagne responded to an inquiry about Bregoli appearing on his radio show with "Absolutely not," then shared it with his 1.5 million followers. Aside from being spectacularly shady, the snippet provides a glimpse at the absurd inner workings of the viral celebrity machine.
https://www.instagram.com/p/BQ0fXGalKzL
Bregoli appeared on Dr. Phil last fall, as an archetypal out-of-control teen, raging against her baffled mother. Thanks to her particularly aggro personality, and her colorful way with words–uttering "catch me outside" was her way of challenging the entire audience to a fight–Bregoli's appearance on the show became a social media phenomenon recently. The fact that Bregoli has a publicist at all might make one question the purpose of our lives here on Earth, but such is the nature of contemporary celebrity. As the publicist states, since becoming a meme, she's racked up a ton of followers on social media, appeared on Dr. Phil to hilariously rag on the host once more and starred in a Kodak Black video. A novelty remix of her original Dr. Phil appearance has also recently cracked the Billboard Hot 100.
And so here is how the sausage gets made. "She's up to 5.6 mil IG followers, has a top 20 song on the iTunes chart, has no filter and is one of the most talked about TV/internet personalities in pop culture…mainstream and urban, right now," her publicist wrote. "She's 13."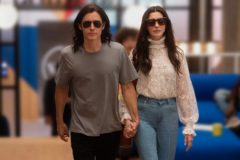 That pitch evidently wasn't enough for Charlamagne, but just based on the fact that she's running a publicity campaign at all, it's probably safe to assume you'll be seeing her on some other show soon. In any case, the rundown of her recent accomplishments pales in comparison to the rap sheet that got her on Dr. Phil on the first place. If the publicist were worth their salt, they'd just send along the original headline: "I Want To Give Up My Car-Stealing, Knife-Wielding, Twerking 13-Year-Old Daughter Who Tried To Frame Me For A Crime."