On the morning of the Women's March on Washington, the Youth & College division of the NAACP and Howard University's Student Association hosted an activists' gathering dubbed the People's Inauguration. Centered around a panel featuring Jidenna, a speech from NAACP president Cornell William Brooks, and a sermon from Baltimore pastor Jamal H. Bryant, the event was wrought with historical context as the attendees faced the uncertain future of Donald Trump's presidency. The gathering took place at the Metropolitan AME Church, where Frederick Douglass delivered his final speech in 1894. Twenty-four-year-old Howard alumnus Kevin Peterman, a slated speaker, took the pulpit, raised his palms in prayer and pleaded, "Oh Lord we need you now. We need you just like the Africans who came over the Atlantic." At the People's Inauguration, Trump wasn't just the 45th president of the United States–he was a leader who appeared to be diametrically opposed to centuries of African-American struggle.
Peterman had been at Hillary Clinton headquarters in New York on Election Night. As the states went red, the attendees reacted as if they were being violently jerked from a dream. "I think I almost fainted," Peterman recalled after the rally. "I honestly did not think America was this corrupt."
But not every Howard-bred African-American shared that grief. Alexis Hasty, a junior political science major, remembered seeing sorrow-filled faces when she spent election night at BET Headquarters, where she was a guest speaker. "Everyone's sitting there with hung faces, and I'm just sitting there," she said the night before Friday's inauguration. She preps her shoulders and works up a wry smile to mimic her contained joy from that evening. "My actual feelings were a lot of excitement, and especially when you hear that Republicans control all three [branches]." Hasty is a black Republican.
Hasty and fellow junior political science major Daisha Martin are co-chairs of Howard University's 10-member College Republicans chapter, which was reinstated last fall after about a decade of inactivity. The two students have supported the GOP since their early teens. Hasty recalled attending high school in the liberal stronghold of Berkeley, California. Martin's parents are both Democrats, even though they share a classically Republican belief in fiscal conservatism.
Despite Howard's reputation as a bastion of diverse black thought, it took a long time for these young black Republicans to feel comfortable among their peers. Hasty said she remembered feeling nervous her freshman year, fearing that her classmates would see a "giant elephant on my forehead and tune me out."
"We walked into a room and people just opened their mouth like, 'Why are you a Republican?'" Martin added. "'Oh, that's your boy, Trump.' I think that because Alexis and I, we are the poster-child for Republicans—probably the only Republicans these black people meet in their lives. I'm not mad at them for coming up to us and feeling angry. That's a natural emotion."
Hasty and Martin are among the less than 10 percent of African American voters who identify as Republican. Black voters have leaned overwhelmingly Democratic since John F. Kennedy was elected president in 1960. Black College Republican chapters are uncommon, too; out of 105 Historically Black Colleges and Universities, only four schools have active chapters, according to the College Republican National Committee.
Marybeth Gasman, an HBCU expert and Professor of Higher Education at the University of Pennsylvania Graduate School, placed the disconnect between black voters and the GOP in historical context. "Most African Americans realize that the Republican party of Lincoln is not the Republican party of today and that the Democratic party of the past is also a very different party," Gasman said. "The Republican party works hard to try to align itself with Republicans like Lincoln but any historian will tell you that a dramatic shift happened with the parties during the time of the [Franklin D.] Roosevelt presidency."
Formerly the party of the KKK, Democrats made inroads with African-American voters thanks in large part to Roosevelt's New Deal programs. Meanwhile, the GOP began to emphasize states' rights, a coded appeal to racist Southern segregationists. Barry Goldwater's failed 1964 presidential campaign has often been cited as the breaking point between black voters and the Republican party. Goldwater, who opposed to the Civil Rights Act, wasn't the only reason African Americans abandoned the GOP. The party had spent the previous few years alienating its black supporters. The GOP's rejection of black voices manifested itself during the 1964 Republican National Convention. Joshua D. Farrington's book Black Republicans and the Transformation of the GOP recounts a series of racist incidents from the event, including the one below:
A group of men in the Cow Palace public gallery… chased off radio journalist Belva Davis and her news director from the proceedings, shouting, "What the hell are you niggers doing in here?" and "Get out of here, boy! You too nigger bitch." As Davis and her colleague hurriedly packed their equipment, the hecklers pelted them with "wadded up convention programs, mustard-soaking hotdogs, [and] half-eaten Snickers bars."
It's hard to read accounts of the convention without drawing parallels to Trump's presidential campaign. Leading up to the election, Trump supporters repeatedly assaulted protesters at his rallies, often with the then-candidate's blessings. Trump's coded racism on the campaign trail earned him an endorsement from the KKK and an allegiance with the alt-right, a gussied-up rebranding of neo-Nazi ideology.
Martin and Hasty declined to reveal how they voted last November, and they maintained that their partisan allegiance doesn't necessarily mean they cast ballots for Trump. Still, they were both planning to attend the angst-filled inauguration, and Hasty—who appeared in an RNC YouTube clip praising Trump's stance on criminal justice—had her defenses ready when Trump's transgressions came up during our conversation. She said she believes his inflammatory rhetoric and numerous scandals don't speak to his ability. "He doesn't act the part, so people are going to look at him and automatically shut out what he says—his ideas, his policies," Hasty explained. "So I think it has been difficult to reach out to students, due to [Trump], but it is what it is."
She also believes the alt-right and Trump's values are separate. "The alt-right movement has nothing to do with my wonderful party," Hasty contended. "I think Trump has his own head on his shoulders that don't deprive from that group and I think that we're lucky with that. I'm happy with that."
Back at the NAACP rally, the attendees were far more concerned with how the Trump administration might restrict civil rights. NAACP President Brooks pointed out that the White House's website had removed its civil rights and LGBT pages and pledged to be a "law and order administration"—an emphasis that echoed Trump's bleak RNC speech. That focus, Brooks noted, had historically been the pretext for violating black lives.
For Peterman, who believes Trump's administration will continue this legacy of racial subjugation, the notion of African Americans supporting the GOP is infuriating. "Just because they're the same complexion of the skin doesn't make them my kin," he said. "I think if anybody should be able to identify the hatred and bigotry of Donald Trump, it should be people of African American descent. For those who support him, shame on you. The ancestors are not pleased."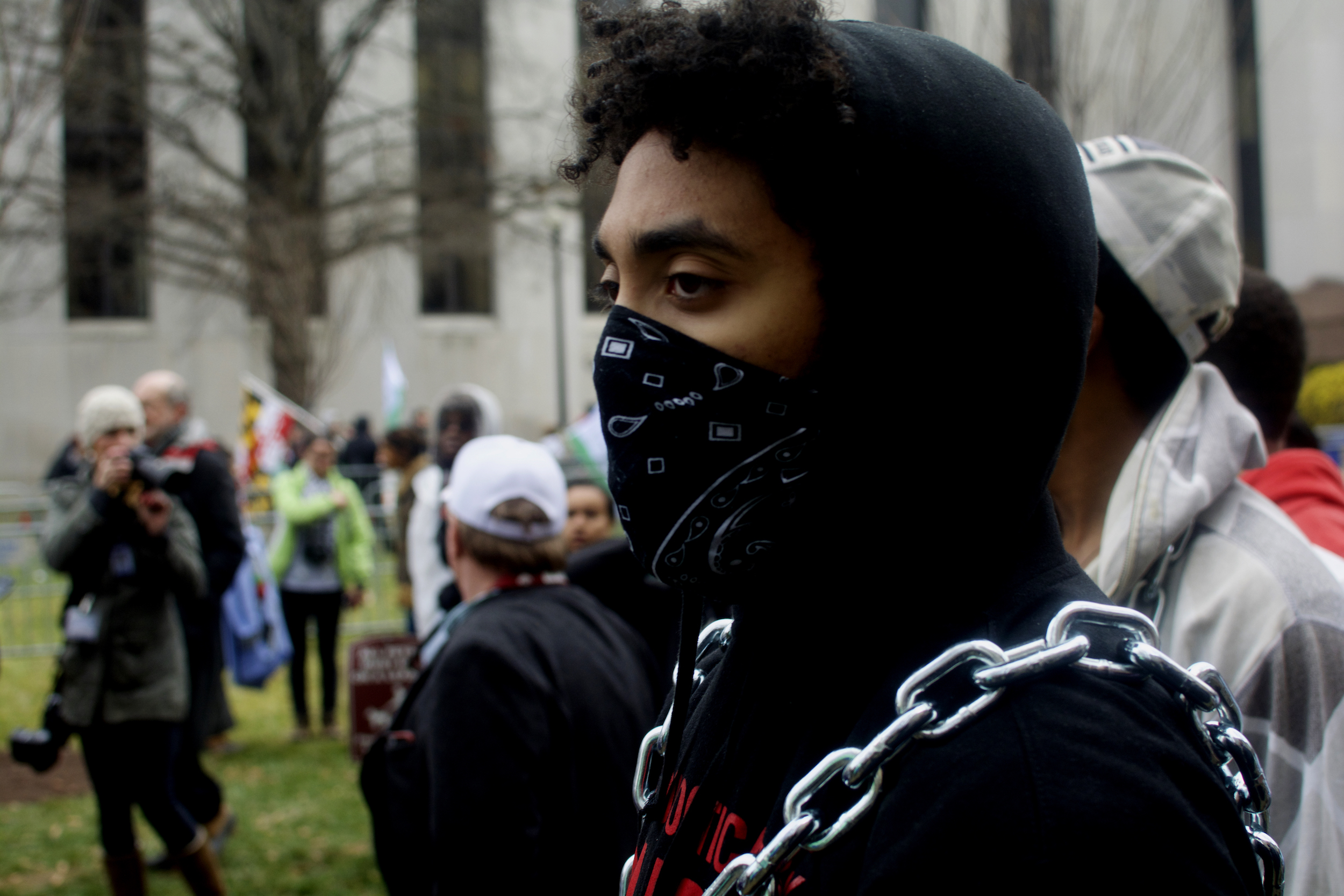 Dr. Steven D. Mobley Jr., a 2005 Howard graduate who's now an assistant professor of higher education at the University of Alabama, saw the on-campus presence of a College Republicans chapter as a symbol of Howard's tradition of spurring open political discourse within the black community. Mobley remembered feeling "taken aback" by a Bush/Cheney sign posted on a dorm room during his undergraduate years. He eventually embraced the uncommon sight as part of the black experience, as well as a potential indication of progress: "Are they trying to accentuate change from the inside or just trying to be there as some dissenting voices within the party? Because that sounds like the Howard that I've gone to."
But one look at the crowd who traveled to Washington for the inauguration made it hard to believe that Trump's GOP was eager to embrace black support–from the Howard College Republicans or just about anyone else.  Friday's audience, which resembled  an outdoor version of Trump's campaign rallies, provided a stark contrast to the multiplicitous America that packed the National Mall for Barack Obama's 2009 inauguration.
Before Trump was sworn in two weeks ago, I watched a middled-aged white woman cry out, "We love America! We are America!" as she beat her chest, shouting to no one in particular. I saw a 69-year-old man in a Trump top-hat barrel into a column of black protesters, linked together with iron chains, in an effort to break the line. He made sure to yell "Hillary might've won if y'all weren't so lazy" after a young man untangled the two sides.
Before the inauguration, I asked Martin how big of a factor her race played in casting her vote. "You can't negate that I'm black," she replied, though she still wouldn't say how that swayed her vote. Martin stopped replying to my follow-up interviews after the inauguration, and Hasty declined. Now, two weeks into the new presidency, it's easy to wonder if the members of Howard's College Republicans still see ideological partners in Trump's Republican Party.