Yesterday, Tom Araya, lead singer and bassist of iconic thrash metal band Slayer, took to his band's Instagram to repost a photo that "someone" had removed from the account after Araya had originally posted it on Inauguration Day.
The offending image? An old Slayer promo photo with Donald Trump photoshopped into the foreground, throwing up the sign of the horns. Araya's caption complains about the image's mysterious removal from Slayer's page, which means that Slayer does not know who has access to their Instagram page. He also expresses his awe that the post attracted "so many snowflakes commenting their distaste for the new president. Like him or not he is the president …" Cool. Here's Araya's post:
Scrolling through that thousand-and-a-half-strong comments section revealed Araya attempting to clarify that the image was a piece of misbegotten fan art, and that he might not actually support Trump. He might just be fucking with y'all!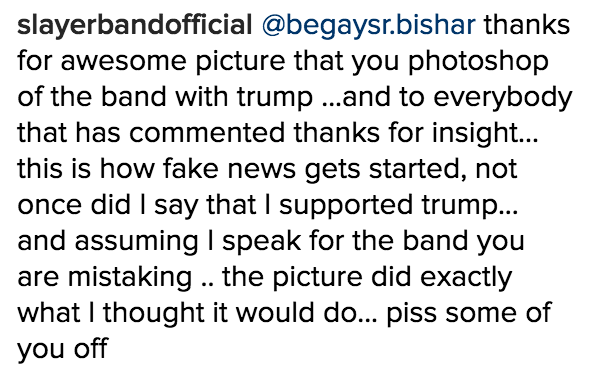 Araya also helpfully provided the Urban Dictionary definition for "snowflake," in its Trump-era usage: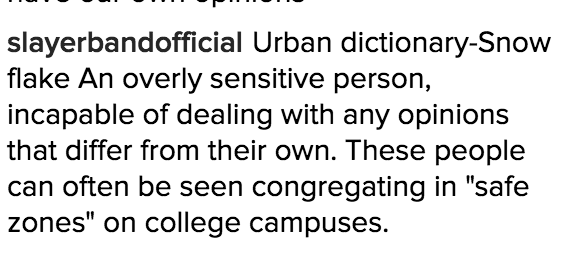 More abhorrently, Araya or whatever band member or intern was logged on at the time also joked about supporting Mike Pence and his belief in gay conversion therapy:


Get your house in order, Slayer.