Supreme bassist Thundercat has announced his new album Drunk, his third LP and his first full-length since 2013's Apocalypse. The guest list is a wild one; the dude managed to get Kenny Loggins and Michael McDonald on one song, plus features from Wiz Khalifa, frequent collaborator Kendrick Lamar, Pharrell, and Kamasi Washington. The joint with Loggins and McDonald, called "Show You the Way," serves as the project's first single and is available for a stream below.
"That song to me is about going down the rabbit hole, taking you to another place," Thundercat said about "Show You the Way" via a press release. "On the edge of dark, there's the brightest light. It means a lot to me in the sense of… the experience that I've had growing up with friends and people that I've been around where it's inviting them into where I come from emotionally. Sometimes it's a pretty intense thing. The point is how weird things can get. I feel like it's very funny that, in a way, of course Michael McDonald and Kenny would be there."
Drunk, the follow-up to his 2015 mini-album The Beyond / Where The Giants Roam, is scheduled to drop February 24 via Brainfeeder. View the cover art, the track list, and his scheduled tour dates below.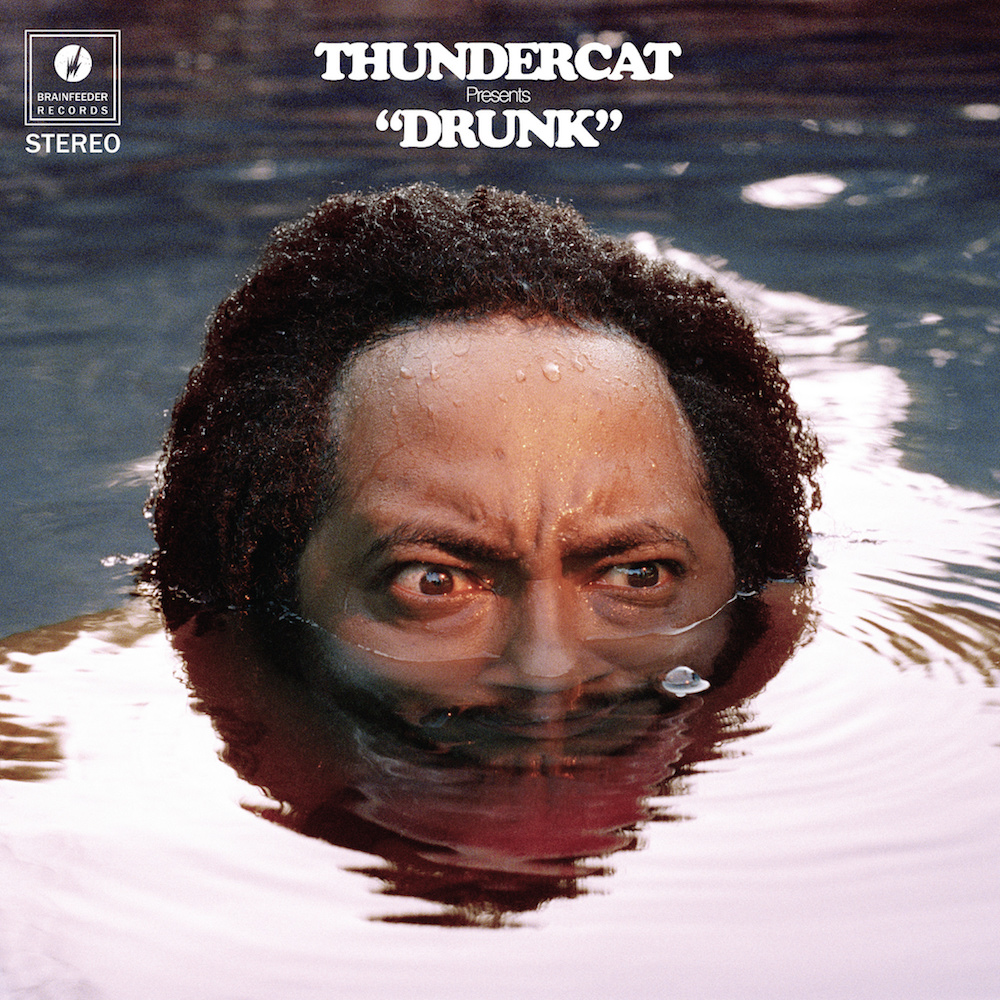 "Bus In These Streets"
5. "A Fan's Mail (Tron Song Suite II)"
6. "Lava Lamp"
7. "Jethro"
8. "Day & Night"
9. "Show You The Way" (feat. Michael McDonald & Kenny Loggins)
10. "Walk On By" (feat. Kendrick Lamar)
11. "Blackkk"
12. "Tokyo"
13. "Jameel's Space Ride"
14. "Friend Zone"
15. "Them Changes"
16. "Where I'm Going"
17. "Drink Dat" (feat. Wiz Khalifa)
18. "Inferno"
19. "I Am Crazy"
20. "3AM"
21. "Drunk"
22. "The Turn Down" (feat. Pharrell)
23. "DUI"
Thundercat tour dates:
February 13 – San Francisco, CA @ The Independent
February 14 – San Francisco, CA @ The Independent
February 16 – Portland, OR @ Wonder Ballroom
February 17 – Vancouver, BC @ Rickshaw Theatre
February 18 – Bellingham, WA @ Wild Buffalo
February 19 – Seattle, WA @ Barboza
February 21 – Salt Lake City, UT @ Urban Lounge
February 22 – Denver, CO @ Bluebird Theater
February 24 – Minneapolis, MN @ Fine Line Music Cafe
February 25 – Chicago, IL @ Concord Music Hall
February 26 – Detroit, MI @ Magic Stick
February 28 – Toronto, ON @ Danforth Music Hall
March 01 – Montreal, QC @ SAT
March 02 – Boston, MA @ Paradise
March 03 – New York, NY @ Irving Plaza
March 04 – Philadelphia, PA @ Union Transfer
March 05 – Washington, DC @ U Street Music Hall
March 08 – Atlanta, GA @ Terminal West
March 10 – New Orleans, LA @ Buku Music + Art Project
March 11 – Houston, TX @ Warehouse Live
March 12 – Dallas, TX @ Trees
March 16 – Tel Aviv, IL @ Barby Club
March 17 – Istanbul, TR @ Babylon
March 18 – Warsaw, PL @ Niebo Club
March 19 – Berlin, DE @ Yaam
March 20 – Hamburg, DE @ Mojo
March 21 – Cologne, DE @ CBE
March 22 – Bristol, UK @ Thekla
March 23 – Manchester, UK @ Gorilla
March 24 – Liverpool, UK @ Invisible Wind Factory
March 27 – Dublin, IE @ Vicar Street
March 28 – London, UK @ Heaven
March 29 – Reims, FR @ La Cartonnerie
March 30 – Paris, FR @ Trabendo
April 01 – Fribourg, CH @ Fri-son
April 02 – Zurich, CH @ Theater Moods
April 03 – Bratislova, SK @ Atelier Babylon
April 04 – Vienna, AT @ Porgy & Bess
April 05 – Prague, CZ @ Lucerna Music Bar
April 07 – Rotterdam, NL @ Motel Mozaique Festival
April 08 – Utrecht, NL @ Transition Festival
April 09 – Brussels, BE @ BRDCST Festival
April 15 – Indio, CA @ Coachella Music Festival
April 22 – Indio, CA @ Coachella Music Festival
April 27 – Tokyo, JP @ Liquid Room
April 28 – Nagoya, JP @ Blue Note
April 29 – Kyoto, JP @ Metro
April 30 – Osaka, JP @ Conpass