On the day of Donald Trump's presidential inauguration, pro-weed activists will hand out thousands of joints to the assembled crowds in Washington, D.C., where citizens just voted to legalize marijuana, and ask them to light up at precisely four minutes and twenty seconds into his address. (Nice.) The stoned demonstration won't be a protest against Trump's stance on legalization, exactly–because no one really knows what Trump's stance on legalization actually is. 
As with every other issue, pinning down how our president-elect will govern on pot is difficult because he's never held a public office before, meaning he doesn't have a legislative or executive record to reference. What we're left with are his public statements during the campaign and his decades as a real estate magnate and reality star before that, and for a guy who was "very pro-choice" in 1999 and "very pro-life" in 2015, those public statements aren't exactly reliable.
The statements we do have to go on, however, paint a surprisingly sunny picture for weed's future. Speaking with reporters at an event in late 2015, Trump said he believes states should be able to legalize pot if they choose to, which is the current status quo, and as good as we could have hoped from any of the presidential candidates short of Bernie Sanders. And on The O'Reilly Factor in February, Trump said of medical marijuana that he is "in favor of it 100 percent." All of that was enough for a committee of so-called "cannabis thought leaders" to conclude in a report released this week that a Trump administration might actually be good for America's burgeoning weed industry.
However, Trump has surrounded himself with people who don't feel as rosy about getting high. Jeff Sessions, who will lead the U.S. Department of Justice as attorney general under Trump, is one of the loudest and most powerful anti-weed voices in Washington. "Good people don't smoke marijuana," he said at a Senate hearing in April, and in the '80s, he said he thought the KKK "were OK until I found out they smoked pot." Eight states voted to legalize medical or recreational weed on election day, but if he decides to, Sessions could unleash the federal law enforcement community on growers, retailers, and smokers who are conducting themselves perfectly legally according to the laws of their states. (This used to happen all the time during Obama's first term, believe it or not.)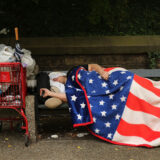 There's also Vice President-Elect Mike Pence, who is vocally anti-legalization. In Indiana, where Pence is governor until he takes office as VP this month, possession of weed in any amount carries a sentence of up to 180 days in jail and a $1,000 fine. And in 2013, Pence killed a bill that would have brought weed sentencing more in line with the rest of the country.
Trump is notoriously fickle about every issue under the sun, and it seems entirely possible that his advisors could persuade him to toughen up his relatively moderate stance on pot. Then again, there's always the possibility that he could be swayed the other way, too–and more power to all of the smoked-out activists who will try to convince him on inauguration day.