The death toll from Friday night's warehouse fire in Oakland now stands at 36 and is expected to rise, according to city officials. Meanwhile, eight victims of the blaze have been identified, including 22-year-old Cash Askew from the Bay Area dream-pop band Them Are Us Too.
David Cline, 24, Nick Gomez-Hall, 25, Sara Hoda, 30, Donna Kellogg, 32, Brandon Chase Wittenauer, 32, and Travis Hough, 35, were also confirmed dead by the Alameda County Sheriff's Office Coroner's Bureau on Sunday, as was a 17-year-old high school student whose name wasn't released. At least four others have been identified on social media, according to the Daily Mail. One of the victims was the son of an Alameda County Sheriff's deputy. "This tragedy hit very close to home for our agency," a spokesman said.
Several survivors and witnesses have described the scene at the venue, called the Ghost Ship, before and during the fire. Journalist Michael Rosen briefly attended the show before leaving to buy booze just before the fire broke out. He wrote on the Daily Beast that the venue was "packed with wooden pieces of artwork" and "subdivided into rooms with walls made of aged, dried-out wood."
A Reddit user who claims to have been at the concert shared a harrowing account of his purported escape: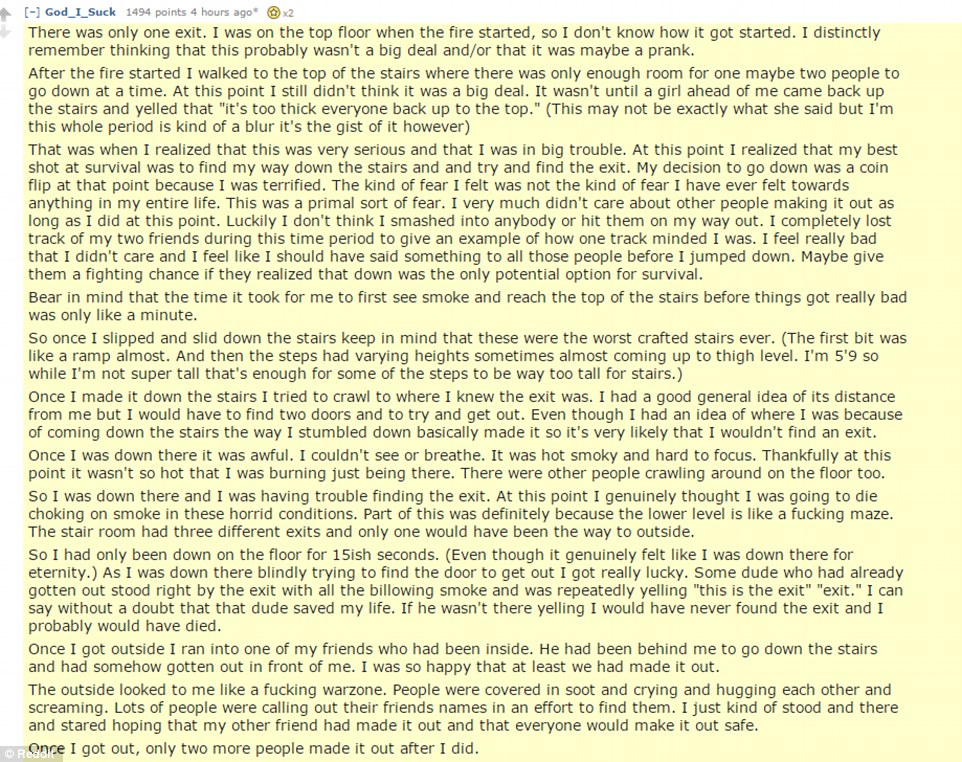 The user has since deleted his comment out of fear he'll have to testify at an eventual trial.
Jose Avalos, who lived in the Ghost Ship, told CNN that the fire spread quickly. "By the time I was through the front doors, I could just see the flames coming and then they just engulfed the front archway of my studio," he said. "I looked back and I just saw smoke everywhere. I couldn't really see anything. Got out of the building and I just saw smoke and then flames coming out the doors and the windows."
Bob Mulé, another Ghost Ship resident, told Rolling Stone that the fire spread across the warehouse in "about a minute." Mulé also said he was unable to rescue a friend who'd fallen and injured himself while trying to escape.
"He was calling out for help like, 'Help! Help! Help! I need your help, I broke my ankle, I can't move,'" Mulé said. "He gave me his hand and I started pulling on his wrist and oh my God, it was so hot. It got too hot and too smoky and there was just too much stuff blocking the path. I couldn't move it out of the way because I literally felt my skin melting. I had to leave [him] and he definitely didn't make it. Fuck, man, I tried my best. I did my best and he's a fucking awesome dude. I just have this crazy image of my friend burning alive in my head."
About half of the building has been searched, according to fire officials, but recovery efforts were put on hold Sunday night due to the instability of the building. The search is expected to resume this afternoon. The cause of the fire remains unknown.
UPDATE: President Obama has released a statement about the fire.
Today our prayers go out to the people of Oakland, California in the aftermath of this weekend's deadly warehouse fire – one of the worst fires in the state's history. While we still don't know the full toll of this disaster, we do know that an American community has been devastated, and many people – including young men and women with their whole futures ahead of them – have tragically lost their lives. I want to thank the dedicated first responders who have been working tirelessly for days to contain the situation, recover victims, and treat the wounded. My Administration is in close contact with our state and local partners on the ground to make sure that authorities have everything they need as they continue response operations and investigate the cause of the fire. Oakland is one of the most diverse and creative cities in our country, and as families and residents pull together in the wake of this awful tragedy, they will have the unwavering support of the American people.