With Beyoncé's Lemonade and Solange's A Seat at the Table frequently topping year-end discussions, Nardwuar picked a solid time to release archival interviews with the Knowles sisters. Digging into his own vault, the Human Serviette dropped brief conversations he had with Destiny's Child (Beyoncé's former pop group, of course) and a 16-year-old Solange on his social media channels. Both were recorded in 2002 backstage at a Tacoma, Washington concert.
Nardwuar asks Solange what she thinks about Eminem's drama film 8 Mile and performing at malls (so we get a Tiffany clip thrown in). The famed troll/interviewer also catches Destiny's Child right as they're about to perform, so he only gets in a few exchanges, mostly with Kelly Rowland.
The clips are more of a time capsule than a revelatory throwback. You can watch both interviews below.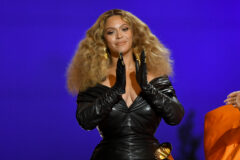 https://www.facebook.com/plugins/video.php?href=https%3A%2F%2Fwww.facebook.com%2Fnardwuar%2Fvideos%2F10154803576974890%2F&show_text=0&width=6000