This year, the people of the United States elected Donald Trump president in an atmosphere of naked racism and xenophobia, much of it targeting Latinx people and Muslims. We also saw new resistance to those same hateful feelings, in different forms. For the first time, large numbers of people started using the term Latinx, a word that collapses the Latino/Latina gender binary, making room for people who don't fit into those categories, and creating a new way for young Latinxes in the U.S. to define themselves on their own terms. Another bright, possibly related, thread running through 2016: Quite a few Latinx musicians in the U.S. made intensely personal, stunningly creative music that dealt explicitly with their experiences of being brown, of being bicultural, of being Afro-Latina. 
Each of the five artists highlighted here had visited political territory before, or explored their identities through music, but this year they made striking musical declarations of pride, love, celebration, and anger that could not be clearer. The music they made may have been poetic and beautiful, but it was not open to interpretation. Whether they set out to make protest albums or not, their music helped to give voice to a renewed spirit of opposition against oppression. 
Helado Negro – Private Energy 
Roberto Carlos Lange has been making mercurial, critically acclaimed electronic pop in English and Spanish for years, but the deceptively understated "Young, Latin, and Proud," released last year as the lead single from his fifth album, Private Energy, made a more dramatic impact that anything the producer had done previously. With its steady groove and crooned message of self-love, it became an instant anthem, due in part to the fact that it happened to drop around the same time as when Donald Trump announced his candidacy for president while making infamously bigoted comments about Mexican immigrants. Lange hadn't intended it as such, but it felt like a perfect, quietly confident rejoinder to Trump's hatemongering. "It's My Brown Skin," a tender brown-pride hymn with a loopy keyboard riff, came out later, among other singles, before the album was released in November.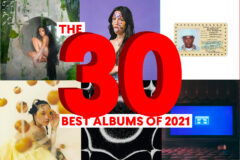 Lange has always explored his identity as the American son of Ecuadorian parents through his music. Speaking over the phone to SPIN, he describes the directness of songs like "Young, Latin, and Proud" as "a culmination" of that through-line. The now-Brooklyn based musician has been playing Private Energy's songs for more than a year and the record's soft-spoken yet powerful message has been a kind of flashpoint for its audience, while T-shirts that read "Young Latin and Proud" have become almost a phenomenon of their own. "After shows, some people are like, 'Man, I've been listening to the record,' and they talk about how much it's meant to them," he says. "I never expected it to be that at all." 
Xenia Rubinos – Black Terry Cat 
Xenia Rubinos's second album, this past June's Black Terry Cat, is an explosive statement featuring soul, funk, rock, and a lot of hip-hop. In songs that are as musically seductive as they are knife sharp, the personal and the political flow into each other. On "Mexican Chef," Rubinos witnesses street-level American racism and inequality, and offers incisive analysis. Elsewhere, on the '80s-referencing "I Won't Say," she celebrates her Afro-Latinidad by paraphrasing jazz singer and civil rights activist Abbey Lincoln's 1966 essay "Who Will Revere the Black Woman?" Rubinos's initial intent was not to make a political statement, only to be more honest with herself, she says. "On this album I was challenging myself to be more specific in my songwriting," she explains over the phone. "Before, I didn't want to take a particular stance on anything. I felt I was hiding from myself." 
Her willingness to be open, especially coming at this turbulent moment in history, undeniably touched others. "Some people come up to me after shows and tell me they've had the album on heavy rotation and it has helped them get through," she says. "Some younger people have come up and talked to me, thanking me for helping them be a brown girl in suburban America." 
Princess Nokia – 1992 
In 2016, producer/rapper/multi-threat Destiny Frasqueri, better known as Princess Nokia, put out "Brown Girl Blues," a spare but brilliantly conceived outcry against police violence, and released 1992, a mixtape of autobiographical story raps hearkening back to the glory days of New York hip-hop and her own distinctly Nuyorican adolescence. It also features some of the finest lyrics and mic handling of the year. On the early Def-Jux style joint "Bart Simpson," she spins tales of a youth misspent skipping school and reading comic books: "I really liked Marvel 'cuz characters looked just like me / And women have roles that don't make them look too sexually." It's not so much about the wordplay per se, as it is about the way she makes you forget that she's rhyming and not just kicking it and reminiscing. 
Frasqueri has always been an outspoken intersectional feminist, but 1992 stands out for its fierce celebration of every part of who she is: queer, Afro-Latina, androgynous, geeky. Witchy joint "Brujas" is particularly breathtaking as both a figurative claiming of black- and brown-girl magic and a literal expression of her spirituality as a practitioner of Santería. 
Elysia Crampton – Elysia Crampton Presents: The Demon City 
Elysia Crampton Presents: The Demon City is an instrumental electronic album created by Elysia Crampton, in collaboration with fellow underground producers Chino Amobi, Why Be, Rabit, and Lexxi. It's connected to her high-concept performance piece from this year, Dissolution of the Sovereign, a sci-fi fantasy inspired by the life of 18th-century indigenous Bolivian revolutionary Bartolina Sisa. Also shaped by its futuristic vision, Demon City is populated with postmodern and post-apocalyptic bass epics; it's an ambitious project that deliberately confounds traditional authorship and—like her 2015 debut album, American Drift—is informed by her fascination with geology and academic theories on power and oppression. Despite the absence of lyrics, Crampton's latest album resists apolitical interpretations. 
The California-based Crampton is indigenous Aymara on her mother's side, and the initial inspiration for this project came about when she was staying with family in a rural part of Bolivia and sleeping in a guest room with a poster of Sisa over the bed. Crampton remembers Sisa as a presence like a "guardian angel" during this period, when she was connecting with the Aymara community around her. "In America, they told me that I would experience all this violence there as a trans woman, yet I was accepted and later found out about this incredible, rich trans indigenous history that still informs people's lives there," the producer recalls. "It just naturally happened from there, that her name would find its way into my music." 
https://youtube.com/watch?v=jLYDso0lkWM
Hurray for the Riff Raff – "Rican Beach"
More rock'n'roll than Hurray for the Riff Raff's previous, Americana-influenced albums, The Navigator is laced with Afro-Caribbean percussion. Out March 10, the upcoming effort is a concept album that addresses issues like gentrification and cultural appropriation via a dystopian lens. All throughout the record, Bronx-born bandleader Alynda Lee Segarra, fully embraces her Puerto Rican background. It grew from a period when the Nashville-based songwriter was delving into Puerto Rican music, reading Puerto Rican poet Julia de Burgos, and learning about the radical Nuyorican activist group the Young Lords. 
Segarra has always been an activist, but this past year she really began doubling down. She dedicated the new album's recently released single, "Rican Beach" (with its burning refrain, "You can take my life but don't take my home"), to the water protectors of Standing Rock and the people of Peñuelas, Puerto Rico, who are fighting to stop the dumping of toxic coal ash where they live. In November, she launched and headlined Nosotros Fest at Bowery Ballroom in New York City. The festival celebrated Latinx culture in a truly inclusive way that made room for everyone, something that was important to Segarra as a feminist and queer woman. "I wanted to have a night where people could come and feel relieved of hatred and pressure that was going on in the outside world," she says over the phone. 
The festival took place before the election. Now she feels the results have forced her forthcoming album, and Nosotros Fest, into a new, more urgent context. "Next year's event is even more important," Segarra says, "and we're going to have to make sure that we come up with something for next year that can heal and empower people."