Kanye West was just escorted into Trump Tower, according to several reporters at the scene. CNN's Tal Kopan also shared a photo of West walking in the building's lobby.
Kanye (and entourage) arrives for a meeting at Trump Tower. Real life. pic.twitter.com/W9PQDgfQmg

— Tal Kopan (@TalKopan) December 13, 2016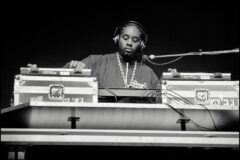 WATCH: @KanyeWest at Trump Tower #elevatorcam pic.twitter.com/I4FpM57S1x

— CSPAN (@cspan) December 13, 2016
Pool report: Kanye is in Trump Tower pic.twitter.com/HPaLS1jnvX

— Sam Sanders (@samsanders) December 13, 2016
It's unclear what West is doing there, but last month the rapper praised Trump in a bizarre rant during the San Jose stop of his since-cancelled Saint Pablo tour. Trump has also spoken highly of West, saying at a campaign stop last summer that he "could never say bad about him."
UPDATE: TMZ and CNN report the two had a 15 minute meeting at West's request. Trump later walked West to the lobby. "Life…we discussed life," the president-elect told reporters.  "I just want to take a picture right now," West said after ignoring several questions.
UPDATE 2: Citing a source close to West, E! reports that the rapper talked to Trump about being an "ambassador of sorts." From E!:
The source adds that Trump is interested in getting West involved in an "entrepreneurial leadership role."As for how the meeting came about, the insider tells us that Trump's team reached out to West. "Trump thinks he's a great role model when it comes to business," the insider adds.
https://twitter.com/JoshuaChavers/status/808688080358178816
No words. #KanyeTrump pic.twitter.com/guu2NEjs2I

— Dan Linden (@DanLinden) December 13, 2016