Greg Lake, co-founding member of UK prog giants King Crimson and the virtuoso bassist/guitarist of legendary trio Emerson, Lake & Palmer, passed away yesterday at the age of 69. His manager Stewart Gordon posted the news on Lake's Facebook page this morning: "Yesterday, 7 December, I lost my best friend to a long and stubborn battle with cancer. Greg Lake will stay in my heart forever, as he has always been. His family would be grateful for privacy during this time of their grief."
Lake sang and played bass on King Crimson's most famous and enduring album, 1969's In the Court of the Crimson King, and contributed vocals for its followup, 1970's In the Wake of Poseidon. In 1970 he also joined his friend and then-The Nice member Keith Emerson, and moved away from King Crimson to work on their virtuoso prog trio Emerson, Lake & Palmer.
Throughout most of the '70s, the idiosyncratic and prolific group—who, among many other anomalies, recorded a full rock-ified version of Russian composer Modest Mussorgsky's famous 1874 piano suite Pictures of an Exhibition—remained commercially successful in the UK with five albums charting in the Top 10.
Lake, a proponent of the rock supergroup, was also an auxiliary member of Asia—along with Palmer, members of Yes and King Crimson—before joining with Emerson to form the slightly poppier ELP reboot Emerson, Lake and Powell in the late 80s, featuring the Hot 100 hit "Touch and Go." Lake's main claim to fame as a solo artist is his Christmas hit from 1974, "I Believe in Father Christmas."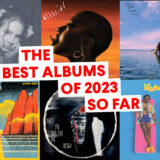 Lake's death comes as a particular shock to ELP fans, coming just months after Keith Emerson's tragic suicide in March.