FKA twigs has released the Baltimore Dance Project documentary. The film, directed by longtime collaborator Nick Walker, comes from the free Baltimore workshop she held on July 18. About 400 people showed up to perform over five hours of choreography.
The film comes with a brief feature that explains twigs' inspiration for the workshop. In the piece, she said that she wanted to converse with the cultural soul of Baltimore, which she felt was obscured by the The Wire and the media's images of Black Lives Matter protesters.
"When I was thinking about doing a dance project, the obvious places would be LA or New York but I thought why not go to a place that obviously has so much soul and so much amazing energy?" twigs said. "You'll be able to connect with them rather than being another artist that is passing through."
She continued: "It's not an audition. It's meant to be fun. When it's an audition, you are there to annihilate your competition. When it's a safe place, you're there to work with each other and grow together. It's more of a community. There is no rivalry, it's not for personal gain. It's for everyone to come together."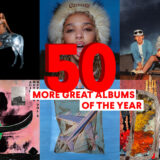 Watch the nine-minute film here.