On a brisk evening in November, nightlife maven Contessa Stuto is shooting the video for her new song "Anarchy 4 U and Me"—a collaboration with rapper Nani Castle that wraps itself in sugary '80s pastiche. The scene is being taped in an apartment that Stuto rented to a young, green-haired Los Angeles expat named Nicky Ottav. They're joined by Australian artist Lexi Laphor; a quiet woman known as Crackers who's DJing the gothic, dissonant music playing through the TV set; a svelte black man in a purple wig who goes by Lion Lavender; and a table of Svedka Vodka bottles—at least one knocked over and emptied.
Stuto, outfitted in a silk gown that exposes her black bra, decides to play host by showing me around before the video shoot. She takes me through the hallway's hanging beads and past the candy-colored walls before we stop at the bedroom, where a hardcover copy of Amy Arbus's photo book On the Street: 1980-1990 lays on the bed. Madonna, then in her mid-20s and wearing an oversized coat, stares back at us from the book's cover.
Stuto slightly repositions the book and smiles: "I'm gonna be the next Madonna, maybe bigger."
This indefatigable confidence comes in the middle of a hard reset for Stuto. The 33 year-old first attained local visibility as the leader of Cunt Mafia, a queer collective that became a dominant force in New York's underground party scene. After briefly leaving nightlife, Stuto has re-emerged to turn the spotlight on her music career—this time as Cunt Mafia's lone member. In 2001, Stuto moved from her native Long Island to Bushwick to be part of a club scene that was once unaffected by gentrification and the accompanying scourges of high rents and displacement. Her passionate and crass persona made her an indelible character within the arts community, and by 2007 she decided to form her own crew.
"I was like, 'Well, what do I want to represent?'" she says. "Cunt Mafia came to mind to me because I have the ideology of growing up in New York City and going to punk shows and being a feminist and queer. But I'm also Italian and a Junior M.A.F.I.A and old school hip-hop fan, so it kind of embodied everything that I represent, which is Cunt Mafia."
***
In the early days of Cunt Mafia, Stuto and her collaborators were reliable turn-up enthusiasts and creatives at heart—rappers, graphic artists, and stylists who happened to be good at wrecking clubs. The collective's biggest stars were ex-members Cakes da Killa and Quay Dash, who both released their debut projects this past year. Cakes's album Hedonism—a 32-minute soiree that blends sharp-witted lyricism with high-BPM production—arrived  after years of garnering attention for a series of strong mixtapes. Quay Dash's Transphobic EP has generated buzz because of its kaleidoscopic blend house, throwback hip-hop, and other genres, along with its look at the transgender experience.
While both artists come off as boisterous, fully formed personalities in their new projects, neither could escape the gravity of Stuto's charisma when they joined Cunt Mafia at the turn of the decade. Cakes, then a student at Montclair State University, recognized what he described as Stuto's "boss-bitch mentality" when he first met her at a Bushwick barbecue. Dash became Stuto's partner-in-crime after crossing paths at a party dubbed Whorehouse—a series of unlicensed underground raves co-founded with fellow nightlife figure Promise Smith. Coming from a childhood spent in foster care and group homes, Dash found some stability in Cunt Mafia. "I had gay family," Dash says. "I was in a kiki scene and I had gay mothers and everything like that, but I never really felt like a part of the family. I felt more a part of the family when I met Cunt Mafia."
https://youtube.com/watch?v=fpVpn_EJyvo
The "gay family" Dash refers to is an ingrained part of New York nightlife, where LGBT communities form tightly-knit collectives out of creative overlap and–sometimes–even necessity. Jennie Livingston's seminal 1990 documentary about New York's underground ballroom scene, Paris Is Burning, is one of the best recorded histories of what Dash is speaking to–the film shined a light on the joys and struggles of late-'80s LGBT people of color. Through characters like the legendary Pepper LaBeija among others, Livingston explains ballroom culture's key concepts. One of them is the "house," which one character loosely describes as a "gay street gang," a collective that offers familial and ballroom-conquering support. Another is a "mother," a head figure who also doubles as a caretaker to the house's members — some of whom have been disowned by their nuclear families because of their identity. It becomes very clear that, because of the violence and discrimination gay and transgender people face daily, the city's queer scene was a rare place where members felt safe to express themselves.
Stuto functions as the Mother of Cunt Mafia, and its its promoter. On New Year's Eve 2009, Contessa started a rave called Whorehouse, which helped solidify Cunt Mafia as a vital house for Brooklyn's underground party scene. The parties could draw a crowd of over a thousand in venues that ranged from basements to alleys, according to Stuto. Whorehouse was also notable for featuring performances from A$AP Rocky before his debut mixtape, Live. Love. A$AP, made him a star. "A$AP Rocky performed on top of a fucking picnic table on top of the freezing cold," Stuto recalls. "It was still fucking lit."
The collective's rep for legendary parties only grew once the clique went legitimate. One year after opening the Flat in South Williamsburg in 2012, Death Set frontman Johnny Siera was looking for someone to throw a Fourth of July party. Mutual friend Osvaldo Chance Jimenez, an artist and photo-blogger under the name Slutlust, recommended Stuto for the task. The resulting shindig, Cherry Bomb, was the first of what would become a weekly Friday party at the small, rowdy club. With frequent performances by Dash and Cakes, as well as appearances from forward-thinking New York stars RATKING, Cherry Bomb was just as raucous as the bigger parties that preceded it.
Siera remembers the party's two-year run with a mix of awe and lighthearted trauma. "Hopefully we would bring it down by 4 a.m., but a lot of the times that wasn't the case," he says. "It was just fucking wild. We literally broke the dance floor. The dance floor caved in."
"We had a sign like, 'Be careful for our weird warped dance floor,'" Jimenez adds. "We used to have this dude come with a wheelchair and he had to stay at one part of the bar because if he went to the other part he would just roll right into it. That drop dance floor was just not part of the plans."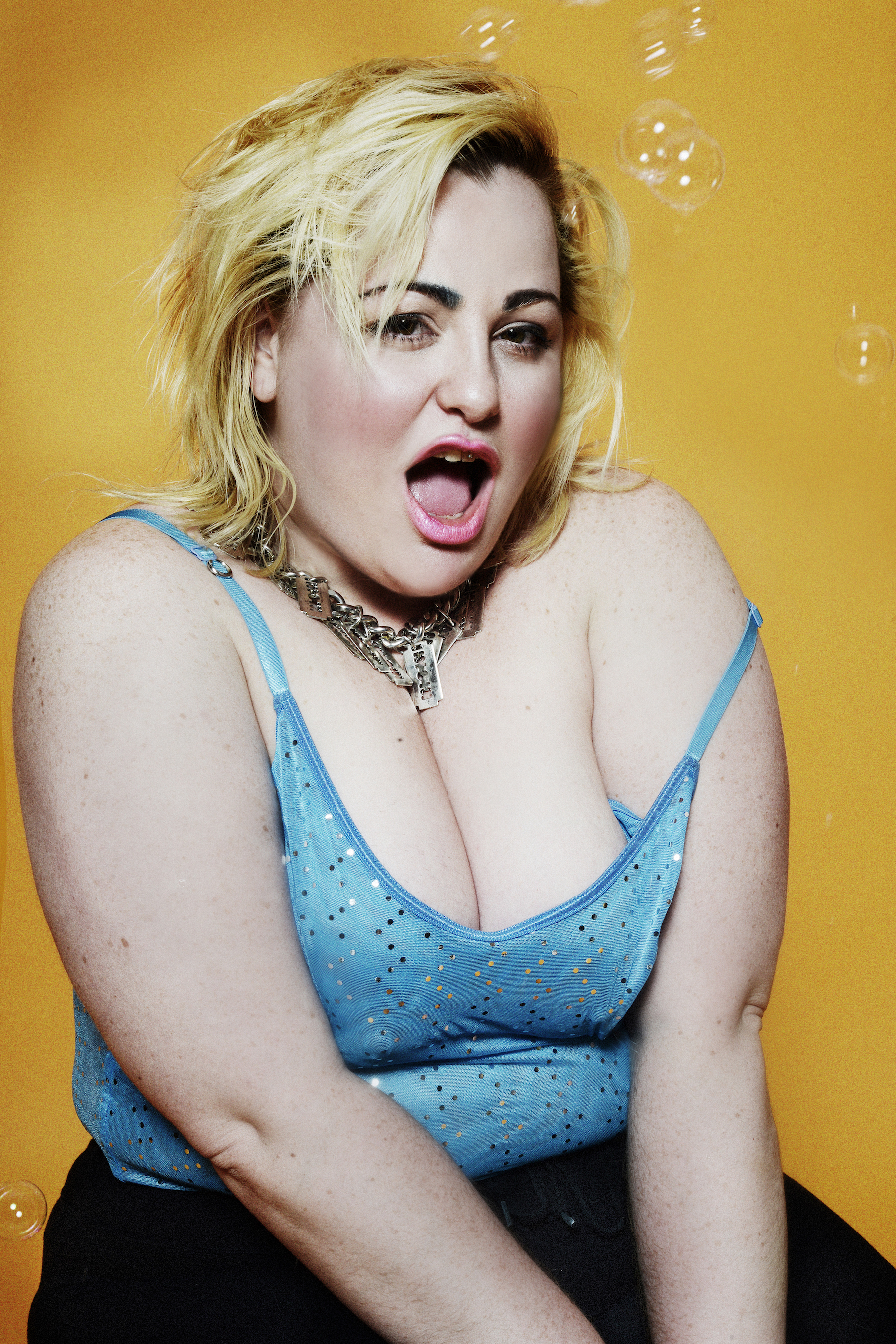 During Cherry Bomb's run, Stuto started releasing music. Her first single, 2013's "Reign in Ratchet," was a Slayer-sampling rap that alluded to Stuto's tastes during her teenage years. A self-described former "goth girl," she remembers idolizing Nirvana, Nine Inch Nails, and Courtney Love. Her follow-up, 2014's "Killing in Vain," follows the same aesthetic—pairing a grunge instrumental with histrionic lyricism: "I see the clouds grow apart like my broken heart / Crystal-lined shards a glass stabbed me in the back".
Stuto's music output didn't overshadow her crew's impact on nightlife; Cunt Mafia's followers often point to Cherry Bomb as the centerpiece of the clique's legacy. Cunt Mafia was unique in how its queerness and bacchanalia thrived within a predominantly straight space. Stuto's house refused to be othered; they loudly stood as a centripetal force in New York nightlife.
By many accounts, Stuto is as magnetic as she's abrasive. In conversation, she's mild-tempered and punctuates her lengthy responses with giggles. A body postive "BBW Italian"—her words—Stuto's party outfits include pasties, biker leather, and candy-colored wigs. The costumes may seem garish, but they made sense for her as a champion of unbridled self-expression.
"She made it known—too known, sometimes very aggressively—that it was a safe space for queer, non-gender conforming people, butch queens, faggots, cunts, dykes, and lesbians," Cakes da Killa says. "So for her it wasn't about, you know, making a bubble for queer people to just be amongst themselves, it was about taking over a place and saying, you can come as you are to turn up."
***
Cunt Mafia's movement, like many others of its kind, was transient. The Flat became a consistent target for the New York Police Department, possibly because of the riotous parties or perhaps due to discrimination against Cherry Bomb's largely young, nonwhite crowd. Sierra frequently found himself having to pay exorbitant fines to keep the Flat in business. The Flat's liquor license was canceled in July 2015, effectively ending its run as a nightlife destination (it now exists as a coffee spot). Stuto tried to find a new venue, but other spaces seemed less welcoming of Cherry Bomb's energetic, diverse mix.
"When you try to do it at other venues and they feel like it's too this or too that—you run into a problem," Stuto says. "They'll play trap music as long as there's white people in there."
Cunt Mafia's membership has always been fluid–a dynamic cluster of strong personalities who linked in time for the actual event. Without the Flat as their point of convergence, life started carrying the stars in different directions. Cakes da Killa rarely had to live with trying to shine under the Cunt Mafia's shadow; his mixtapes—the high-velocity braggadocio of 2011's Easy Bake Oven, Vol. 1, 2013's The Eulogy, 2014's Hunger Pangs— were strong enough to earn a following. Dash, however, remained inextricably linked with Stuto. The Mother's issues became the child's.
"I feel like a lot of people had their personal issues with Contessa, and it branched out to me," Dash says of her departure from the group this year. When I asked her to expand, she declined to speak on it further, though she previously mentioned to Vice that sometimes the partying was too much, and occasionally led her to "overdo it." Whatever the issue, the sentiment was clear. "People would not fuck with me because I fuck with her. That's the main reason why I made my decision."
When asked about Dash's comment, Stuto gave a brief blank stare before breaking into a smile. "I left for a while," she says of the difficult time she endured after Cherry Bomb ended. "I wasn't calling people back, and I was in my own struggle and people took it as if I was neglecting them and not nurturing them."
During Cunt Mafia's earlier years, Stuto was a woman of many hustles–she had worked as a real estate agent well before 2015, when she got her license to practice legally. But Cherry Bomb's revenue was too big of a loss for Stuto to overcome rising rents in Bushwick. She went through a period of homelessness during which she was forced to stay in a friend's apartment, and was in an abusive relationship that damaged her friendships.
"I had to leave nightlife for a minute," she says. "I was getting quite possessed when I got drunk and I turned very negative and very hateful. People would not want to talk to me anymore because I would call them names or say something horrific."
This year was when Stuto decided it was time to turn things around. She hosted parties, collaborated with electronic producer Outbreak for the song "Rebel Territory"—a melodramatic, apocalyptic acid-trip of a song—and was featured on dance producer Herve's whirring electronica cut "Real." The video shows her raging and flailing, sometimes bare-chested, in a packed venue. It's a grainy, maximalist portrayal of her punk aesthetic: It's a purposeful malfunction, because it's through performance she defies societal norms.
Her recovery, she says, was spurred by a chain of cosmically linked events this autumn. One day in late October, a bouquet of roses fell out of a taxi and into her hand; she saw the roses as a symbol of the Virgin Mary, and took it as a sign that she needed to return as a Mother for the city. Later that week, Stuto spent a night "crying my balls off" to Michael Jackson's "Man in the Mirror" when she looked at her clock and saw that it read 11:11. "After that, everything changed," she says. She'd been reborn as what she describes as an "anarchist for God" and went on to carry the Cunt Mafia name solo.
She linked up with with Nani Castle to record "Anarchy 4 U and Me," and soon after, Jimenez invited her to perform at his boutique on Election Night. Passersby would've seen a crew that included a svelte black man and a green-haired character in a hot pink costume thrashing about. The performance would ultimately make Stuto a different kind of sensation, one she did not want to be a part of: On the Friday after the election, the alt-right conspiracy site InfoWars re-posted a video where Stuto is seen braless in a fishnet crop top as she shotguns a beer in front of aghast spectators. She's holding a leash connected to a kneeling, barking Lexi Laphor. "America," Stuto howls. "The home of the free and the land of the dead." InfoWars saw enough to publish the headline, "NSFW: LEFTISTS IN TOTAL MELTDOWN OVER TRUMP WIN."
The coverage earned her some new social media followers and a predictable wave of misogynistic internet vitriol. Despite the hate comments, Stuto sees an opportunity in her newfound audience. "The ones that might be part of that right-wing rhetoric, they might just be confused and alone in their room in the Bible Belt," Stuto says. "They have never seen anything else in their entire life. I want her [to think], 'Oh, she's doing something weird and different, and I see where she's coming from here.'"  
Wishful thinking, perhaps, but Stuto's optimism is necessary as she switches from a role as house nurturer to lead artist. She hopes to release a debut album in 2017 as Cakes da Killa and Quay Dash continue their run of live shows. Although their bonds are now more distant, the trio insist they're still familial. Dash and Stuto say they recently had a loving two-hour phone conversation, and Killa maintains that "people just grow up and, you know, they go on their own paths."
"They're all in my head," Stuto says of her children. "Hopefully we all unite while everyone lives in their truth and we can all glow."
Even so, it's bittersweet to look through their videography. In the music video for Dash's "Ain't Gon Stop It / BKLYN," the gifted emcee rides a staccato flow over a trap beat before she switches into Lil' Kim-style ribaldry, while the production swerves into '90s New York haze. Later in the clip, Dash is seen hanging out with a twisting and twerking Cakes. Elsewhere, she's in the streets rapping at the camera as Stuto bops alongside her.
The video is capped by a memorial for Islan Nettles, a 20-year-old acquaintance of Dash's who was beaten to death in 2013 after a man who flirted with her discovered she was transgender. The somber dedication casts a new light on the joyful scenes that preceded it. The members of Cunt Mafia are well-aware that their lives are fragile and often endangered. And yet they danced, believing the world was theirs.